Other News
The North Carolina State Fair: Fall's Favorite Tradition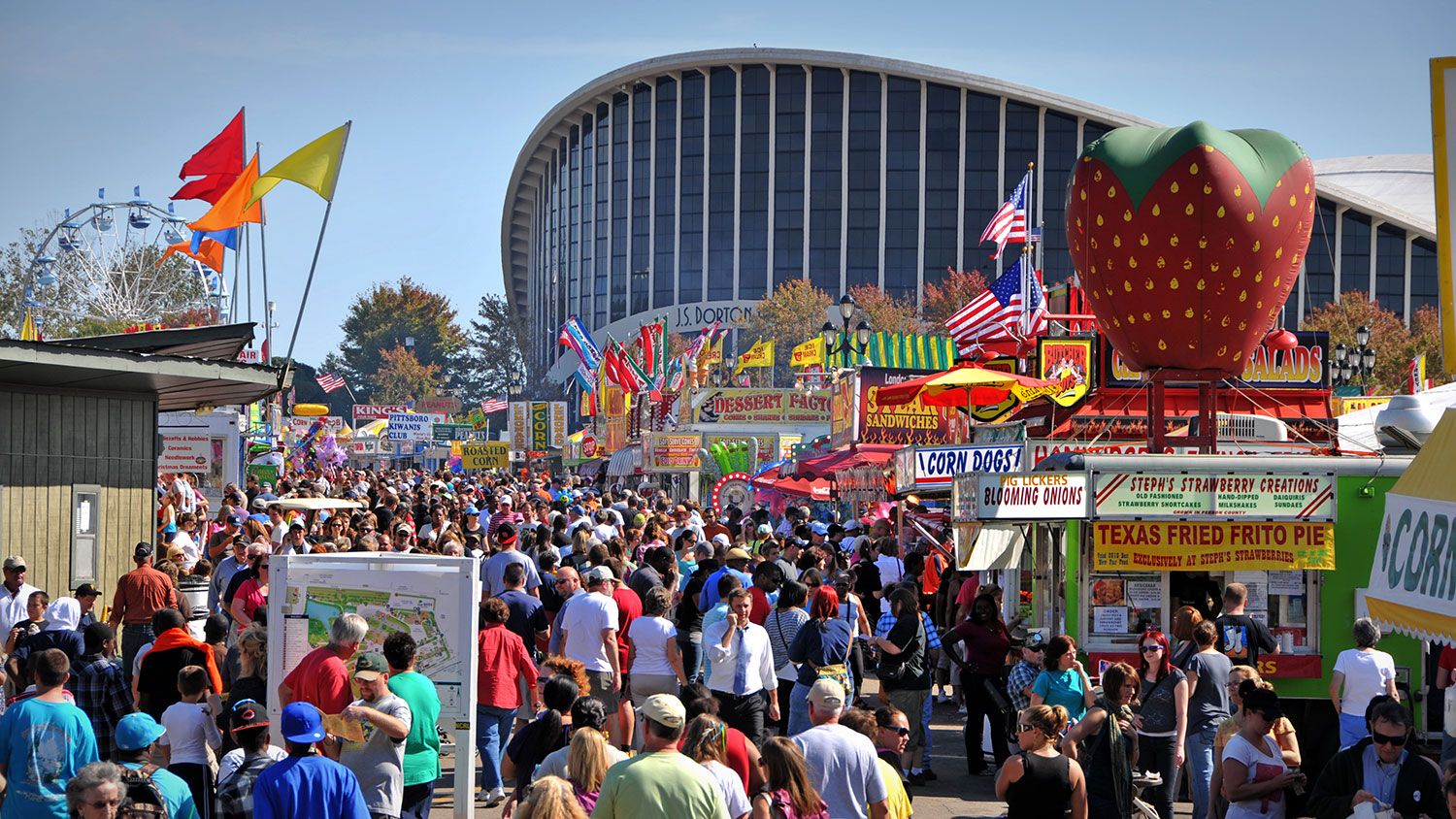 There's just nothing finer. Approaching from a distance, towering Ferris wheels, flashing carnival lights and the iconic outline of Dorton Arena make a friendly, thrilling silhouette in the sky. Walking through the gates, it's a welcome assault on the senses: Italian sausages sizzling and dough frying; a cacophony of gleeful shrieks, music and announcements; bright lights, whirling rides and every walk of life. Yes, it's time once again for the North Carolina State Fair.
Agriculture Leads the Way
First hosted by the State Agricultural Society in 1853, the fair is now in its 169th year, celebrating a long history of showcasing and promoting the state's agriculture, agribusiness, arts, crafts and culture. That means folks in the agricultural community get to show off their finest livestock, crops and new technology, and urban visitors get to feast their eyes on everything that agriculture touches in our state. Over 11 days and nights each fall, North Carolina's oldest tradition takes over 344 acres at the State Fair Grounds to remind our citizens where we came from and where we're going between trips to sample fried deliciousness and tummy-turning rides.
"The State Fair started a long time ago as a way to educate farmers on the newest production, new equipment and new seed, and over time, as there are fewer and fewer farmers, the goal now is to educate the public about the importance of agriculture in North Carolina and where does your food come from?" says Steve Troxler, NC State alumnus and North Carolina Agriculture Commissioner.
The State Fair has only been canceled a handful of times in its 169-year history: 1861-1868 during the Civil War and reconstruction, 1942-1945 during WWII and 2020 during the COVID-19 pandemic.
Now back and expecting pre-pandemic crowds, it remains a hallmark for agriculture in the state with myriad exhibits to educate and entertain visitors. Among those exhibits are the popular Flower and Garden Show and the State Fair Ark, where visitors can get up and personal with more than 60 farm animals. Beyond seeing sheep, goats and swine, visitors can even try their hand at milking a cow. Also not to be missed is the Got to Be NC exhibit in Dorton Arena, which hosts cooking demonstrations, farmer spotlights and opportunities to taste and purchase products developed by North Carolina farmers.
And don't forget about all the competitions. From 4-H youth showing their prize cows to giant vegetables, wine and quilts, there will be blue ribbon winners in myriad categories to knock your socks off. More than $600,000 in prize money is awarded each year to competitive exhibitors.
"It helps us make the connection from the farm to the table. That giant pumpkin is just an example of pumpkins that we raise in North Carolina. Most of them are not that large, but the pumpkins that we raise, of course, we think about, jack-o-lanterns on Halloween, but also that means pumpkin pie. That means pumpkin bread. So we're trying to make that connection from seeing the actual food in these exhibits and then showing how it ends up as food to humans," says Troxler.
The animal competitions also showcase a vital part of the state's agriculture to urban visitors who may have never been up close with farm animals.
"Our youth need to understand animal agriculture and that this is a part of their food supply," Troxler explains. "We want you to see how carefully we care for these animals and how much these animals mean to the state. When you see these kids that are showing these animals, you get that sense of how much they really respect and love the animals. That's true throughout animal agriculture in North Carolina."
Old Fair, New Tricks
The State Fair has some new tricks up the midway this year. The Public House will showcase beer and wine produced here in the state. NC State's own Howling Cow Ice Cream is getting a booth right on restaurant row.
"The legacy is it's always been an agricultural fair, and it's always going to be an agricultural fair, but we have to work to keep it relevant and keep it attractive," explains Troxler. "We are in the entertainment business, so there's competition with football games, NASCAR and pro football. We have to keep it interesting, relevant and make it convenient."
That includes a full slate of events, concerts, magic shows and more. And new foods: deep fried banana pudding taco, anyone? Or how about a deep fried NC country ham biscuit with bourbon peach jam? You can also hop on the Bacon Trail and discover, via food vendors, just why pork is the second largest agricultural commodity in the state.
Nothing Finer
We all have our favorite must-sees and must-dos at the State Fair, but Commissioner Troxler, when pressed, will let you know what he's looking forward to the most.
"I love everything about the North Carolina State Fair, but I have put up a lot of emphasis on the Heritage area of the fair. The Heritage buildings, the crafts that we showcase and the Village of Yesteryear," he says. "That's the history of North Carolina. We still raise a lot of tobacco. We want people to understand this is how it started. This has been the number one crop in North Carolina for a long, long time."
He also recommends a stop through the Bob Stanfield Natural Resource Center and the Flower Show. "That's another one of my favorites. It's one of the most beautiful areas you'll ever see."
So be you a thrill-seeker, game player or a sucker for those giant pumpkins and blue ribbon-winning cakes, make sure you make it out to the State Fair this week. As Commissioner Troxler says, "It's a North Carolina tradition. We are prepared to handle as many people as can come to the State Fair. And the truth is you can't do it in one day and see everything, ride everything and eat all the food. Make plans to come several times."