Editor's Note: National statistics show that "non-traditional" is increasingly the norm for students across the United States – in just one example, 75 percent of graduate students also work at least 30 hours a week. In our Non-Traditional series, we're highlighting some of our own amazing multi-taskers across CALS. Find the first story, about juggling the responsibilities of being a parent, a student and an Extension employee, here.
---
Alison Deviney always had two passions: science and the arts. The first time she had to pick a career path, she chose art.
"Girls weren't encouraged to pursue science like they are now," Deviney explains.
So she ended up attending Kennesaw University in Georgia and earning a bachelor's degree in fine arts in 2004.
Now fast forward two decades. At 46 years old and as a mother of two, Deviney is a Ph.D. student studying animal waste management in the Department of Biological and Agricultural Engineering (BAE) at NC State.
How did she get here from there?

Before art school, Deviney spent most of her life on or around farms. She's raised her own chickens, goats, rabbits, cows, sheep and pot-bellied pigs. Her land was nestled between large cattle and broiler farms, giving her some exposure to large-scale agriculture. When she moved to North Carolina with her husband and daughter in 2013, she had an opportunity to go back to school – and her agricultural background started to show. The second time around, she discovered a passion for improving the lives of farmers and those who live nearby.

Frankly, I see my age and experiences as a big advantage.

"Agriculture has a way of getting in your system," she says. "My background certainly had an influence on my decision to focus on livestock waste management and nutrient recovery instead of say, storm-water management."

She earned her associates degree in pre-engineering from Wake Tech Community College in 2014, then transferred to NC State.

There are some difficulties that come with going back to school later in life – "I think the biggest challenge is that student life and activities are geared toward young single people, not parents with families and households to manage," Deviney says. "I miss out on many of the social events because they conflict with family time."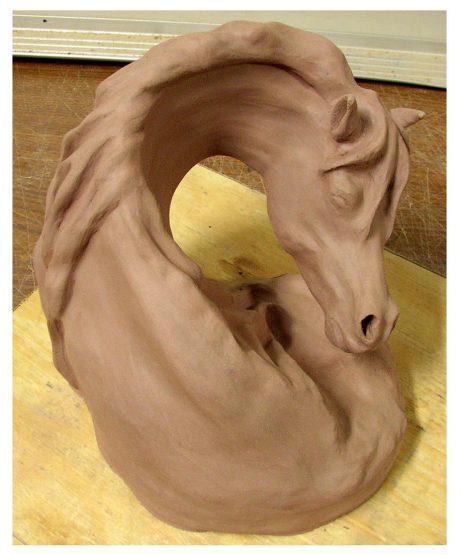 But there are also benefits. Her art degree has helped her look at engineering problems in unique ways.
"When we critique art, we look at composition – how the shapes, forms, lines, and colors impact the overall work," she says. "Often, engineers try to optimize a system by focusing on individual parts. … While that's an important aspect of what we do, I find myself as interested in how the system – in our case agriculture – works as a whole and how what we do impacts that."
With their breadth of life experience prior to starting the program, Deviney and her fellow non-traditional BAE students are an asset to a department that is built for "problem-solvers who want to address the grand challenges facing society," says Department Head Garey Fox.
"In many cases, non-traditional students like Alison do very well in our degree programs," Fox explains, "because they truly understand the benefit of this degree and its systems analysis approach in helping to understand and solve complex problems with biological and natural solutions."
Deviney agrees.
"Frankly, I see my age and experiences as a big advantage," she says.
Transforming challenges
Deviney works on nutrient recovery from animal waste with her advisor, John Classen.

"I wanted to do something that involved problem-solving. I wanted to work on something beyond just me," Deviney says. "The more involved I get in this work, the more challenging and complex I realize it is to address."

Her current project investigates barriers to more sustainable waste management technologies on the farm. She's working with Daniel Collins, a student in the Department of Agricultural and Human Sciences. Together, they gather qualitative research to work with swine producers, community members and other stakeholders in the swine industry to better understand the barriers to moving forward.

I hope it inspires other women to take on new challenges.

Deviney was recently named a Foundation for Food and Agriculture Research fellow along with several other College of Agriculture and Life Sciences students. The program was established to provide professional development and career guidance to the next generation of food and agriculture students while breaking down the silos that can separate different disciplines while focusing on professional development and "soft skills." Opportunities like these help Deviney overcome the challenges of being a non-traditional student.

"You may share my age – I hope it inspires other women to take on new challenges," Deviney says.

 And she's just getting started.

"Agriculture is one of the biggest inputs into our global nitrogen cycle and that can cause a lot of issues," she says. "But I'd like to be part of that solution."