N.C. Plant Sciences Initiative Launches Extension Agent Network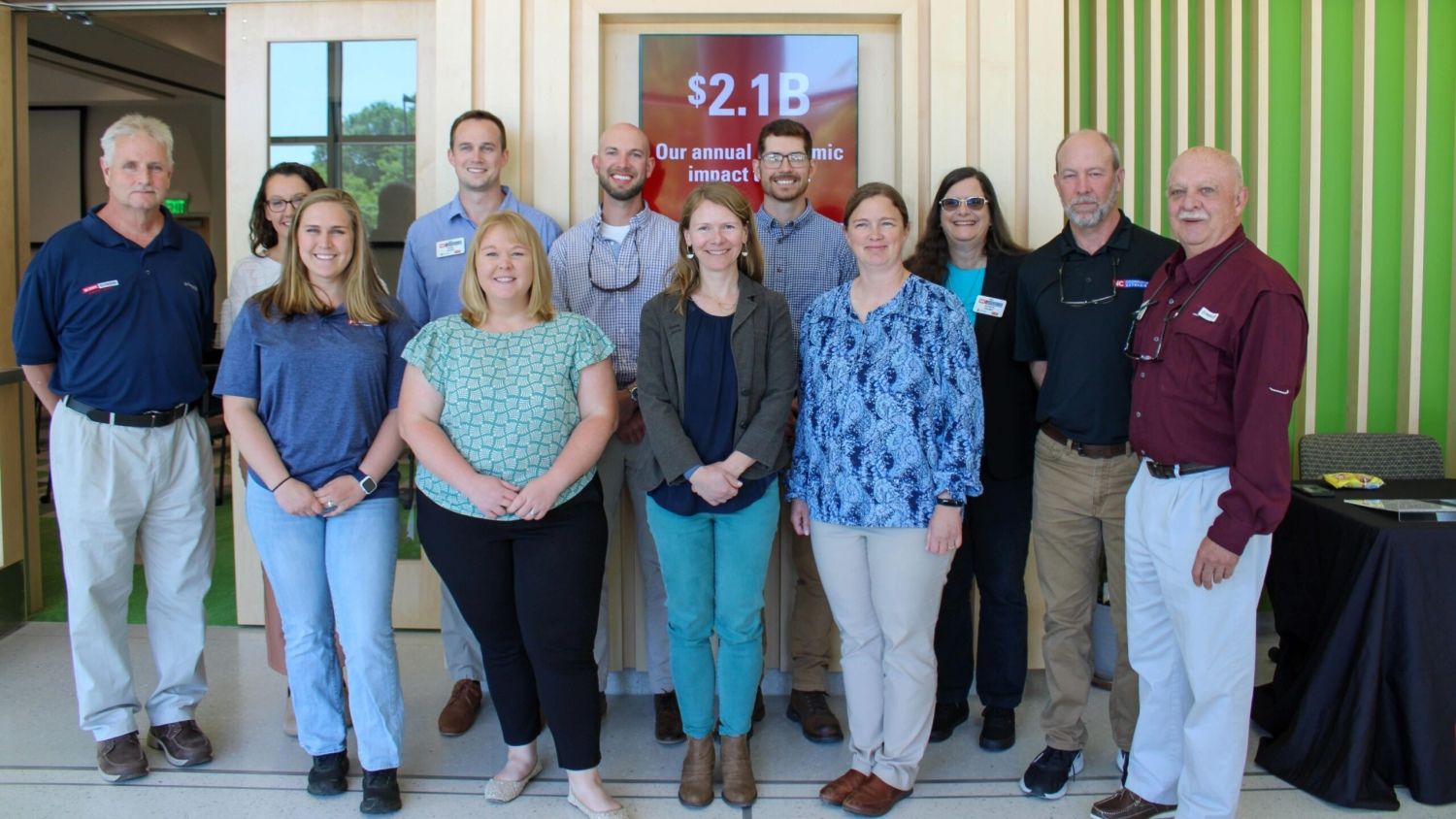 The North Carolina Plant Sciences Initiative (N.C. PSI) is committed to helping growers through cutting-edge plant science innovation. NC State Extension's mission is to extend research-based knowledge from the university to the field. Extension agents help farmers transform science into everyday solutions that improve crop yields.
The inaugural N.C. PSI Extension Agent Network is a perfect match of the two, a means to use the vast Extension reach and resources in North Carolina as an outlet for N.C. PSI research and technologies.
"This is a great way to make sure that the technology we are developing in PSI is relevant on-farm in North Carolina," said Rachel Vann, N.C. PSI platform director for Extension, Outreach and Engagement. "Agents in this network will leverage their strong relationships at the local level to both drive future PSI projects and to beta-test technology being developed by the PSI on-farm. We're leveraging our robust Extension system and agents who are committed to solving real-world problems in the field to amplify the goals of N.C. PSI."
The inaugural network consists of the following Extension agents: Meghan Baker, Buncombe County; Mikayla Berryhill, Granville County; Tim Britton, Johnston County; Mike Carroll, Craven County; Andrea Gibbs, Hyde County; Rod Gurganus, Beaufort County; Kathryn Holmes, Rockingham County; Della King, Duplin County; Dylan Lilley, Hertford County; Morgan Menaker, Union County; Blake Szilvay, Randolph County; and Jalynne Ward, Washington County.
"My core purpose for being here is to bring research and innovation to the growers I work with," said Menaker, field crops agent in Union County.
Working directly with farmers to test new technologies was one reason Britton, field crops agent in Johnston County, wanted to be a part of the network.
"I love being out in the field," he said. "I learn hands-on, and wanted to be part of a group doing hands-on learning."
"I'm excited to have a network of agents working closely with N.C. PSI to extend the research from this building," N.C. PSI executive director Adrian Percy said during a kickoff event April 21 at the Plant Sciences Building on NC State's Centennial campus. "The agents will test new initiatives with growers and receive feedback. We will use that feedback to improve projects and improve our ability to deliver on-farm solutions."
The 12 Extension agents, who will receive an annual stipend to participate in the network, were selected based on the merit of their application, their representation of the broad geographic and production diversity in the state, and ability to build strong relationships with farmers at the local level.
My core purpose for being here is to bring research and innovation to the growers I work with.
"An incredibly exciting aspect of getting this N.C. PSI Extension Agent Network off the ground is that farmers were the initial supporters of this network, providing funds through the North Carolina Soybean Producers Association, Corn Growers Association of North Carolina, and the North Carolina Small Grain Growers Association," Vann said. "These growers recognized that Extension agents were a great asset to help test PSI developed technology but also that exposure to the cutting-edge science at the PSI would allow these agents to develop skills that were needed to more robustly serve growers across the state in the technology space."
Since that initial support, there has been additional momentum supporting the network with very generous gifts this spring by David Peele.
The inaugural project for the 12 agents will be beta-testing both software and hardware developed to facilitate farmers more optimally adopting cover crops. The technology was developed by the Precision Sustainable Agricultural network which is co-led from N.C. PSI.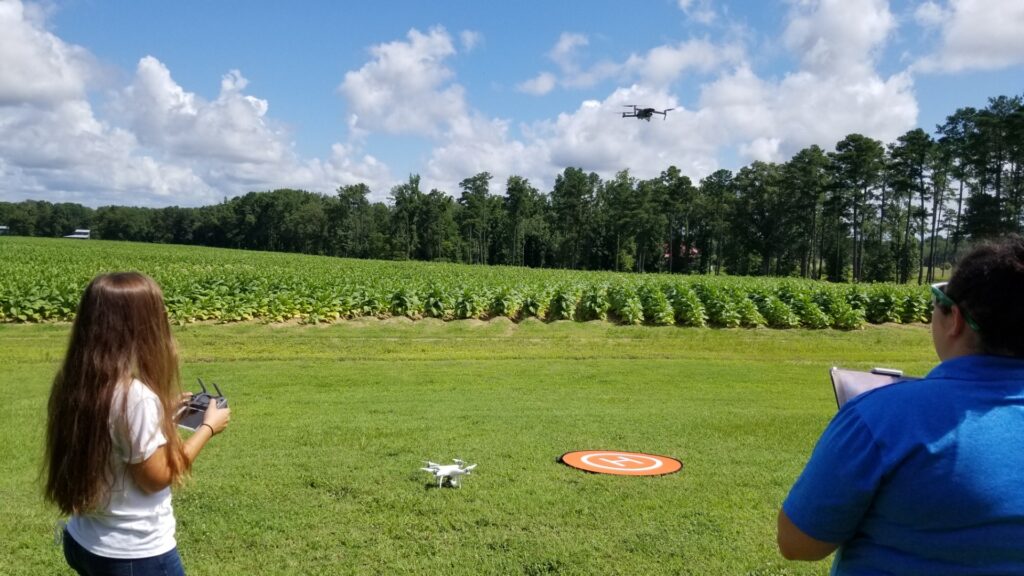 "We wanted a topic that is going to be relevant for many growers across the state and many Extension agents," Vann said. "It was a natural fit to work with cover crops. They are used on small farms, big farms, all across the state. It's a type of technology that is going to be relevant in the different production regions of North Carolina. Cover crops are a hot topic and there are a variety of new payment programs that cover crop users can capitalize on. Our agents get a lot of questions about them. We want to help farmers make the best agronomic decisions about incorporating cover crops into their operations."
Cover crops are used for a variety of purposes. This can range from long-term benefits, such as erosion prevention or building organic matter, to shorter-term benefits like weed suppression and soil moisture conservation. Legume cover crops supply nitrogen to organic and conventional farming systems. They can also help with carbon sequestration.
Chris Reberg-Horton, N.C. PSI platform director of resilient agricultural systems, has developed software to help farmers choose the best cover crops for their production situation and hardware to map the performance.
"My own team had been doing a little user testing, but less formal, and we wanted to up our game. The N.C. PSI Extension Agent Network was a great opportunity to do this," Reberg-Horton said. "If we want to translate what we do in this building, we need people who know the farmers. I think we have the strongest Extension system in the country. This is very innovative, to have this user testing of early product development. This can be a national model that can rejuvenate Extension in other states."
The selector tool has the potential to not only help growers pick the best for their conditions, but also encourage new cover crop users.
My own team had been doing a little user testing, but less formal, and we wanted to up our game. The N.C. PSI Extension Agent Network was a great opportunity to do this.
"If somebody is not using a cover crop, maybe they'll say this is something I could try after exploring the functionality of these new tools," said Gurganus, Beaufort County Extension Director.
Future projects will be linked to other N.C. PSI developed technologies and determined by securing funding for the N.C. PSI Extension Agent Network in large interdisciplinary grants and input from N.C. PSI scientists and researchers as well as feedback the Extension agents receive from the field.
"I hope the PSI Extension Agent Network is a catalyst for more meaningfully incorporating Extension in large interdisciplinary grants," Vann said. "Most of these interdisciplinary grants need an Extension component, they need real-world feedback, and the Agent Network is the perfect opportunity to provide that."
This post was originally published in Plant Sciences Initiative.