Media Advisory: NC State to Break Ground on Plant Sciences Building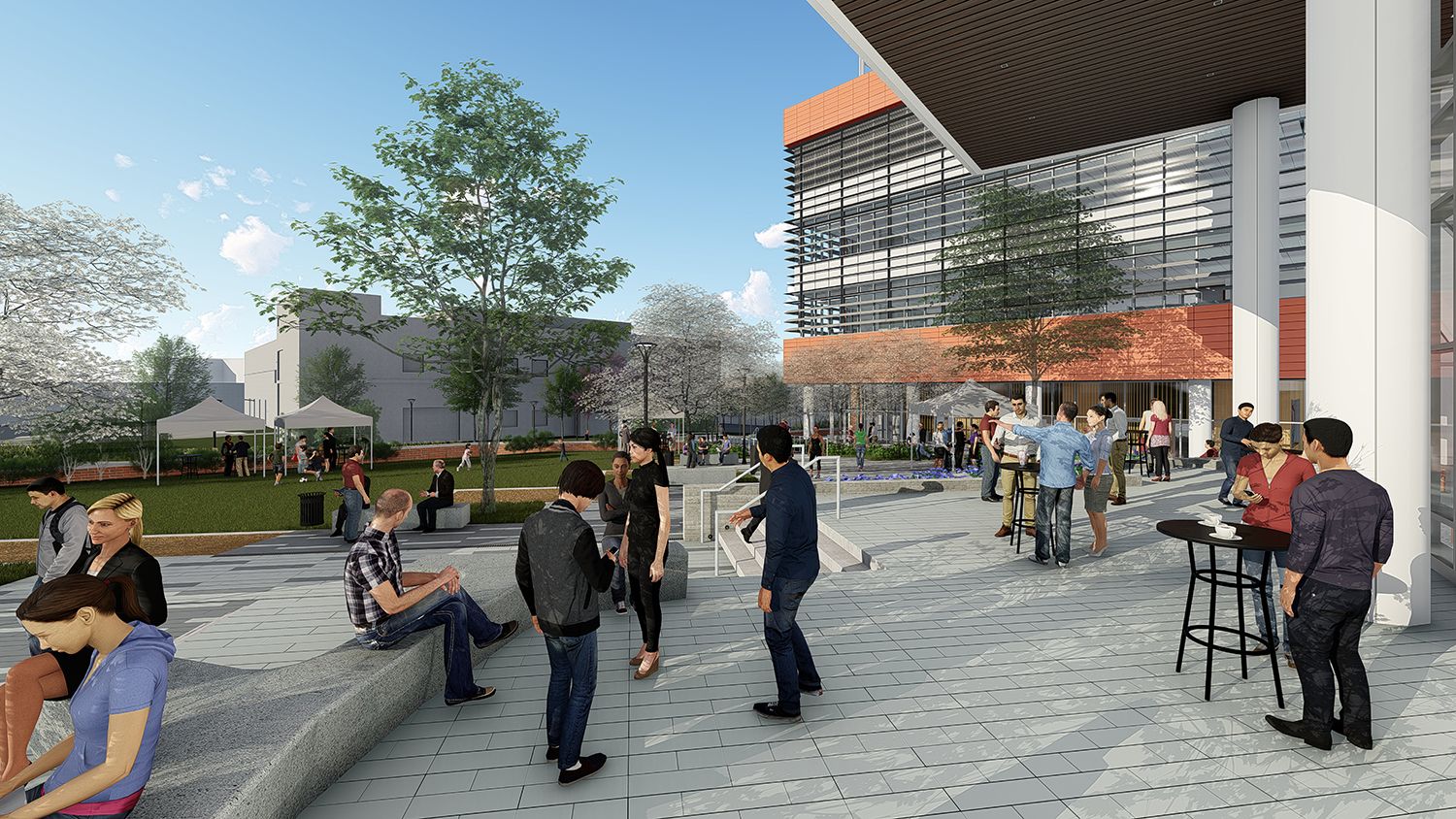 MEDIA ADVISORY For photos, videos, quotes and other background materials see go.ncsu.edu/NCPSIMediaKit
On Friday, Sept. 6, 2019, NC State University officials and stakeholders will break ground on the five-story, 185,000-square-foot Plant Sciences Building on Centennial Campus. Media coverage is invited.
The NC State University Plant Sciences Building and the broader N.C. Plant Sciences Initiative was envisioned by North Carolina farmers and agribusinesses seeking new and enhanced plant science discoveries to increase yields, enhance sustainability and extend growing seasons. It was championed by the state's agricultural leaders and generously supported by more than 44 agricultural and community organizations. It was encouraged and endorsed by members of the North Carolina General Assembly who included it in the Connect NC bond referendum that provided $85 million in funding. It moved from concept to construction in 2016 with the combined $48 million grants from the Golden LEAF Foundation.
Flad Architects completed the building design in late 2018, and DPR Construction kicked off construction efforts in April 2019. The new state-of-the-art research facility is set to open its doors in 2021 and will bring the brightest minds in academia, government and industry together to tackle the grand challenges in agriculture. 
North Carolina is uniquely positioned to be the global hub for plant science innovation, delivering cutting-edge research with a local impact and a global reach. NC State's historical strength in plant breeding and the plant sciences and the state's diversity in climate, geography, crops and plants are assets, as are partnerships with the North Carolina Department of Agriculture and Consumer Services, our agricultural, biotech and life sciences community, NC State University faculty and the NC State Extension network.
Chancellor Randy Woodson and College of Agriculture and Life Sciences Dean Richard Linton will begin the program at 10 a.m. More than 400 stakeholders, partners, and invested parties are expected to gather to celebrate the promise this research facility represents. 
 Featured Event Speakers May Include:
NC State University student Jabeen Ahmad

NC State University Chancellor Randy Woodson

NC State University College of Agriculture and Life Sciences Dean Richard Linton

NC General Assembly Representative David Lewis

U.S. Department of Agriculture's Agricultural Research Service Administrator Chavonda Jacobs-Young

NC Farm Bureau President Larry Wooten 

Golden LEAF Foundation Board Chair Randy Isenhower
Location:  NC State University's James B. Hunt Library Auditorium, 1070 Partners Way, Raleigh, NC 27606
Driving Directions: https://www.lib.ncsu.edu/directions/hunt
Directions to the Auditorium (Room 1103): 1st floor near the entrance on the west side of the building facing Partners Way and directly to the right of the Common Grounds Café
###
NC State University's College of Agriculture and Life Sciences (CALS) lives the land-grant mission through 12 academic departments, research and extension. Seventy-seven percent of CALS students have jobs when they graduate – many with salaries well above the state median, and many of these same graduates contribute to the growth of the N.C. agricultural community. Through the Plant Sciences Initiative, CALS strives to prepare for the challenges of tomorrow's world by creating a safe and reliable source for food, fiber and forestry.
For more information about the NC State University Plant Sciences Initiative, please visit our webpage, cals.ncsu.edu/PSI and our media kit at go.ncsu.edu/NCPSIMediaKit.