Extension
Making Scents: North Carolina Christmas Tree Fragrances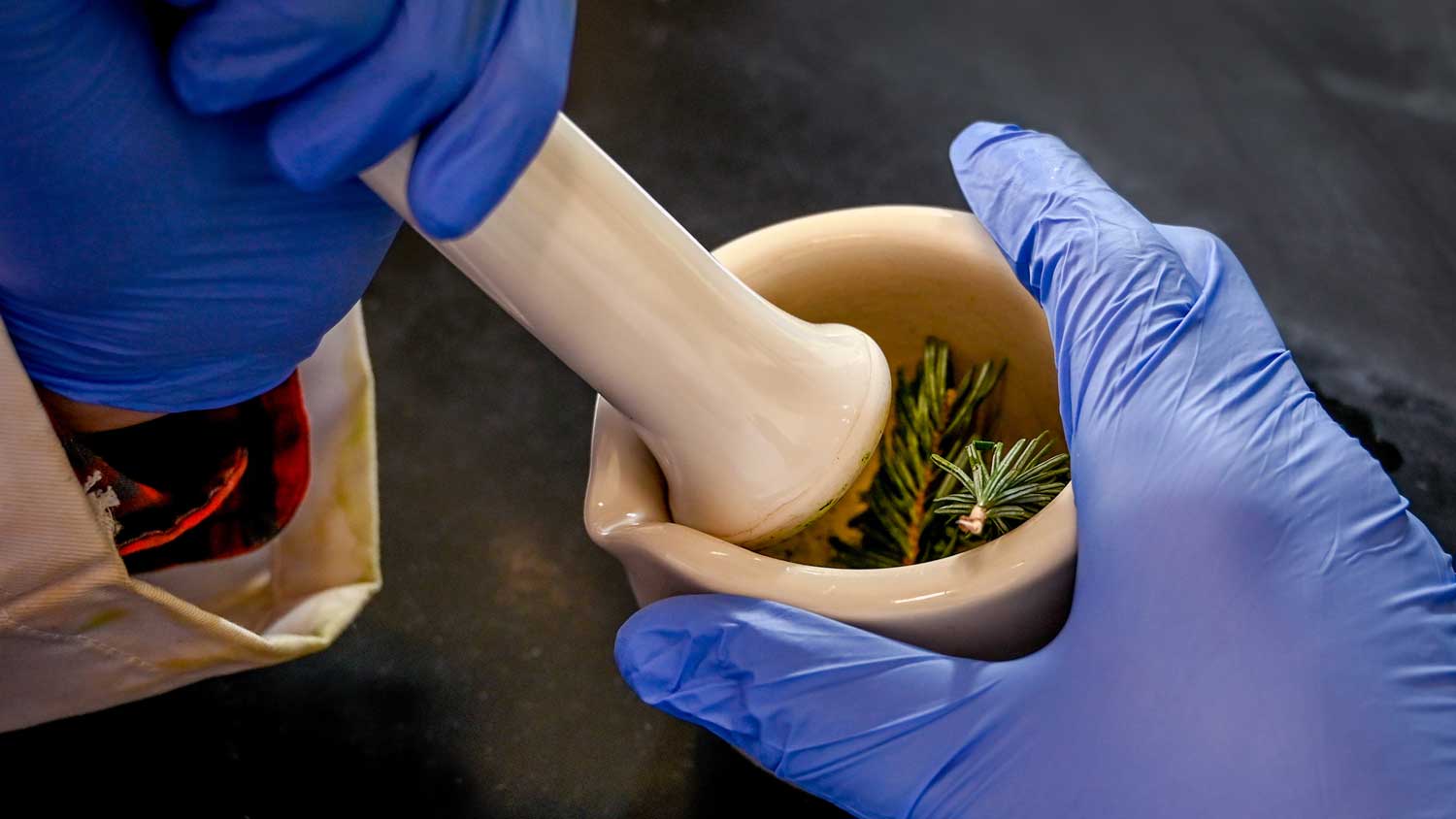 Nothing says Christmas in North Carolina like the fresh scent of a Fraser fir wafting through your home.
Whether you choose and cut your own tree, or you visit the tree lot down the street, North Carolina-grown Fraser firs are known for their beauty, their needle retention, their woodsy aroma and their ability to make even the Scrooges among us smile.
The Hands That Shape Them
Christmas trees are a labor of love that begins, on average, 8-10 years before that special tree makes its way to your home. Farmers touch the tree over 150 times during that time span, sowing, transplanting (usually twice), weeding, shaping and providing the necessary TLC.
That special tree was a sparkle in the eye of some special researchers long before it ever arrived as a seed at your favorite farm.
"We use the information that we gather through the breeding program to determine the selection of trees with the best traits.
The dream of the perfect Christmas tree begins in the lab of Justin Whitehill, assistant professor and Extension specialist in Christmas tree genetics, on NC State's Centennial Campus. Whitehill and his team of students are researching how to genetically improve and develop the perfect tree. In short, they are looking for the win-win for farmers needing to make a living and all of us who want the perfect holiday centerpiece.
"We are trying at a genetic level to understand what is happening in these trees from one cycle to the next," Whitehill said. "We use the information that we gather through the breeding program to determine the selection of trees with the best traits: they smell stronger, grow faster, retain their needles and are pest resistant. It is a slow process with trees."
Whitehill inherited a seed nursery from John Frampton, his predecessor and former Christmas Tree Genetics Program director. Frampton selected the first round of trees for the breeding program. Whitehill's job is to select the progeny of those first trees, find the ones with the best genetics and continue the process. "It is not uncommon for one round of genetic improvements to take 25 years. We are trying to speed up the cycle," he said.
According to Whitehill it can take 15 to 20 years for a conifer to begin to produce cones and seed.
Christmas in the Air
There's a tremendous amount of science behind the fragrance of Christmas. In fact, Whitehill's research centers on the trees' aroma profile, the chemical compounds that create the scent. He is interested in how aroma helps to defend the tree, and how the environment can impact that aroma.
Whitehill said that aroma comes from terpene compounds which serve as the trees' defense against pests like insects. Deer also pose a challenge to Christmas trees, but aroma can deter them. When trees become stressed, they can release more compounds that can produce a stronger fragrance. "Some farmers are scientists themselves and will selectively damage a tree to increase the aroma," he said. "There is an ability in the wood to make more resin in plant structures termed traumatic resin canals."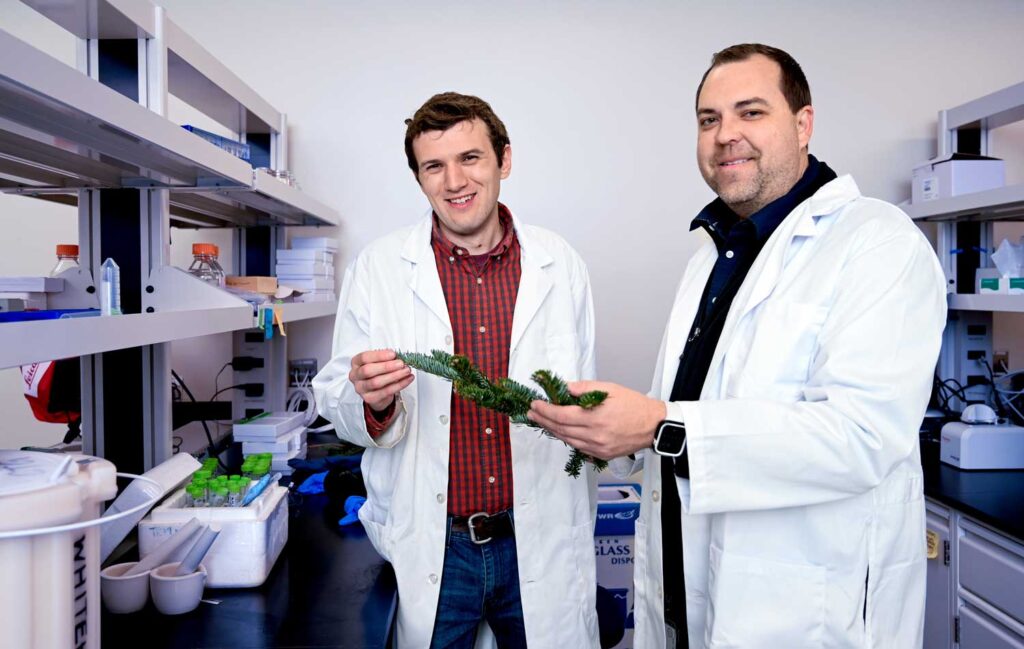 Different species of trees have different compounds and, according to Whitehill, even different trees within a species can have different aroma profiles. He looks at individual trees to find those subtle differences and puts select trees into his breeding program. "We are looking at how deer or insect pests react to different compounds and we select trees that deter these threats but still attract consumers."
One area of growth that Whitehill sees for North Carolina Christmas trees is the potential for Fraser fir compounds to be used in the fragrance industry for production of fine perfumes and colognes.
Cis-abienol, harvested from some conifers — including balsam fir, a close relative to Fraser fir — is chemically similar to ambergris, or ambrox, a very expensive compound that can be harvested from sperm whale vomit. Because sperm whales are an endangered species, ambergris is rare and can only be obtained when one washes ashore, an extremely rare occurrence. "These compounds are closely related," Whitehill said. "If we can isolate the compound from trees and make a couple of changes, we can make ambrox."
New Markets for an Age-old Scent
While Whitehill works in a laboratory to find scientific ways to enhance the Christmas tree industry, Jerry Moody, director of Extension's Avery County center, is chasing a similar dream.
In the early 2000s, North Carolina Christmas tree growers faced a glut with lower pricing and many unsold trees going to waste. Moody, whose life's work is in supporting these farmers and helping to ensure their success, felt compelled to act.
"I was just thinking about 'What can we do with these trees?'" said Moody. Acting on that thought, he began conducting research on distillation of essential oils.
Moody consulted every resource he could find, from scholarly, university papers to articles from cooperatives in the developing world. One key piece of information was a 1939 dissertation from Oregon State College as well as information gleaned from a spearmint distillery that operated in North Carolina years ago and sold oils primarily to Wrigley for spearmint gum.
About his research, Moody said with a chuckle, "I've gone down many a rabbit hole."
He found that the popularity of home brewing of spirits made the equipment he required more readily available, and he set out to get hands-on experience distilling oils from plants.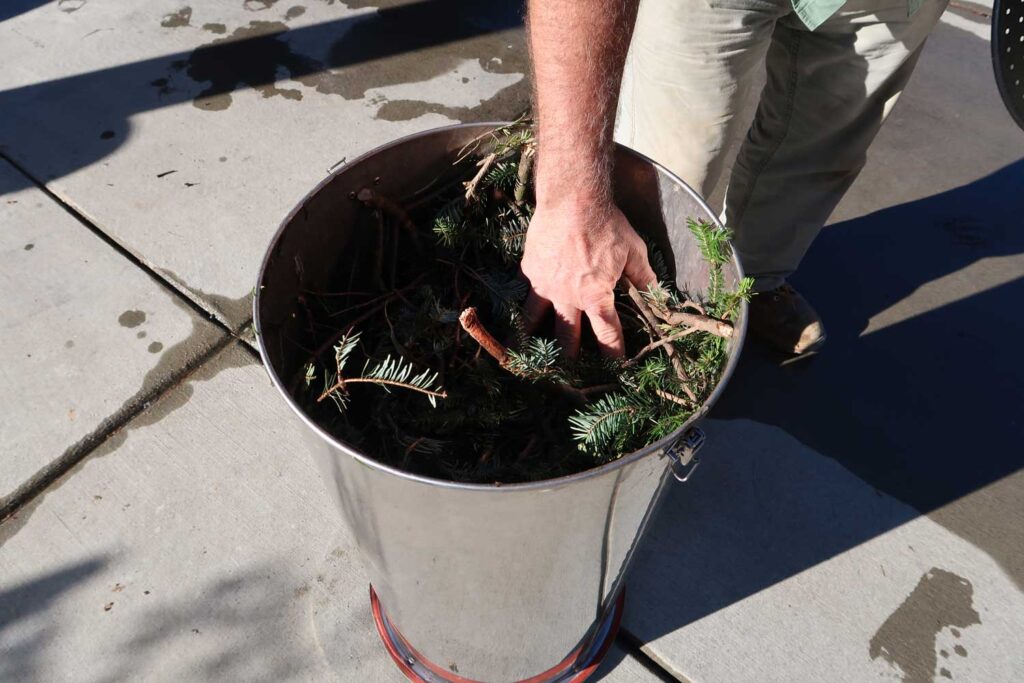 Moody explained that the right equipment is the first step in distilling essential oils. "Copper will absorb some of the plant material so it can only be used to distill one variety of plant. Glass is good, but is expensive and fragile. I chose stainless steel so that I can use various plants but keep costs reasonable," Moody said.
With a still resembling something out of the moonshine era, Moody erred on the side of caution: "I let the sheriff know what I am doing."
After sourcing materials from wreath makers and tree farms, Moody uses a small wood chipper to break down waste trimmings from Fraser firs, primarily the needles and small stems. Once chipped, he packs them tightly into a barrel that slips inside a barrel reservoir holding water at the bottom, away from the plant materials. This barrel sits on a turkey stove which is lit using propane gas and brings the water to a boil. Water continuously enters the reservoir through a hose so that the container never runs dry.
As steam rises through the container and its woody contents, it enters a condenser and forms condensation inside a glass tube that comes from high up on the side of the barrel. The fragrant, oily water travels down a hose, through some glass vials that you might only see in chemistry class, and collects in a teardrop-shaped vase with a spigot at the bottom.
About an hour and a half after condensation begins to form, Moody draws off the water at the bottom of the vase; the oil has risen to the top. Once the water is removed, Moody has a perfect few ounces of Fraser fir essential oil.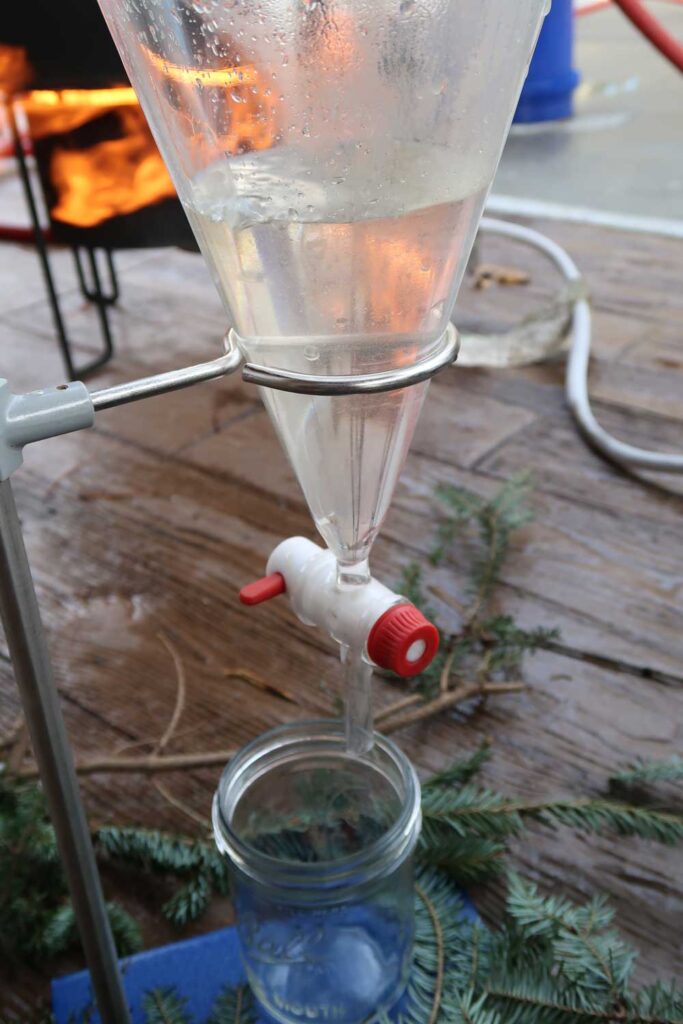 "I'm still playing with it," Moody said, but he can pull around 7 oz. of the oil from a 6-foot tree that would otherwise become compost.
According to Moody there are five markets for essential oils: hydrosol, the water run-off from the distillation process used to make soap, the candle market and fresh scent spray markets (for those who don't understand the joy a live tree brings), the cleaning product market, and, finally, aromatherapy, the toughest market to enter due to the desire for all-organic plant products.
"I have sold some oil and my interest is in the wholesale market where I can sell by the quart or gallon," Moody said. But his true passion is in finding new and innovative ways for North Carolina farmers to avoid waste and enhance profits from every crop of trees they sell.
Fresh Future
Go into any major candle retailer at this time of year and you are likely to find balsam, pine and cedar scents. Whitehill and Moody hope that could soon change.
A few North Carolinians have started to sell Fraser fir oil directly to niche markets, and the opportunity to make the scent a holiday staple may be closer than you think. Until then, support your North Carolina Christmas tree farmers by buying local, fresh-cut trees.