Alumni and Friends
Lending a Hand With the Pfizer Vaccine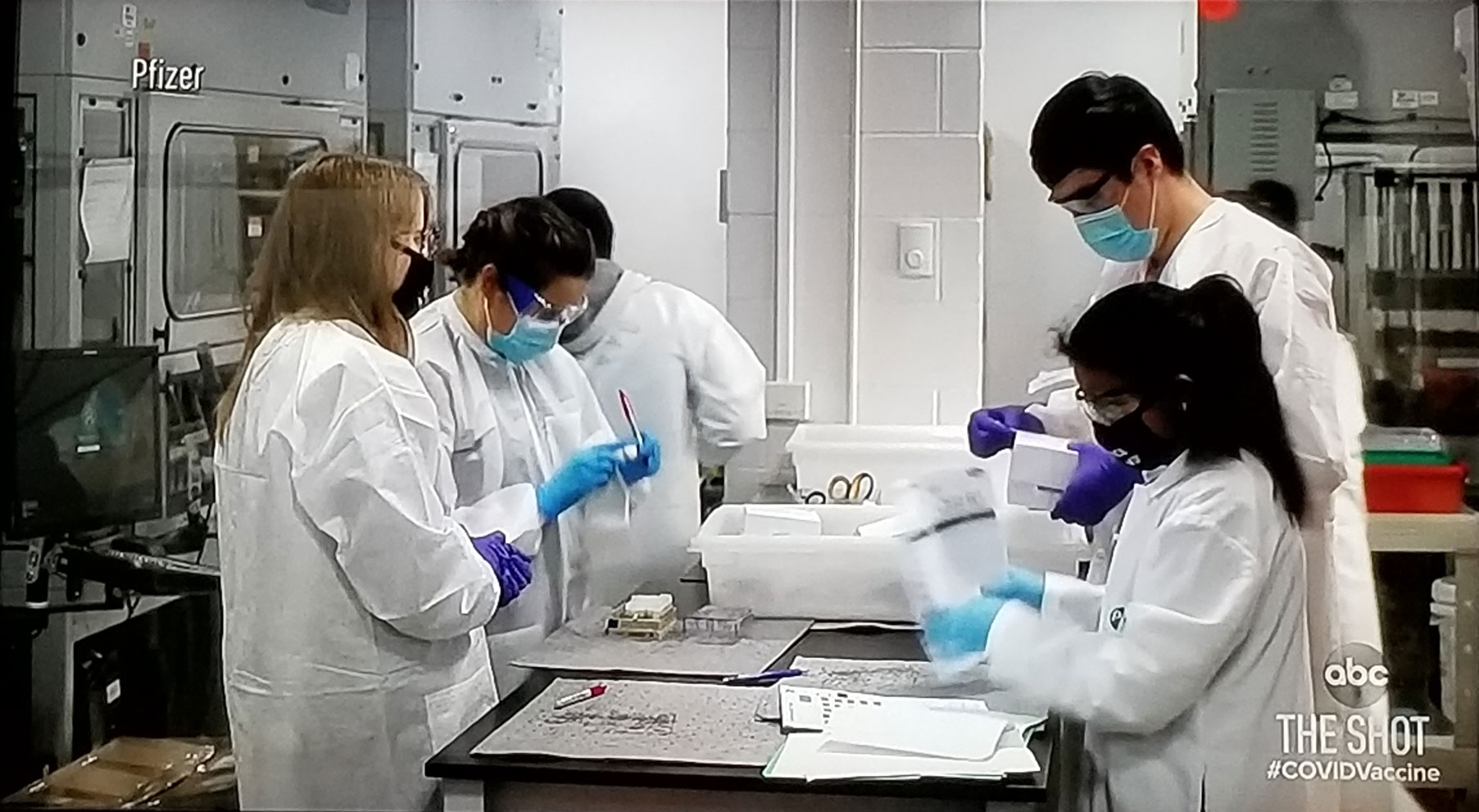 CALS alumnus David Huffman will always remember working at Pfizer during the pandemic. If he wants to share those memories, he can call up footage from ABC's "20/20," Nat Geo or the Discovery Channel.
Huffman, a 2019 graduate in bioprocessing science, landed a job with Pfizer in Pearl River, New York, near New York City, as an associate scientist supporting tissue culture work.
In 2020, when Pfizer began work on an mRNA vaccine with BioNTech, Huffman was one of the first volunteers from his group for the sample management team, which helped track and handle swabs from coronavirus testing.
"They were coming from all over the world," Huffman recalls. "We had some from South America, some from Europe, some from all over the country, from California, Oregon and North Carolina, too."
Pfizer's successful vaccine development was part of a historic moment captured by major news and documentary crews, who shot footage of Huffman through Plexiglas in a biosecure area.
"To start off my career this way, I would say it's kind of bittersweet because I've known people that have gotten sick from this, and I have lost some people due to this terrible disease," Huffman says. "It probably made me more focused on what I need to do and what I want to do.
I wish the circumstances were different, but I am proud for doing some of the work that I'm doing and helping out as much as I can."
Wearing goggles, a mask and lab coat, Huffman made an appearance in the final minutes of a special edition of "20/20" titled "The Shot: Race for the Vaccine," which aired in December 2020.
A friend sent the link, which he forwarded to friends and family. His dad suggested sharing it with April Hix Morrison, his academic advisor in the Department of Food, Bioprocessing and Nutrition Sciences.
Huffman credits Morrison's support and industry experience with helping him choose his career path.
"With bioprocessing, I learned that you can do a lot of different work with biofuels, pharma and food," Huffman says. "When I learned that you can be in pharma, I knew that was just the major for me."
Working on cell growth as a volunteer in undergraduate coordinator John Sheppard's bioprocessing lab provided valuable hands-on experience.
"That really helped me out with my current position and a little bit with sample management because it teaches you to be clean. It keeps me orderly, keeps me thinking on my feet," Huffman says. "Learning about micro scale-up, going from a little tiny colony to a bigger culture, really helped me reach where I am now."
He's currently doing cell culture work, growing and harvesting cell lines to support clinical studies at Pfizer — and considering a master's degree in clinical research management.
And he just received his second dose of the vaccine.