Diversity and Inclusion
Kimberly Hernandez Embraces Difference and Gives Back to the Latinx Community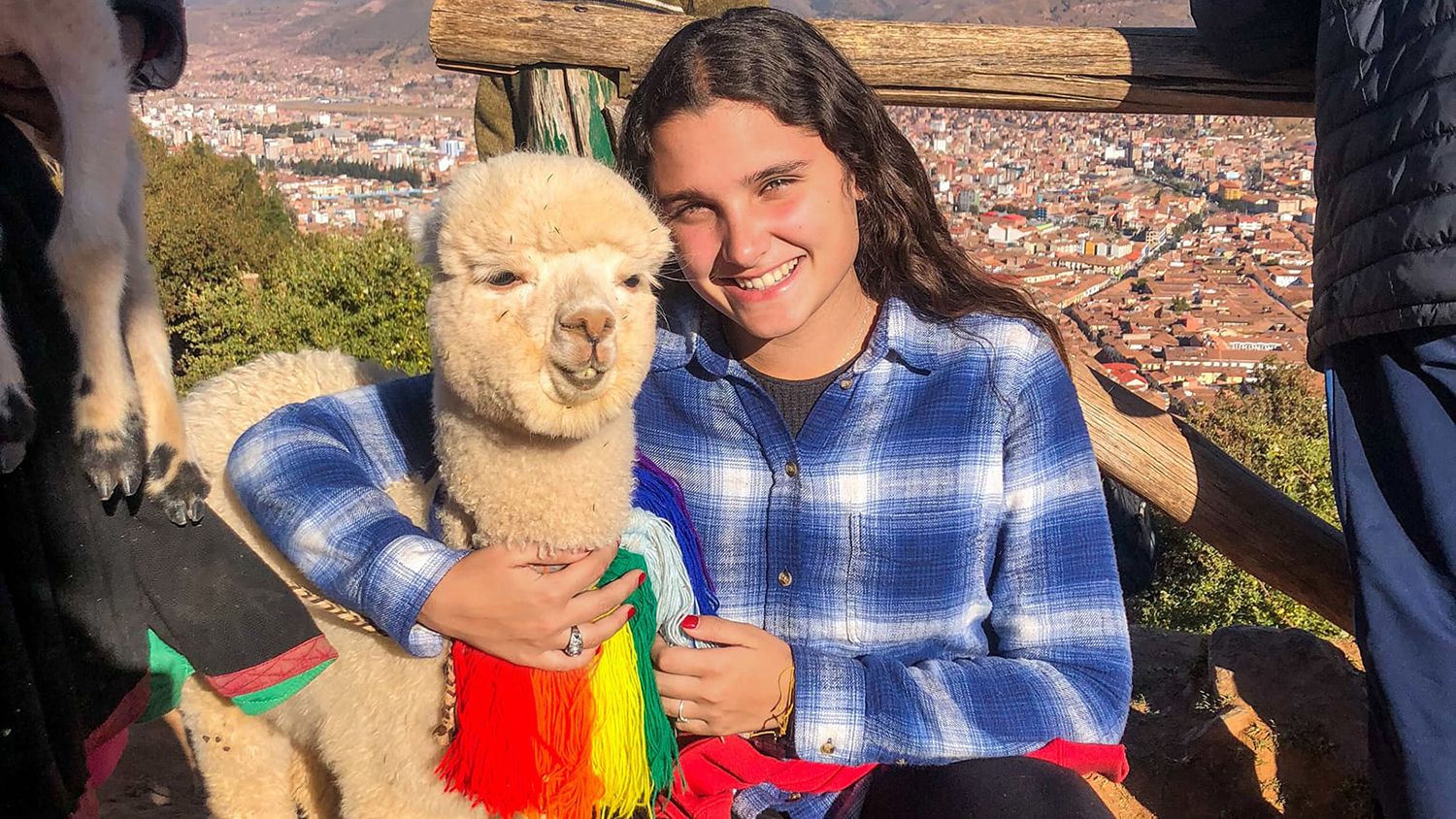 Kimberly Hernandez, a senior in the College of Agriculture and Life Sciences (CALS), is learning to overcome cultural barriers by investing her time in the Latinx community while pursuing her life's mission as a future science teacher.
"Choosing animal science was one of the best decisions I ever made," she says. "The program brought a new perspective to all the life science courses I took at my high school in San Juan, Puerto Rico."
Hernandez didn't even know North Carolina State University existed before she began researching colleges.
"I searched 'best schools for animal science,' and NC State was one of the first results," she says.
Hernandez had never traveled to North Carolina, but a high school friend — who was also an animal science major at CALS — encouraged her to apply. "My most affordable options were NC State and Iowa State. I chose NC State because it was best-ranked and closer to home."
Hernandez initially wanted to become a veterinarian. But in her junior year, she took a course called Professional Development for Animal Science Careers, which steered her toward becoming an educator.
"Professor Melissa Merrill invited a guest speaker every week, each representing a different career within animal science," Hernandez says. "She also gave us assignments to help us reflect on what careers align most with our morals, beliefs and personal life goals. After this course, I decided to focus on becoming a high school science teacher. I am currently applying to the Master of Arts in Teaching program at Duke University."
But the journey hasn't been seamless.
Though technically not an international student, Hernandez had to surmount a language barrier, fulfill academic expectations and adjust to customs vastly different from those in Puerto Rico.
"Puerto Ricans are U.S. citizens, but we cannot vote (in federal elections)," she explains. "We are part of the U.S., but there are major cultural, economic and political contrasts. So we don't feel 'American.'"
Adapting to life at NC State brought her face-to-face with self-doubt, intercultural misunderstandings and feelings of disconnection.
"My first semesters at CALS were very hard," she reflects. "I couldn't understand my professors or peers and was scared to interact with them. I was still translating from Spanish to English in my head before speaking and writing. I would even switch between English and Spanish when taking notes in class."
But Hernandez gained the courage to ask for help by attending professors' office hours and taking advantage of NC State's tutoring services to get the academic assistance she needed.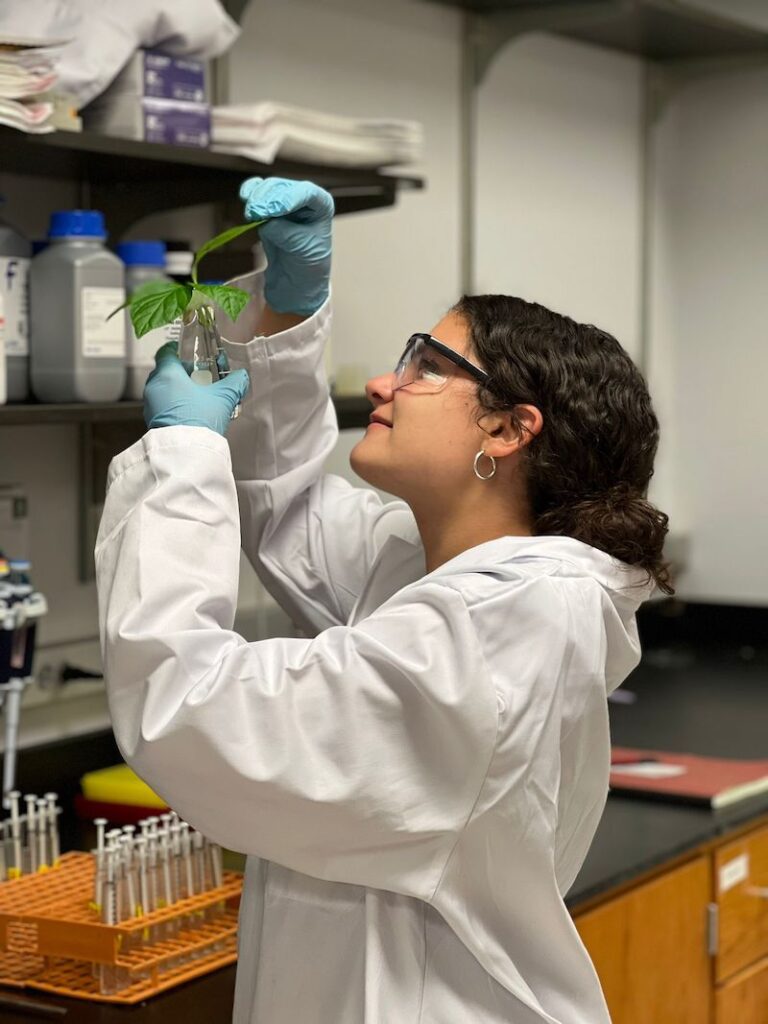 At times, Hernandez would field questions from fellow animal science classmates who were curious about her life in Puerto Rico: "Do you have pizza in Puerto Rico?" "Do the houses look the same as they do here?" "Do you have interstate roads?" "Is Puerto Rico considered a third-world country?" "Do you have malls?"
"It was nothing I couldn't handle," Hernandez says. "At first, I was slightly offended by the questions, but then I realized it was not their fault. Most schools don't teach enough about the U.S. territories."
She believes that Puerto Rico's ambiguous political and economic relationship with the U.S. underpins general misconceptions about the commonwealth and its people.
"Looking back, these questions were not as bizarre as I thought. Many people are uneducated about Puerto Rico, so they make assumptions based on stereotypes or general misinformation."
Such interactions with well-meaning peers signify the growing pains of embracing a multicultural learning environment. However, they also highlight the need for dedicated spaces for NC State's underrepresented groups.
"Multicultural Student Affairs does a wonderful job tying all the Latinx organizations together," says Hernandez. "I have never related to the phrase 'celebrating our differences' as much as I do at these gatherings."
Hernandez has danced at Sube Ritmo socials, mingled at Latinas Promoviendo Comunidad/Lambda Pi Chi Sorority events and attended community cookouts, game nights and karaoke through Mi Familia.
One of her most memorable experiences was witnessing a spontaneous dance celebration at a cookout. When a popular Mexican song began to play, people familiar with it performed the choreography while the rest of the group encircled them, cheering them on.
"Our appreciation for each other within the Hispanic community is so beautiful. Many people think we are the same, but we are not. That is the beauty of it; we all embrace how distinct our cultures are from each other."
Volunteering in the Latinx community has given Hernandez a practical way to improve people's lives.
She began working for Juntos during her first year at NC State. The program champions the educational success of Latinx high school students by providing resources and support to increase graduation and college attendance.
Juntos offers tutoring, mentoring, workshops for parents and students, success coaching and more — free of cost.
"Juntos changed my perspective on life."
The program also increased her awareness of the extreme disadvantages children of immigrant families face while striving for academic and professional success.
"I benefited from having parents who are familiar with Puerto Rico's school system and speak the national language. Many Latinx students in the U.S. don't have that privilege."
With renewed enthusiasm, Hernandez prepares to apply her multicultural knowledge and experiences toward educating and developing the next generation.
"Juntos changed my perspective on life," says Hernandez. "I am very passionate about this program and have made their mission my own: to help Latinx students achieve high school graduation and attend higher education."