Juntos Awarded $7.8 Million Grant to Improve STEM Programming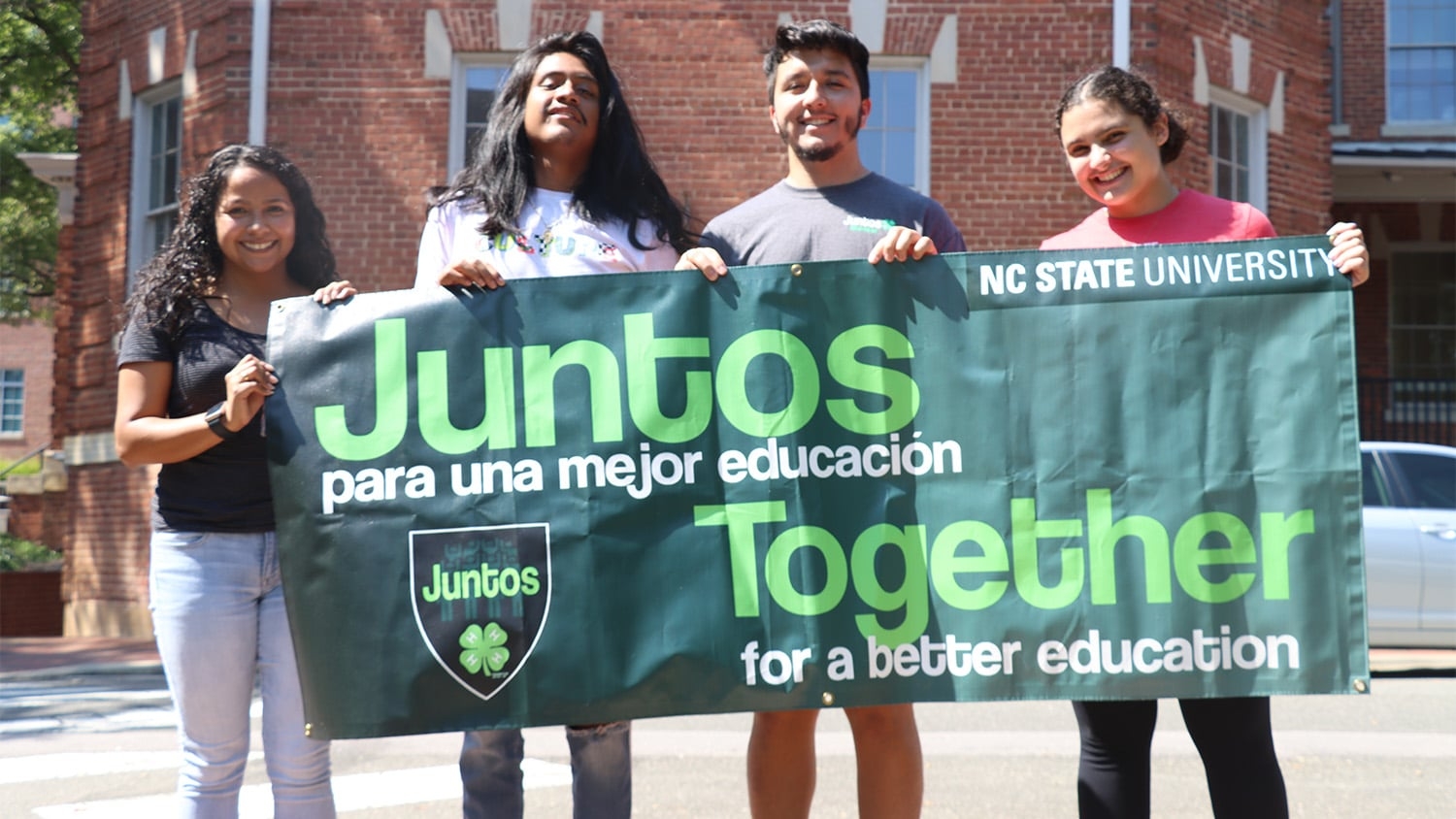 NC State's Juntos program has received a $7.8 million grant to improve science, technology, engineering and math (STEM) participation, persistence and career readiness among Hispanic and Latino youth in the states of North Carolina and Washington. The grant was awarded by the U.S. Department of Agriculture's National Institute of Food and Agriculture (NIFA) through the Youth Innovators Empowering Agriculture Across America program. 
The grant will fund a five-year project that draws from culturally responsive pedagogy, behavioral science theory and evidence-based practice used in the Juntos program to create a STEM Agriculture Pathways model to serve students beyond secondary education. The project also includes the formation of the National Juntos Consortium to support a replicable, scalable program that improves Latino youth representation in postsecondary education programs and advances diversity, equity, inclusion and accessibility work within the Land Grant University Extension System.
"The formation of the National Juntos Consortium and STEM Agriculture Pathways model is a transformational, interdisciplinary, collaborative project that will prepare Latino students to be a part of the next generation of leaders and the workforce in STEM and agriscience," said Diana Urieta, Juntos senior director, co-developer and extension specialist. "I'm incredibly excited to work with colleagues from different disciplines committed to this work and the advancement it will have in research, education and Extension."
New Partnerships Created
Urieta will lead the project along with a diverse and talented group of content experts from NC State's Division of Student and Academic Affairs, College of Agriculture and Life Sciences Cooperative Extension and Friday Institute as well as Wake Technical Community College, the University of North Carolina Chapel Hill, Central Carolina Community College and Washington State University. In years three through five of the project, Juntos programs in three additional states will be able to join this collaborative project.
Based at NC State, Callie Edwards, acting director of the Program Evaluation and Education Group at the Friday Institute for Educational Innovation, and Autumn Cano-Guin, quality youth program specialist for North Carolina 4-H Youth Development, look forward to expanding their existing partnerships with Juntos.
"My team and I are honored to serve as the evaluation partner for the Juntos program on this exciting extension of their work," Edwards said. "Juntos is a treasured partner of the Friday Institute, and we have long brainstormed ways to collaborate together in this capacity. I am most excited about the opportunity to use data to communicate the impact of this new and innovative STEM Agriculture Pathways program on youth both within North Carolina and beyond!"
"I am excited about building a program to open pathways for young people to see agricultural science as a space where they belong," Cano-Guin said. "Through Juntos STEM Agriculture Pathways, Latino youth will get to experience agricultural science and learn from professionals working in many different fields. Our hope is that this will empower youth to explore careers in agricultural science with the support of Juntos 4-H to show them the way to make those careers a reality."
In the greater Triangle area, H. Luz Reyes, associate professor of health behavior for the Gillings School of Global Public Health at the University of North Carolina Chapel Hill, and Kevin Pearson, dean of college access services for Central Carolina Community College, are also contributing to the project.
"What most excites me about this project is that it aims to both spark an interest and passion for STEM in Latino/a youth and facilitate access to opportunities that aim to develop that spark into a lifelong career path," Reyes said. "The project tackles the critical need to address underrepresentation of Latino/as in the STEM workforce."
"As a partner in the Juntos STEM Agriculture Pathways project, Central Carolina Community College looks forward to further engaging our Latinx community by providing programming and pathways leading to personal growth and development in STEM education," Pearson said. "The project will allow us to advance the skills and capabilities of our Latinx youth, increase their understanding of STEM-related pathways and prepare them for the high-quality career opportunities coming to our region."
About Juntos NC State
Juntos (pronounced "who-n-toes"), which means "together" in Spanish, is a national organization based at NC State University with partner institutions around the country. The goal of Juntos is to unite community partners to provide Latino students in grades 8-12 and their parents with knowledge, skills and resources to ensure high school graduation and broaden postsecondary career and academic opportunities.
Research shows that Latino youth are at the highest risk of dropping out of school between the 9th and 10th grades. The Juntos program reduces this risk by bringing groups of 8th-grade youth together to support each other for 3-5 years as they enter high school and prepare for higher education together. The multifaceted partnerships between NC State Extension's 4-H and family and consumer sciences agents, school and university administrators and staff, and community volunteers are what make Juntos a sustainable success in many communities across the United States.
Learn more about Juntos at juntos.dasa.ncsu.edu.
This post was originally published in NC State News.