"It's Not Where You Start – It's Where You Finish"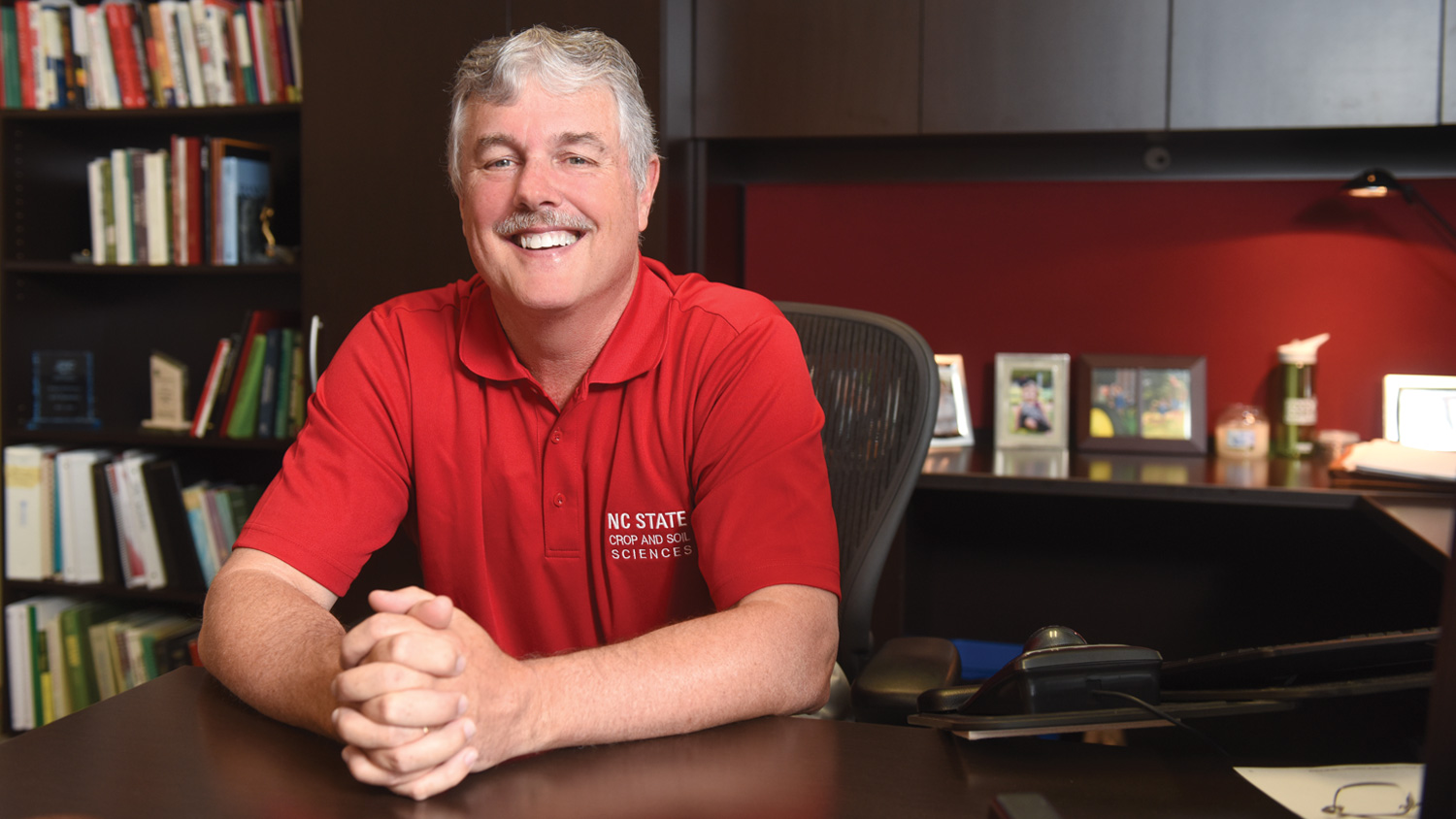 When Jeff Mullahey graduated from high school, he was an unlikely candidate for future head of the Department of Crop and Soil Sciences at NC State University. His grades were mediocre, and he wanted to be a veterinarian.
His first CALS application? Rejected.
Today, two NC State diplomas hang above Mullahey's desk as he leads the largest department in the College of Agriculture and Life Sciences.
Q: How did you get into CALS despite that first rejection?
Jeff: My path was a little different. I had to go to another university first because I didn't get admitted to NC State, which happens to a lot of students today. Transferring in as a junior gave me the maturity and focus I needed to get my grades up and figure out what I wanted to do in life.
Q: Why did you want to go to CALS at NC State, specifically?
Jeff: I didn't grow up on a farm and no one in my family has ever been in agriculture, but I lived near one of NC State's research stations growing up – a sheep farm near where we used to play sandlot football. I got a taste for agriculture, and I really liked it. Who better than CALS in terms of being educated about agriculture and then moving on to a successful career? We have a national and international reputation.
Q: How did your alternate path to CALS shape you as a leader?
Jeff: My path taught me that I needed to be persistent in order to achieve my goals. It also taught me what it means to be a leader. My advisers taught me about integrity and honesty, which is critical in research. But if I had to say one thing that stood out: NC State and CALS gave me confidence in myself. Once you have confidence in your abilities, the sky is the limit.
Q: Why is it important to provide access to CALS?
Jeff: Because there are a lot of grand societal challenges in agriculture and life sciences. We need people with all different perspectives and backgrounds to shape solutions for tomorrow. The training you get here prepares new leaders to answer those complex, difficult questions. Multiple pathways to admission enable us to attract the diverse students we need.
Q: What advice do you have for students who want to come here?
Jeff: You can get here. If your first pathway doesn't work out, recalculate. Your route to CALS might take you through a community college or internship first. You just need to be persistent and you need to be a good student. You'll get here eventually, and you will be able to achieve your career goals.