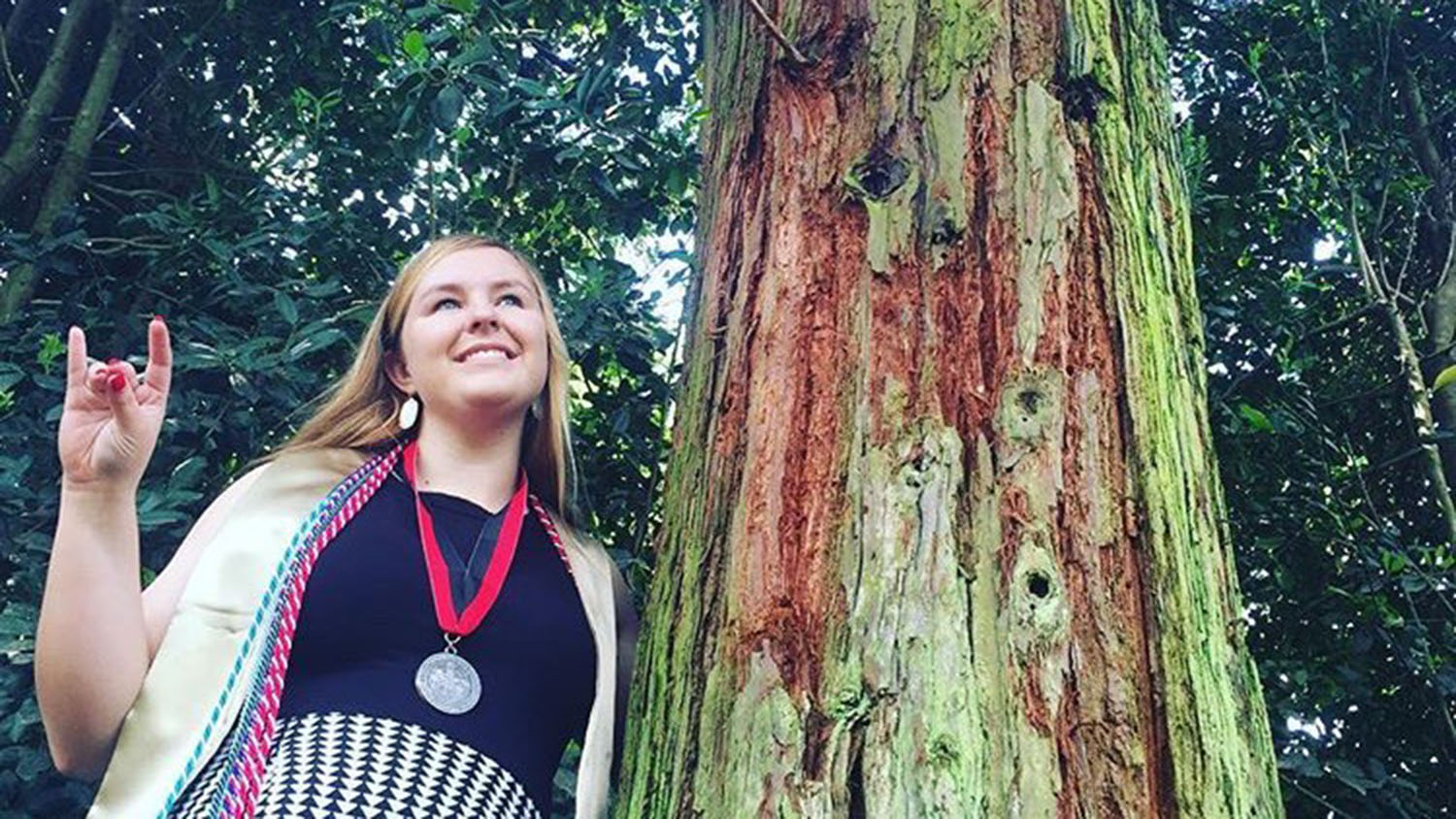 For College of Agriculture and Life Sciences alumna Brittany Bell, horticulture science has been a fulfilling way to marry her love of both art and science. Though she graduated in May, she's eager to continue learning various aspects of the field, from growing plants to designing and installing landscapes.
A native of Youngsville, North Carolina, Bell works in sales at Pender Nursery in Wake County, a major wholesale plant nursery  known for its Encore azaleas. She sat down recently to discuss her experience at NC State, her goals and why she's #AgPackStrong!
What led you to the College of Agriculture and Life Sciences?
I was originally looking at the College of Design, but the more I looked into it I realized I didn't want to do just art. So I already had my sights set on NC State University, and my FFA advisor, Bob Frisbie, actually brought the horticultural science program to my attention. After I found out about it, I knew that's where I wanted to be.
Why did you want to study horticulture?
Horticultural science was a way for me to combine my strong interest in art and science. The landscape design concentration appealed to me because I could take the biologies and chemistries that I liked, as well as have studio classes.
What path led you to your current job?
After I graduated, I wasn't quite sure what I wanted to do. I wanted to do something with design, and in my last two years at State I took a lot of design courses. But for me, I like to make myself a little bit uncomfortable: If I feel like I am too comfortable and know too much about a specific topic, I feel like I have to move on and learn more.
So I thought I needed more background information, if you will. I wanted more of a growing background — the agricultural side. I took a sales job at Pender Nurseries because the wholesale nurseries, the growers, they are Step A in the process, whereas the designers and the installers — the people who actually put plants in the ground — are the last step before maintenance.
Also, Pender Nursery is heavily involved in the Johnston County Nursery Association, so I get to network with other nurserymen as well as landscapers and people involved with the garden centers, to see how the industry works as a whole.
Do you have any advice for students just getting started at NC State?
Take a variety of classes as you can. … A lot of people get bogged down in 'I have to do this degree so I can have a broader spectrum of job choices,' but in reality, you can do a lot with majors that might seem specific. After all, the same skills are taught throughout the curriculum at NC State — the same science skills, the same art skills, same communication skills — can be applied to different things. So I would encourage new students to just be open, and do what makes you happy.
What makes you #AgPackStrong?
Attending NC State was one of the best decisions I've made. I loved everything from the classes and professors to the campus and extracurricular activities. I plan to use to knowledge and experiences I gained from State as I move forward in this industry.