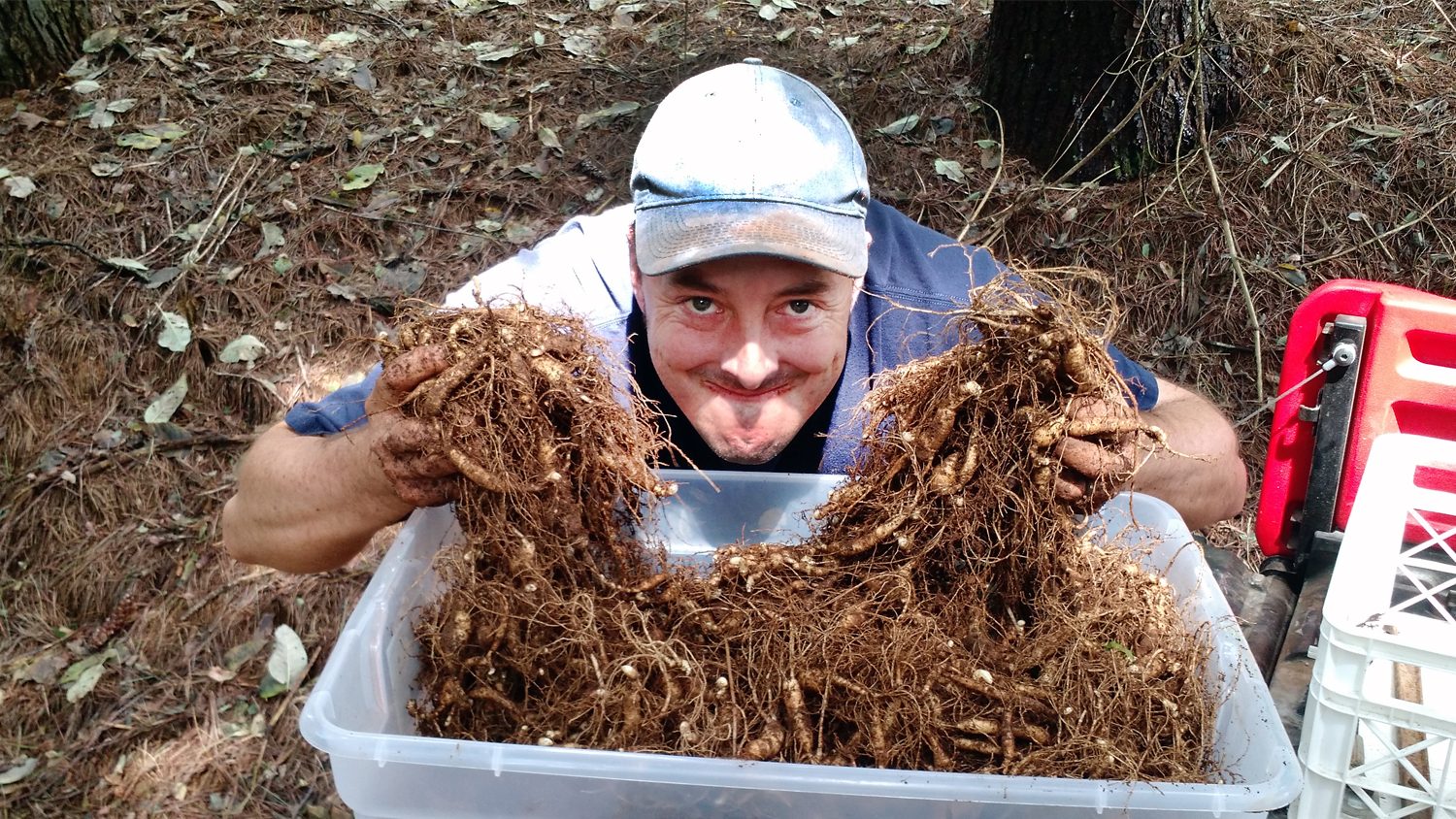 Western North Carolina has the perfect climate for farming ginseng, the slow-growing perennial with roots that can reward the grower with thousands of dollars.
Harvested correctly, ginseng has the potential to become a boon to the local economy, and to would-be agronomists with limited field space but a forested backyard.
All it takes is the right soil, the right seeds, the right know-how – and constant vigilance.
On October 5, the Watauga County Cooperative Extension Office is hosting a field demonstration on how to plant ginseng from 2 to 3:30 p.m., followed by a classroom seminar from 6 to 8 p.m. on October 12. The cost to attend either or both sessions is $75 and includes  a starter kit of half a pound of stratified ginseng seed and a copy of Growing and Marketing Ginseng, Goldenseal and Other Woodland Medicinals by NC State University associate professor and ginseng luminary Jeanine Davis.
"It's something you fall in love with," said Travis Cornett, a longtime ginseng farmer who is involved in Extension's ginseng instruction. "You can have a bad day, but then you go out in the woods and work on ginseng, and that makes everything pretty all right after that."
How To Grow Ginseng…And Guard It
Ginseng requires mature forestland (or a nice wooded backyard) with good soil and drainage. It's a tricky plant to grow successfully, taking seven to ten years to reach the size favored by the Asian markets to which it is exported – but when the payoff comes, the return on investment is high. The market for ginseng has averaged over $800 per dried pound over the last few years.
For that kind of value, you must also prepare for something else: thieves. The recent popularity of "reality" television shows about ginseng hunting has been a challenge for Watauga County farmers like Todd Combs. He has been growing ginseng for two years since taking a class through Extension, and is counting on the crop for his retirement.
"It's not like somebody stealing a couple ears of corn," Combs said. "If you steal a backpack full of ginseng, you've probably stolen a couple thousand dollars of time and investment."
In addition to outright theft of expensive plants, the uneducated will often strip the forest of the younger plants that are worth less on the market, hurting the ecosystem and depleting future supply.
To combat this hazard, ginseng farmers are often secretive about their locations and employ security measures like cameras, watch dogs and foot patrols to fend off poachers.
Historic Crop Is Drawing Crowds
Ginseng farming has deep roots in Appalachian history, Watauga County Extension Agent Jim Hamilton said: folk hero Daniel Boone was one of the first to trade ginseng to China.
Last year, Extension workshops on ginseng drew more than 55 participants, with 30 pounds of seed and ten pounds of rootlets distributed, Hamilton said. Extension agents are also available to help with site selection and planting. Funding was made available through the TVA Agriculture and Forestry Fund and a North Carolina Department of Agriculture Specialty Crop Block Grant that was awarded earlier this year. More than 60 participants have signed up to learn about cultivating the plant this fall alone.
For more information on the workshop, contact Dr. Jim Hamilton at the Watauga County Cooperative Extension at 264-3061, or at jim_hamilton@ncsu.edu.