From Shy Guy To Public Speaking Champ: FFA State Officer Ty Meyer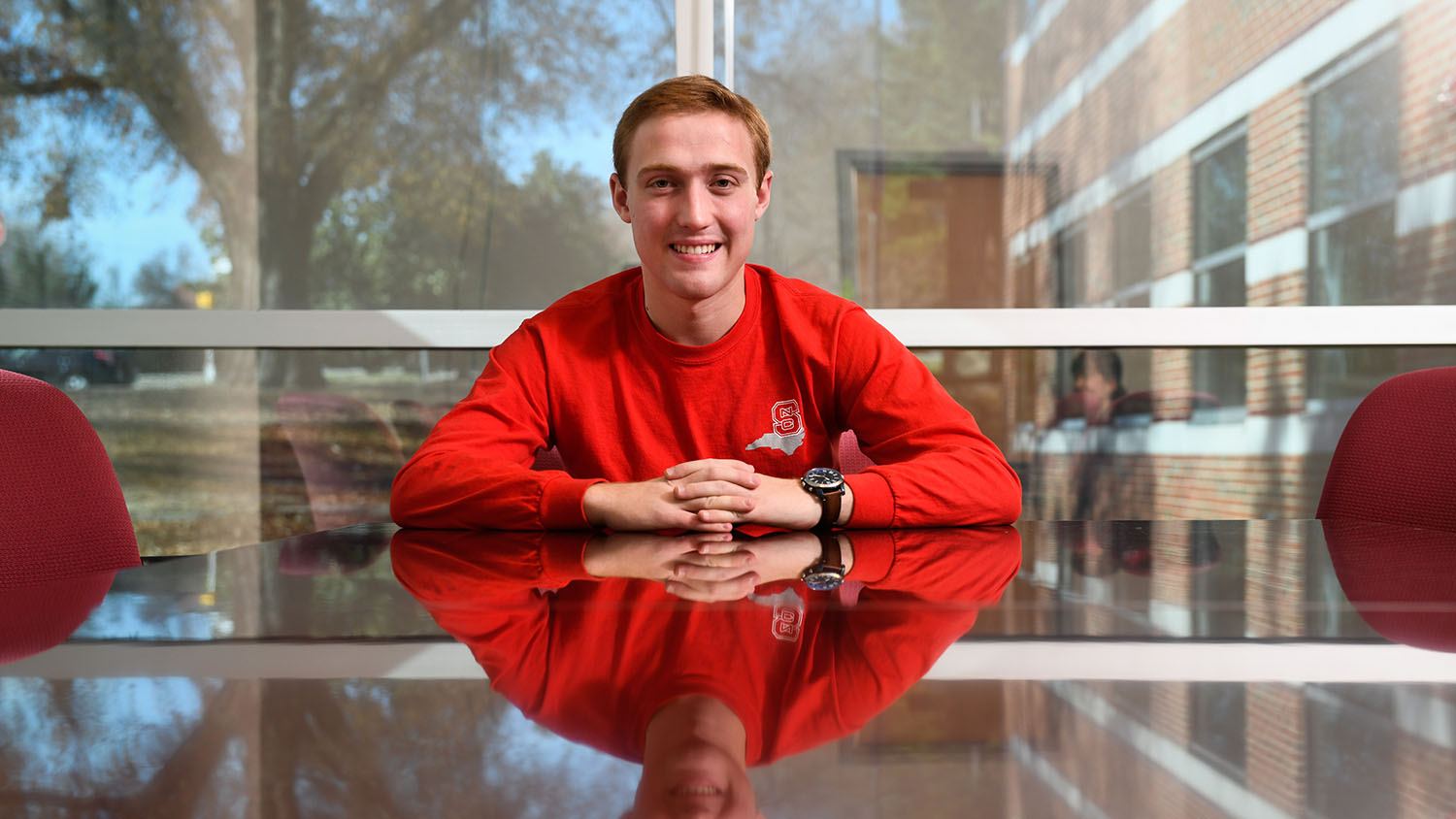 At first, Ty Meyer thought he wanted to be a meteorologist. Then, he considered studying law. Agriculture? He's always helped out around his parents' poultry farm, but it wasn't until his freshman year of high school that he even considered it.
Now, Meyer is a state FFA officer, traveling the state representing 20,000 high school and middle school FFA members.
He's also a first-year Jefferson Scholar in the College of Agriculture and Life Sciences at NC State, double-majoring in political science and agricultural business management.
For FFA Week, we asked Meyer about his FFA journey – and how he plans to link his passion for policy with the agricultural professions that are close to his heart.
How has your FFA involvement affected your life?
A lot of kids think about FFA as agriculture, just people going back to the farm. They don't know all the leadership training components that are involved. Those leadership components guided me here today, especially getting me into NC State, getting me scholarships and giving me the opportunity to represent so many people in FFA.
Why did you get involved with FFA originally?
My freshman year of high school, I needed one more course to satisfy my degree, and one was in career and technical education. I was a student who thought, "I want to go straight to college. I want to have just academic courses, the most rigorous stuff I can take." But I decided to try this introduction to agriculture class, just see what it was like. The teacher really pushed me to keep striving for more, not just in FFA and in agriculture, but in my everyday life.
Then there was this dairy judging contest that fall. And I had never seen a cow – I grew up on a turkey farm, I love turkeys. Dairy cattle, I had little knowledge on, but I thought okay, I'll do my best. And I didn't do the best in the world, but it was a really cool experience where I got to meet so many cool people. That really kept me going in FFA.
What was a challenge you faced that FFA helped you overcome?
In the spring of my freshman year, there was a public speaking competition. Before that, I was not the person to speak up. As a freshman, I would always be the one to sit in the corner, not say a whole lot. But my teacher had me do this competition, where I had to memorize five paragraphs of the FFA creed and then present it to a panel of judges.
In that moment, as a freshman, it was really scary and difficult, but it was a really cool opportunity that got me involved – and kept me involved. As sophomores, we did club presentations in front of 500 kids. During my junior year, I had the opportunity to participate in a parliamentary procedure competition. You're on a team of six, and you just work through like a business meeting. Later on, I found out that people use those skills in the workforce and jobs all the time. So I didn't know it then, but the skills that I was learning really carry over.
When you look at it, that's a lot of stuff I credit to the FFA. It's done a lot for me.
What are your goals?
As I get older, I want to work for hopefully the U.S. Department of Agriculture, maybe the North Carolina Department of Agriculture in some internship roles, and I'm really excited to see all the opportunities that will come out of that.
What's your big dream, long-term?
If I had to give you one job I'd love to have one day, I would say it's U.S. Secretary of Agriculture. Even if that doesn't work out, I definitely want to be involved in some aspect of agriculture leadership. I love how American Farm Bureau and North Carolina Farm Bureau work with leaders and get to represent agriculture all across the nation and the state. The USDA is one final goal, and is where hopefully I can see myself one day.