Eight o'clock on an August Friday at Caballera Farm, Youngsville – it is pleasantly cool after an overnight rain. Three young girls take turns riding their horses around a ring that has been outfitted with targets. Mounted archery is on display by Lila's Corey's student riders.
Woosh, thunk! Arrows smash into targets as horses move around the ring. Some hit fairly close to that bull's eye while one or two skid across the grass. No matter, another target looms ahead and a new arrow, pulled from a quiver strapped at the rider's hip, is knocked into place.
Thus started the 24th annual Franklin County Horse Farm Tour, the pet project of N.C. Cooperative Extension Agriculture Agent Martha Mobley.
"Franklin County is really the heart, the hub, of the horse community around this area," Mobley said. "We are close to Raleigh, to several major highways, so it is easy to get to any number of arenas, and we have many vets doing equine work in the area."
Based on a study by the NC Horse Council, an estimated 6,060 horses call Franklin county home. That is about 11 times more horses than any neighboring county (information courtesy of the Franklin Next planning project, Franklin County government).
According to Mobley, the growing horse community has become an economic driver in the county as new barns pop up. For example, high-quality hay is now grown by farmers in the region in response to the demand from local horse farms. 
For Dria Delgado, age nine, local economics are not top of mind as she demonstrates what she is learning from Corey. In fact, Delgado says she participates in lessons because, "I get to be with my horse." Delgado's horse, Pixie – age 12, waited patiently with his rider as she quietly answered a few questions. "I do it for fun. The hardest part is getting knocked," (which is fitting the end of the arrow onto the string while riding, for the uninitiated).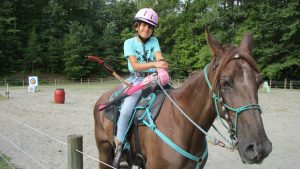 With less than a year of mounted archery under her belt, Delgado is pulling a draw weight of about 20 pounds, can guide her horse with her knees and hits the target more often than not. Even Pixie looks pretty pleased with that.
"My farm has been here for about 30 years and I have always taught with Tennessee Walking Horses," said Corey, visibly proud of the display her students put on for farm tour guests. Caballera Farm offers lessons in barrel racing and, more recently, the mounted archery program. "I teach a versatility program which means the horses compete in more than just going around the ring."
The role of Extension in North Carolina is to deliver the research-backed knowledge from the state's land grant universities (NC State and N.C. Agricultural and Technical State) directly to the public. For Mobley, that means connecting the horse community with information and learning opportunities. At tour stop number one, Mobley introduced guest speaker and N.C. State Highway Patrol Master Trooper, Randy Bridges, who gave a talk about truck/trailer licenses and tags. One unlucky participant (who we won't name here) realized that she needs to take a quick trip to the Department of Motor Vehicles to upgrade her driver's license before pulling her trailer on the highway and meeting Trooper Bridges again.
A Passion for Racing and a Place to Learn
It's 10 o'clock and farm stop number two takes participants to Wendell, N.C. and Donal Gooch's Sports Arena and horse racing track. A gate clangs open.
Hooves pound like thunder. Two beautiful quarter horses streak down the track as tour guests gawk at the sheer power of the animals flying past.
Brothers Michael and Marcus Lynch were the skilled riders in that demonstration race. Their father, Mike Lynch, says the boys have been participating in trail rides since they were small. Racing was a natural next step for them despite their father's concern for their safety.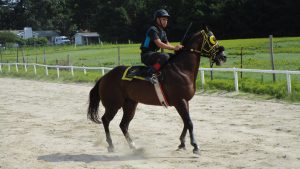 "They used to race behind my back, the neighbors told me, so I decided I better let them do it in front of me." Lynch said. As a result, the young men have learned to be jockeys from Lynch and farm owner, Gooch.
Gooch works with quarter horses and aspiring jockeys, hosting horse races, trail rides and concerts at his Wake County farm.
Gooch and his farm are subjects of the recent pilot episode of a documentary series about country life. The show, Black Country, can be found on the WRAL website. Gooch's episode played during the lunch portion of the farm tour.
The Horse that Danced – Dressage on Display
One last stop as the day heated up. Out to Iron Horse Farm in Zebulon where Karyn Becerra and husband Mark have created a horse lover's paradise complete with a Spanish-style home and lovely block barn.
Becerra is both an instructor and competitor in the world of dressage. Showing Madame Butterfly (Maddie), a German Warmblood, Becerra demonstrated many of the finer points of dressage – Maddie seeming to skip and dance effortlessly around the large arena adjacent to the barn. This pair will compete at the Grand Prix level in the upcoming NC Dressage and Combined Training Association's Labor of Love Dressage Show.
Other featured speakers during the event were Derreck Long from the N.C. Department of Agriculture and Consumer Services and Richard Smith with McGill Associates, P.A. Long spoke about ridding farm lands of invasive fire ants – a popular topic in NC this summer. Smith's firm works with Franklin County government in developing a 20-year economic development plan. He spoke about opportunities for the horse community to have a voice in the planning process.
N.C. Cooperative Extension, Franklin County Center holds its Horse Farm Tour each year in August. This year, Nash County will host a Horse Tour on September 27. Information will be posted to the website as event details become available.