Engineering a New Path: Online Graduate Student Reflects on Career Change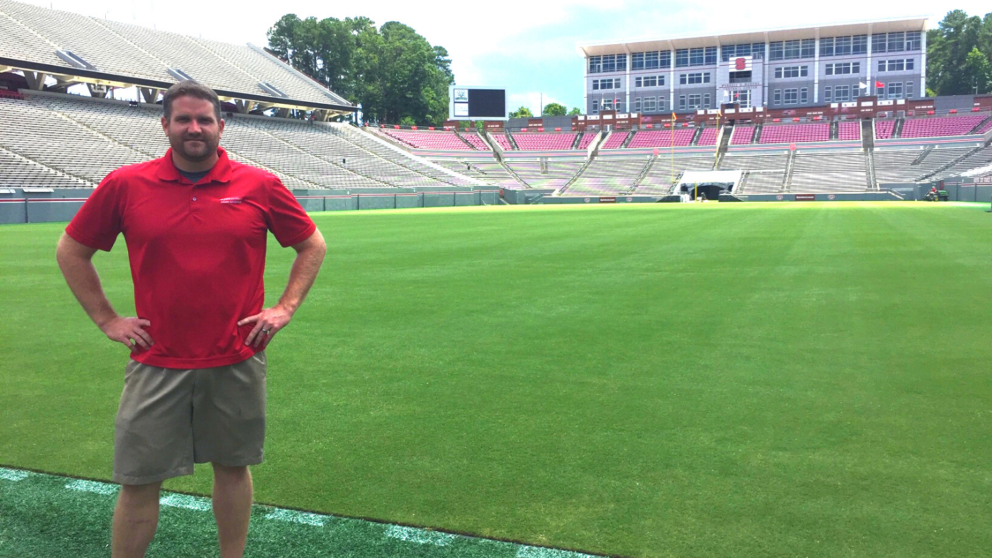 Jonathan Stephens would not trade his time at NC State as an undergraduate student and as an employee for anything. Now he is adding another Wolfpack experience to his resume as he prepares to graduate this December with a Master of Biological and Agricultural Engineering (MBAE).
After receiving a Bachelor of Science in Agronomy from NC State in 2005, Stephens intended to spend his life working on golf courses. In the 10 years he worked at a local golf course, he applied his understanding of plant growth as an irrigation tech and quickly worked his way up to become the golf course superintendent. It was during this time that Stephens discovered a passion for engineering. 
"While working on the course, we dealt with many water resource issues such as a terrible drought and torrential storms," he said. "Dealing with these issues and the aftermath showed me how important design planning and engineering was during the beginning stages of a development."
Deciding to make a career shift, Stephens began working at his alma mater as a turf horticulture and irrigation specialist in January of 2016 while he determined what degree he wanted to pursue. Within the first month of working on campus, Stephens met a professor in the Department of Biological and Agricultural Engineering who told him about the online MBAE program. 
"We talked about the types of careers that come out of that department. It sounded like everything I was interested in and would mesh with my previous experience. I started with Calculus 141 during the summer of 2016, and the rest is history!"
Though he was intimidated by the math and physics involved in gaining admittance to the program, Stephens credits his wife as being the driving force behind his return to education. 
"It took many hours, staying up late at night, working on example problems in the back of the book for some of these concepts to click with me. I can't thank her enough for picking up the slack during all the hours I was studying."
While working toward his degree, Stephens found the department felt like a close-knit family even in an online environment due to the small class sizes and responsive faculty. Unlike some of the massive lectures he experienced as an undergraduate, Stephens didn't feel like a number in the MBAE program. 
However, the last four years have not gone without struggles for the budding engineer. As a full-time employee at the university, it was not uncommon for Stephens to be at work at six o'clock in the morning, work until three o'clock in the afternoon and then sit down to study until well into the evening. 
That hard work paid off for Stephens even before graduation as he accepted a promotion in 2019 to become the stormwater and parking lots supervisor for all three campuses at NC State. 
"Being a part of the maintenance and inspection portion of the Stormwater program on campus is giving me a perspective that I wouldn't have had as an engineer coming straight out of school," Stephens said. "This university has given me a lot and has changed my life for the better. I just hope I have given something back during my time as an employee and will represent the university well throughout my career."
When asked what advice he would give to other working professionals who are thinking about continuing their education Stephens said, "I would let them know that they can do it! My experience at NC State has been very challenging but also gratifying at the same time. It has never been easier to go back to school as it is now, as far as online learning is concerned, and you can do it from anywhere."
Are you interested in advancing your career with a Master of Biological and Agricultural Engineering? Visit the MBAE program page or online.ncsu.edu for a full list of online degree and certificate programs.
This post was originally published in DELTA News.