E. Carroll Joyner Beef Education Unit Dedicated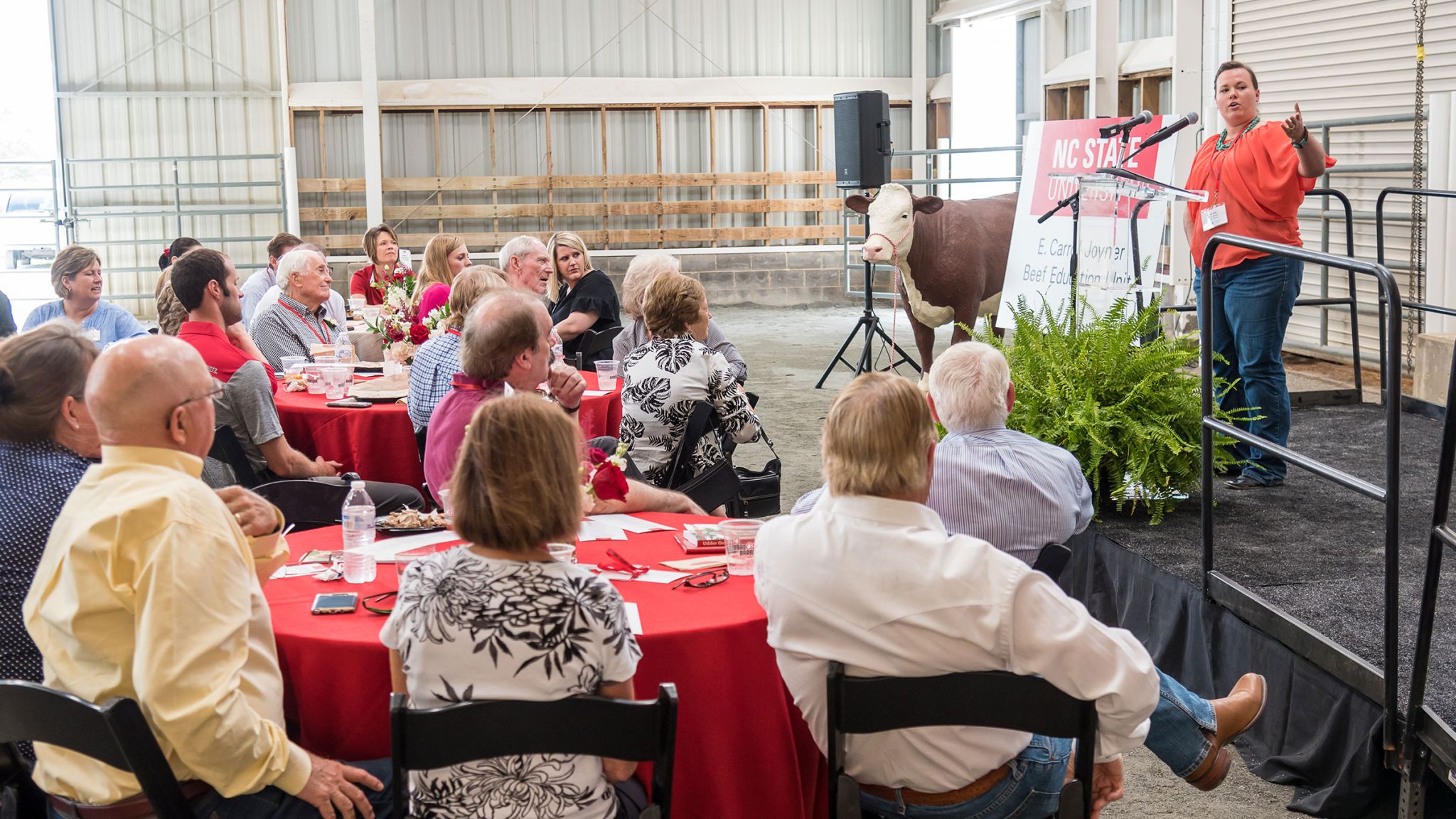 Stakeholders with North Carolina's beef industry gathered Sept. 14 to celebrate the naming of NC State University's Beef Education Unit after prominent College of Agriculture and Life Sciences alumnus E. Carroll Joyner.
[pullquote align=left color=red]My life has been more joyful and more filling because of the work I've done at NC State.[/pullquote]
"I want to thank the university for asking me to get involved in these projects," Joyner said. "My life has been more joyful and more filling because of the work I've done at NC State. I want to thank all of you for being in the beef business. You're at the top of the food chain, and that's hard to beat!"
Todd See, head of the Department of Animal Science, stressed the vital role that cattle play in the state's economy and the importance of the university's livestock programs.
"Joyner's gift will help transform beef cattle education, research and extension programs in North Carolina for generations to come," See said. "His generosity will ensure this research facility will stay current, be maintained and continue to deliver high-quality beef cattle and agricultural programs that improve the lives of everyone in our great state."
Celebrated as a savvy and respected businessman, Joyner raised cattle for many years and has played an active role in NC State's agricultural program since graduating in 1956. He created the North Carolina Cattleman's Foundation in the 1980s, dedicated to supporting beef cattle research. He even donated his Angus beef herd to NC State to start this foundation.
The Beef Education Unit, first dedicated in 2003, is a center of activity for beef cattle, animal science, the Lake Wheeler Road Field Laboratory and numerous youth development programs, including 4-H and FFA. For many young people in North Carolina, the unit has been a gateway to agriculture and animal science at NC State.
Dedication Complements Field Day
[retina_image id='172892′ align='right' caption='value here']
The E. Carroll Joyner dedication ceremony coincided with the North Carolina Beef System Field Day, an educational event covering such topics as soil, water and forages; low-stress handling and beef quality assurance; and impacting future generations.
The NC Beef System is a partnership among CALS, College of Veterinary Medicine, N.C. Department of Agriculture and Consumer Sciences, NC State Extension, and North Carolina Cattlemen's Association.
See explained how the system has organized beef cattle resources across the state in a uniform, consistent, collaborative and powerful way. "It leverages the state's investment in beef research and education and gives North Carolina the most powerful beef research and education platform east of the Mississippi River," he said.
Tributes to Joyner and appreciation for his life-long generosity to NC State were made by Richard Linton, dean of the College of Agriculture and Life Sciences; Jim Broschart, associate vice chancellor of university development; Roger McCraw, professor emeritus, Department of Animal Science; and Fred Smith, a life-long friend of Joyner's.
Undergraduate students, graduate students, and student representatives from the N.C. Youth Livestock Program and the NC State Collegiate Livestock judging team also shared how Joyner's contributions have made a difference in their lives and education.
CALS transforms challenges into opportunities that benefit everyone. 
[button]Give Now[/button]