Daubert Named MU Vice Chancellor and Dean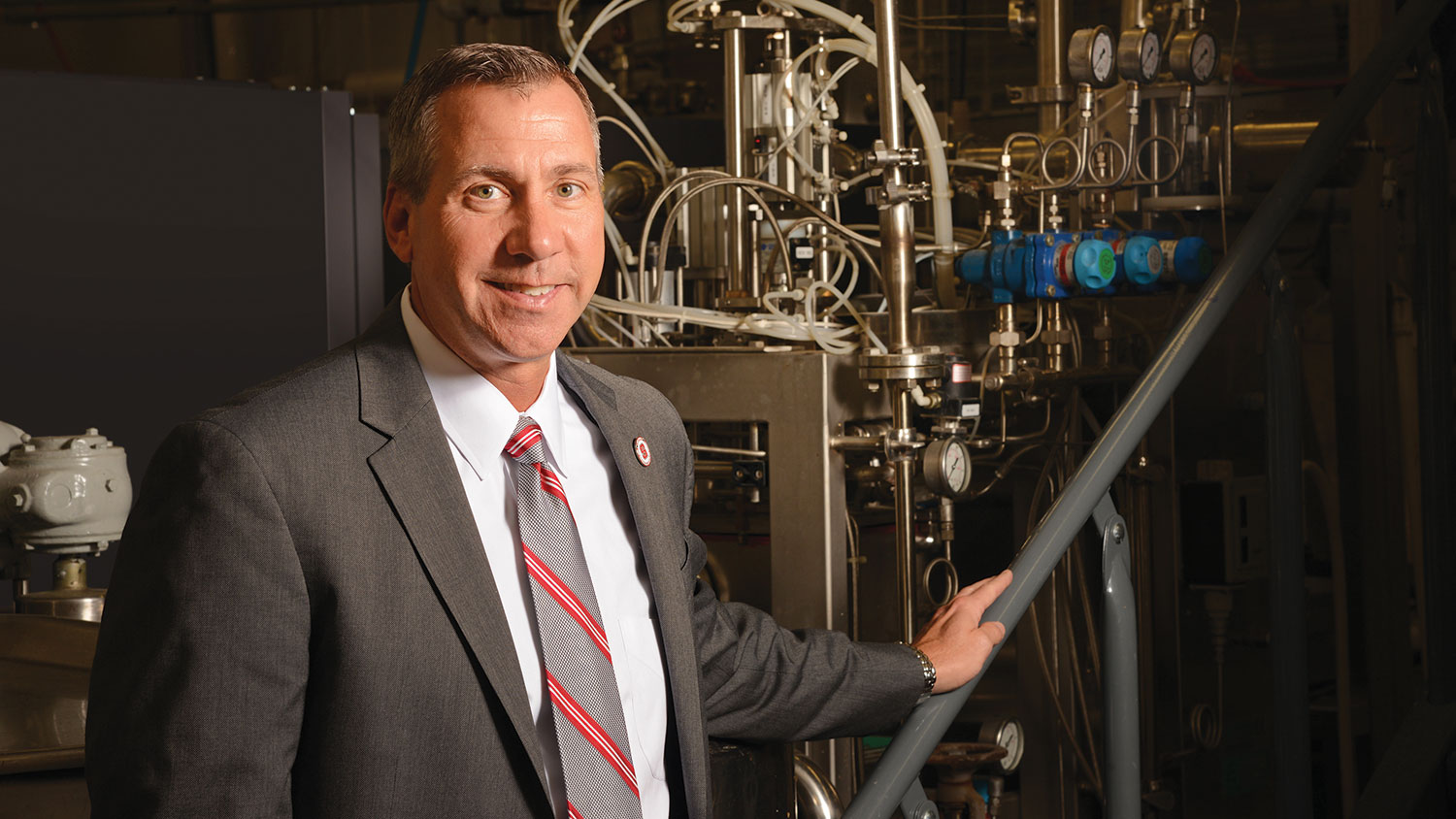 Christopher R. Daubert, head of the NC State Department of Food, Bioprocessing and Nutrition Sciences, has been named vice chancellor and dean of the College of Agriculture, Food & Natural Resources (CAFNR) at the University of Missouri (MU), effective August 1.
"Chris has demonstrated outstanding leadership as a faculty member, a department head and in helping make the North Carolina Food Processing and Manufacturing Initiative a reality," said Richard Linton, dean of the NC State College of Agriculture and Life Sciences (CALS). "There is no question that the Department of Food, Bioprocessing and Nutrition Sciences and CALS are better because of his tenure and leadership."
Daubert joined NC State in 1996 and became department head in 2010. During that time, he directed a renowned food engineering research program that developed leaders for the food industry, established the bioprocessing science degree program, served as the first associate director of the Biomanufacturing Training and Education Center (BTEC), and helped lead the NC State Dairy Enterprise System and Dairy Farm Research and Teaching Field Unit.
He also played a key role in securing $250,000 in legislative funding for the North Carolina Food Processing and Manufacturing Initiative and served on the governor's task force.
MU officials said they were excited about the skills and experience that Daubert will bring to his new position.
"With a career spanning more than 20 years, Dr. Daubert has set himself apart as a dedicated administrator and teacher focused on the land-grant philosophy, agriculture and food research, and innovative economic development initiatives," said MU Interim Chancellor and Provost Garnett Stokes. "He has experience building bridges across many constituent groups and is a perfect fit to lead CAFNR, which plays a key role in serving the needs of the state of Missouri."
An internationally-recognized expert on food rheology and texture, Daubert has received many awards and honors, including being named a fellow of the Institute of Food Technologists and a member of the NC State Academy of Outstanding Teachers.
He holds a bachelor's degree in agricultural engineering from The Pennsylvania State University and a doctoral degree in agricultural engineering and food science from Michigan State University.
"I am blessed to have called North Carolina home for the last 21 years," Daubert said. "I have seen first-hand how CALS has benefited from strong leadership fortified by critical statewide partnerships to advance a shared vision. Like NC State, the University of Missouri also has a deep and rich land-grant heritage. I am eager to contribute leadership to that land-grant mission in service to the students and stakeholders of MU's College of Agriculture, Food & Natural Resources."