Alumni and Friends
Alicain Carlson Finds Purpose, Joy in Improving Floriculture
NC State College of Agriculture and Life Sciences alumna Alicain Carlson is exactly where she's meant to be — working at Syngenta Flower, improving the vibrancy of bedding plants.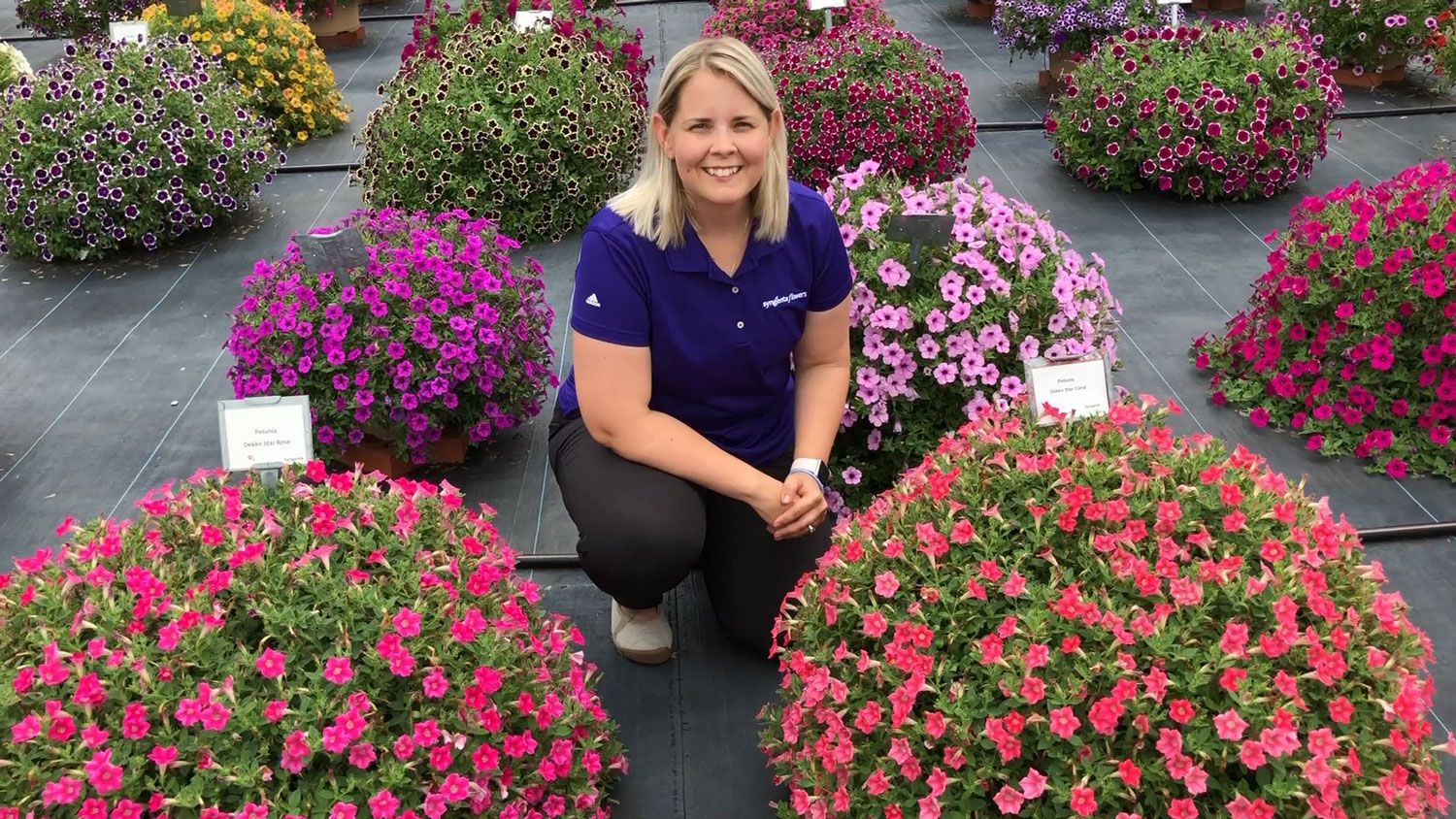 As a graduate and doctoral student at the College of Agriculture and Life Sciences' Department of Horticultural Science, Alicain Carlson spent much of her time researching ways to keep cut flowers fresher, longer. Now, as a technical trial manager for Syngenta Flowers, she's applying those same techniques and theories to improve the vibrancy of bedding plants.
Carlson earned her undergraduate degree in biology from Virginia Tech, where she also minored in horticulture.
"Going through my biology program, I found myself spending more time in the horticulture department. I was a teaching assistant for the floral design course and just loved it," Carlson said.
After completing her first vase-life study with one of her professors, Carlson discovered that there was a science behind keeping cut flowers fresh. That summer, she interned at a cut-flower farm near her parents' home in Virginia. She ended up working there for a couple of summers before graduating. It was on that farm where she learned about CALS.
"The flower farmer I worked with was a member of the Association of Specialty Cut Flower Growers (ASCFG). She told me I needed to be a member and that I needed to connect with NC State professor John Dole, who was doing cut-flower research."
And she did. Carlson said Dole's research was what she was interested in and was glad that he could accept her as a student.
"Both my master's and Ph.D. research was related to cut-flower production and post-harvest, evaluating potential new cut flowers to see if they would be worthy to the industry as well as some general floriculture production. I also co-taught Greenhouse Management for a couple years with Dr. Dole and was a TA for Floriculture Production with Dr. Bill Fonteno."
During her Ph.D., Carlson started to focus more on the molecular aspects of cut flowers after harvesting. "We were looking at how the bacteria in the vase solution interacts with the flowers and trying to find a potential probiotic bacteria that could be used in commercial vase solutions to improve vase life as an organic option. We also investigated the potential genetic components that influence bent neck and petal blueing in cut roses. Essentially, why do the heads of the flower droop and why do the petals turn blue as they age."
Carlson completed her Ph.D. in 2014 but wasn't quite ready to leave. She did a one-year postdoc with Dole and started to think about her future.
What I had learned at NC State was the key to my success.
"I was really looking for faculty positions mainly because I didn't know what else was out there in industry for someone like me," Carlson said. But then she landed a job with Syngenta Flowers as a technical scientist in June 2015.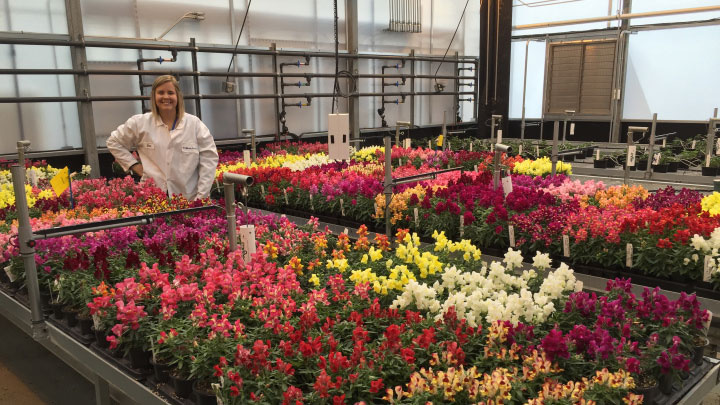 Carlson describes Syngenta Flowers as a global flower breeding company, producing and selling seeds and cuttings of annual and perennial flowers to greenhouse growers across the world. Those flowers are the ones you end up buying at big box stores like Lowe's and Home Depot and your local independent garden centers.
"My current role with Syngenta Flowers is heavily focused on research with bedding plants, annuals and perennials, not really cut flowers. However the techniques, knowledge and theories I learned at NC State totally applied to what I transitioned to do with Syngenta," Carlson said. "What I had learned at NC State was the key to my success in starting this position."
After a couple of years, Carlson was promoted to technical trial manager, and now she has a team of horticultural scientists doing applied floriculture research to help Syngenta Flowers' customers be more successful.
I found my calling. Floriculture is where I'm supposed to be.
Recently, Carlson has been able to connect back with her roots in cut flowers as Syngenta Flowers has become more interested in capturing this growing segment of the industry. "This next year, we're working on relaunching our Syngenta Flowers cut-flower assortment, and I am the business lead for that initiative, which is pretty exciting."
Carlson said she wouldn't be where she is today without NC State and CALS.
"Meeting John and connecting with the ASCFG lit a passion in me. This is my place. It's challenging; I'm good at it; I enjoy it. There's always something new to learn, because there's always some new flower out there to look at and learn what makes it flower. How is it best grown? It keeps me jazzed every day. I found my calling. Floriculture is where I'm supposed to be."