AgPack Strong: Ag Institute Grad Jason Barbour Diversifies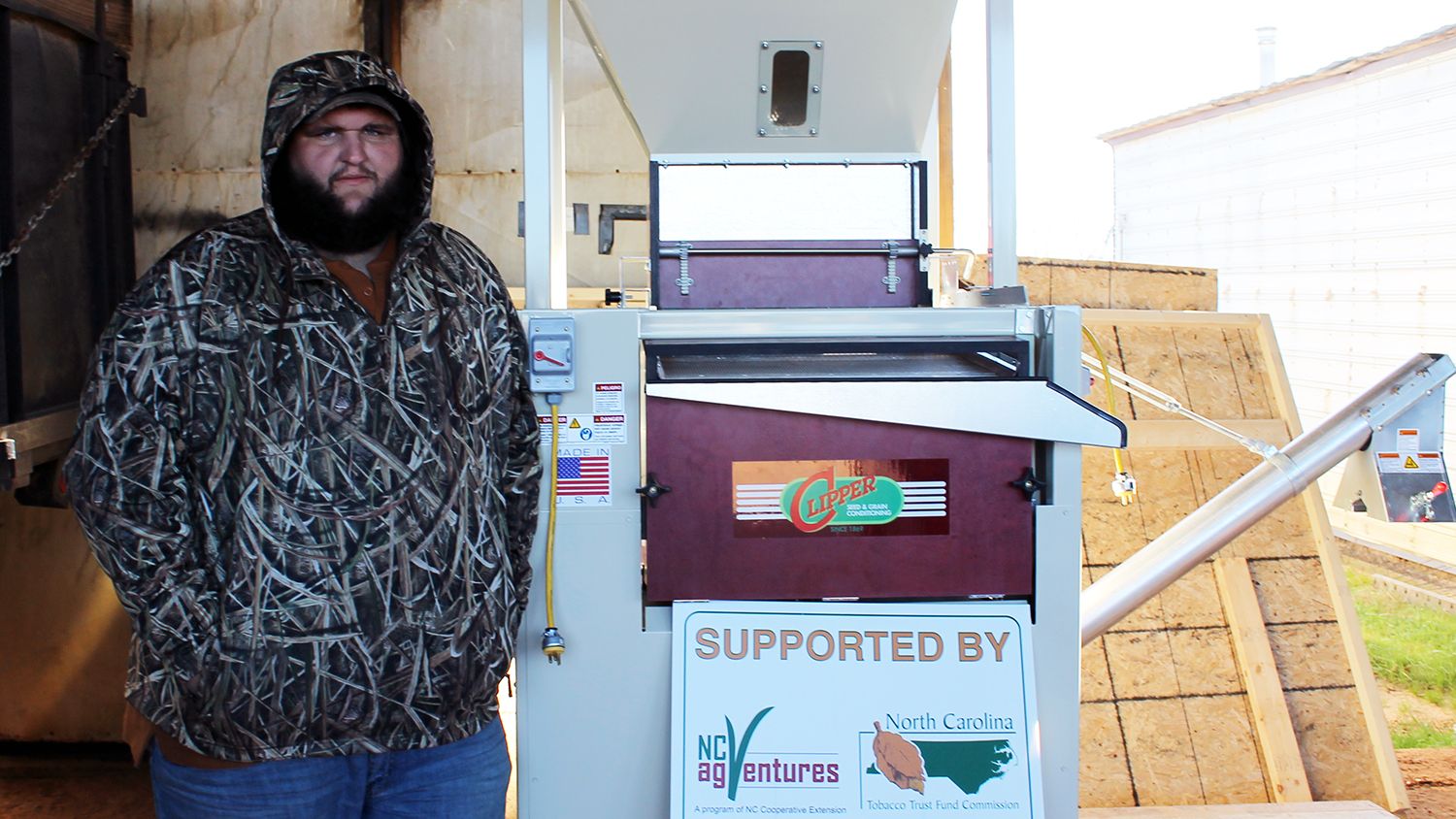 On his farm near Four Oaks, Jason Barbour grows a lot of the usual North Carolina crops – tobacco, sweet potatoes, small grains, soybeans and corn. But in recent years he's added a crop that wouldn't make that list: popcorn.
The fourth-generation farmer said he's always willing to try new things once and see how it goes. A popcorn merchant he'd met by chance at a Smithfield shopping center was interested in selling locally grown popcorn, and he contracted with Barbour to grow the crop.
So far, the popcorn endeavor has been a success: In 2017, he more than doubled production from about 7 acres to 17 acres to meet the merchant's increased demand.
Barbour, a graduate of NC State's Agricultural Institute, attributes part of that success to NC State Extension's North Carolina AgVentures program. The annual grant program, funded by the North Carolina Tobacco Trust Fund Commission, helps family farmers in North Carolina pursue new and innovative agricultural ideas to increase farm profits.
Barbour received an AgVentures grant that allowed him to buy new equipment to greatly speed up the process of cleaning the popcorn.
In a recent interview, Barbour talked about his farm and NC State's influence on his career.
How was your experience in the Agricultural Institute?
I graduated in 2012 in agricultural business management. I had to work while I was in school, so I couldn't just stay up in Raleigh. I had to drive back and forth every day to work on the farm. I hated the drive, but the school itself is great, and the teachers are great — they are full of knowledge. I still talk to some of them who teach business management – Jonathan Phillips, who was my adviser; John Russ; and Herman Sampson. I also keep a connection with NC State by serving on the [College of Agriculture and Life Sciences'] Alumni and Friends board.
How did you come to add popcorn as one of your crops?
That was a chance of luck – being at the right place at the right time. Jonathan Philips had a lecture one time about creating luck in your business, and that's all that it was – luck. My wife and I went to a mall in Smithfield to drop off a package, and one of my neighbor farmers saw me in the parking lot. He came by and said, 'There's a guy on the other side of the mall looking for somebody to grow local popcorn. You go talk to him.' So I went to talk to him, and that got everything rolling. He wanted to sell locally-grown popcorn.
Did you learn anything from your first year growing popcorn that you addressed in the second year?
I think how well it does depends a lot on which land you decide to put it on. Last year, I found a sandy place … which keeps the water off everything, but what I think I need to do is to put it on high organic matter land, like they've got at the coast. I think that's the big thing: finding good land to grow on.
How did your NC State education help you?
Probably the main thing was networking and getting to know more people — not just my local guys. Now I've got people in New Bern and in the mountains – people who I can call if I have a question and who can call me if they have questions.
My Ag Institute teachers gave me a general base to go off of, but I don't always do everything they taught me to do. If you do, you are just reading out of a book: You've got to go by what the plant tells you, what the animal tells you and what the market tells you. They give you a base to go on, and you have to figure out everything else.
Have you gotten any other help from Extension or NC State?
Tim Britton (an agricultural Extension agent in Johnston County) has been really helpful and is very easy to work with. If I have any question about row crops or a problem in the field, I call him. And (County Extension Director) Bryant Spivey is always there, too, to answer tobacco questions. 
What would you want to say to a student preparing to enter the Agricultural Institute?
Ask every question you've got, take in everything the teachers say, and get to know as many people as you can. I think that's the most important thing. 
Discover more amazing CALS alumni!
[button]AgPack Strong stories[/button]