AGI Alum Is International Award-Winning Ice Sculptor
Set an eight-foot block of ice in front of Agricultural Institute alumnus Todd Dawson, and he'll rev up his chainsaw and carve it into a 12-foot masterpiece.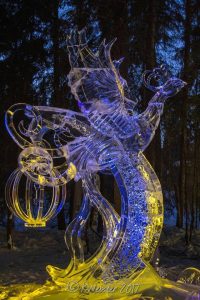 That's how Dawson and his competition partner, Chris Currier, won first place in the Realistic Single Block category at the 2017 World Ice Art Championships in Alaska in March.
Dawson's only training is a single art class in high school. At AGI, he studied ornamentals and landscape technology. He grew up in a farming family in Garner, and still lives on his grandfather's tobacco farm with his wife and two sons.
But during a seasonal lull in his landscaping business, Dawson bought a chainsaw, got a chunk of ice and taught himself to carve. He took one of his ice vases to a bridal show and left with orders for eight more. His Raleigh-based custom ice sculpture business, Ice Occasions, has been in demand statewide since 1997.
Dawson credits AGI with helping him develop the inner resources to succeed, but he almost didn't make it through. Three days into his first semester, Dawson suffered severe injuries in a truck accident. During his 10-day hospital stay, his AGI academic advisor, horticulture professor William Fonteno, visited regularly. Dawson is still wowed by that effort.
"When your professor knows who you are after three days and then comes to see you in the hospital, you know you've found a special place," Dawson said.