Ag Institute is Partner in New Career Center at Fort Bragg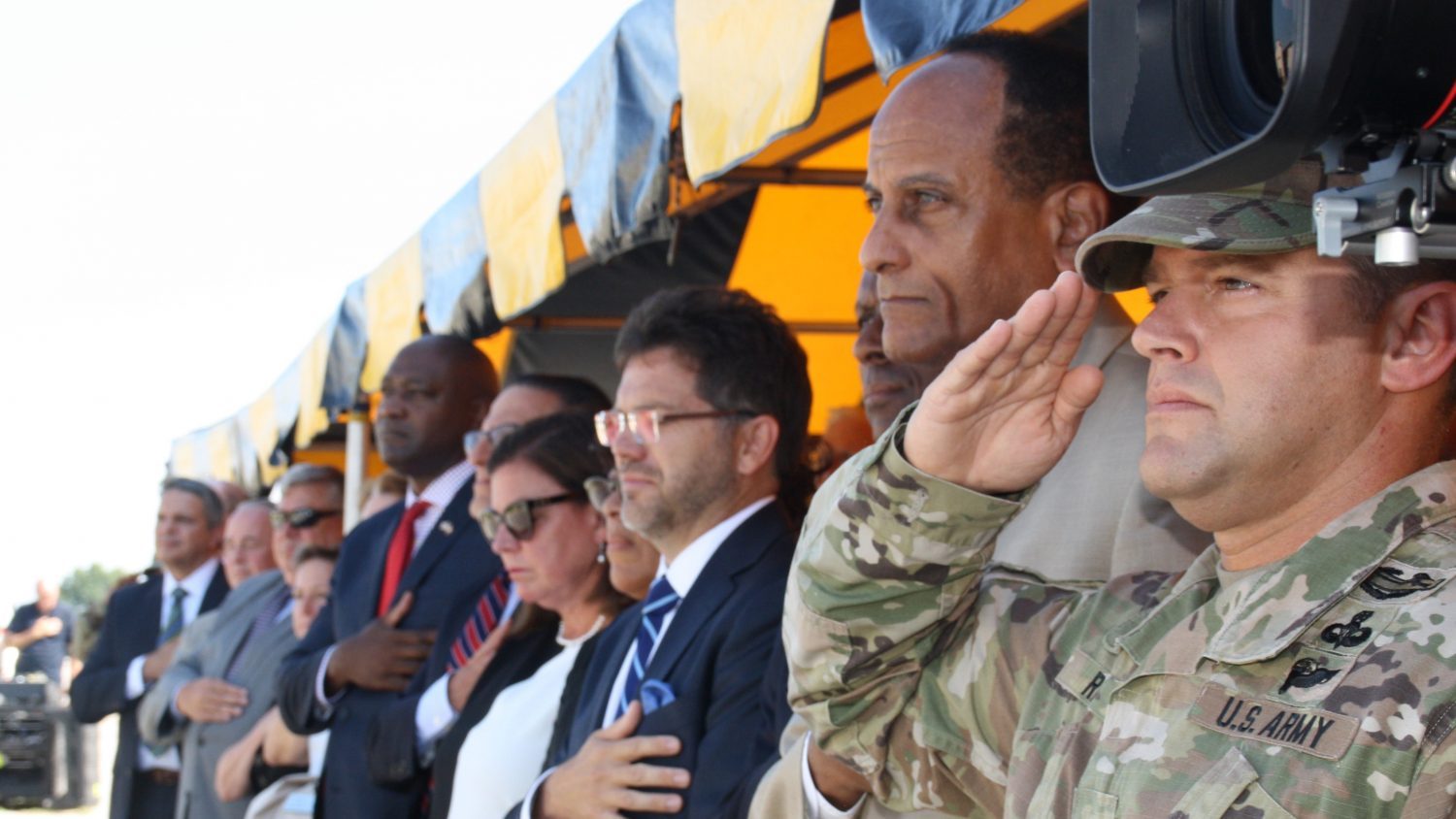 by Kathy Harrelson
NC State University's Agricultural Institute (AGI) participated in a recent dedication ceremony for Fort Bragg's new Career Resource Center, where the institute's Soldier to Agriculture Program is helping veterans interested in agricultural careers.
The Career Resource Center — called "innovative," "groundbreaking" and "unprecedented" — is designed to help veterans, current servicemen and -women, and their spouses transition from military to civilian life.
More than 400 center supporters braved record-high temperatures on July 20 to be part of the dedication ceremony.
Speaking before the formal ceremony, N.C. Department of Military and Veterans Affairs Secretary Larry Hall said, "This center represents a lot of hard work by a lot of people … people in this room who have made commitments to support our veterans in transition."
Making the Transition to Agricultural Careers
AGI Director Elizabeth Wilson was among the partners present for the day's events. The institute is NC State's two-year academic program providing training for students who want to pursue careers in agriculture and related fields.
Wilson stressed NC State's commitment to providing agricultural training, noting that agriculture is the state's top industry and employer, with the military following in second place.
The Soldier to Agriculture Program is a five-week intensive program that covers agricultural topics from business to work in the fields, said AGI Veteran Liaison Robert Elliott. It is "the first program of its kind to provide agricultural training on a military base aimed primarily at the veterans we need to captivate and recruit into agriculture the most — the ones who are transitioning," he said.
"Transitioning military taking the course are afforded an amazing opportunity to walk through the doorway of agriculture with millions of possibilities and a ton of resources and networks readily available to them," he added.
'A Strong, Credible Way'
Students in AGI's program attended the dedication ceremony and spoke directly to supporters about the benefits and importance of having a place to go to for help with transitioning to civilian life. Lisa Mannion said, "There are so many different decisions to make (coming out of the military), and it can get confusing. This is a strong, credible way to make a transition that lines up with my interests and skills."
The Career Resource Center is a win not just for military personnel but also for companies that hire them, said Army Col. Kyle A. Reed. It "will help reduce stress for those in transition and will provide companies with hires who are multi-skilled and disciplined. Loyalty, duty, respect, selfless service, honor, integrity and personal courage" are the traits a company can expect from placing someone from the transition program, he said. "They simply get the best America has to offer from our team to theirs."
Reflecting on the Career Resource Center's future and NC State's role in that future, Wilson said, "We see endless possibilities for helping our veterans become agricultural leaders for tomorrow, growing the industry and finding peace and happiness in meaningful agricultural careers."
Learn more
To learn more about this effort, contact Robert Elliott at rlellio2@ncsu.edu, 252-725-4875, or if you'd like to contribute, click here to make a gift.