Faculty and Staff
A 'Direct, Hands-On Research Experience' for Undergraduate Students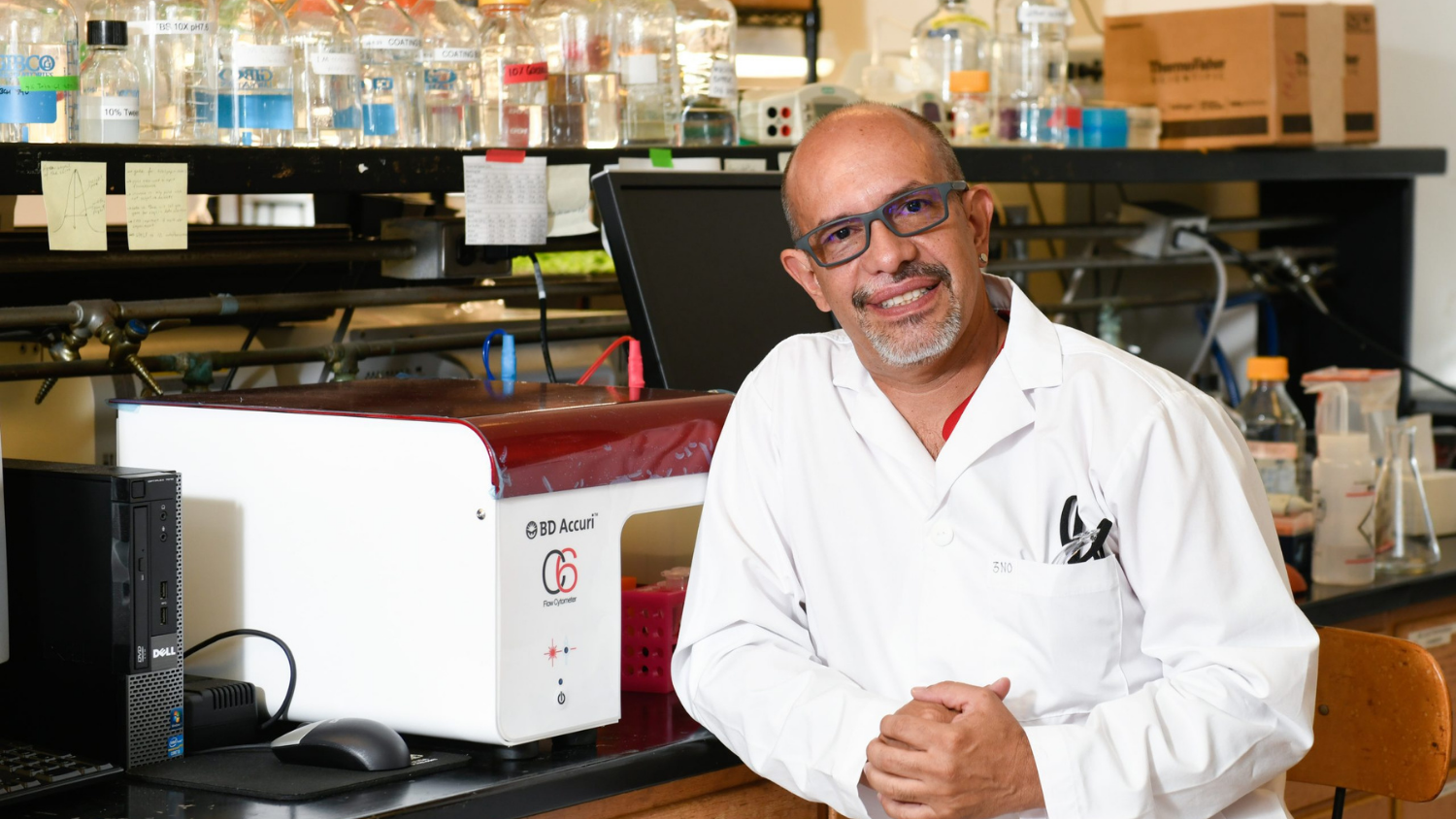 When José "Trino" Ascencio-Ibáñez came to NC State as a doctoral student in biochemistry, he never would have imagined he would one day call campus home as a faculty member. Known among his students and colleagues as "Dr. Trino," he is from Zamora, Mexico.
While earning his Ph.D., Ascencio-Ibáñez noticed a need for additional opportunities for undergraduate students to be involved in research. When he began as a faculty member in the Department of Molecular and Structural Biochemistry, Ascencio-Ibáñez fulfilled this need for students by starting the Biochemistry Undergraduate Research and Training Program, also known as BURT-P.
One of the requirements for a biochemistry degree is experience in undergraduate research, and BURT-P makes this possible for students. The program is designed as an inquiry-based lab course that gives students the opportunity to ask their own questions and find their own answers. Most students work on questions related to Ascencio-Ibáñez's personal research on plants-virus interactions, while others design their own hypotheses and experiments on other topics.
The program was initially designed for molecular and structural biochemistry students, but it's now open to all majors on campus. Ascencio-Ibáñez recruits students from the classes he teaches, but many students also reach out to him asking him to join the program.
The only requirements to join are that students spend at least one semester in the program — although two or more semesters are preferred — and that they possess the initiative to work hard (and have self-motivation).
"As long as you commit to doing your work and you come and do it, it's fine. You don't have to be here every day," says Ascencio-Ibáñez. "It's more important to do things right than to do it every day. It's a nice environment."
In BURT-P, Ascencio-Ibáñez provides support and guidance, but when it comes to doing the work, he lets students solve problems independently.
"If you don't challenge them, they're going to get bored and think that this is useless", says Ascencio-Ibáñez. "Challenges are how people grow, and I grow with them because most of the students are more intelligent than I am. I like to be surrounded by intelligent people. They challenge me, but I do the same to them."
Many students agree that BURT-P has been one of the best opportunities they have been involved with at NC State. One of Ascencio-Ibáñez's undergraduate students, Emma Wiese, says: "Being a part of the BURT-P program has been a highlight of my undergraduate career here at NC State. Gaining direct, hands-on research experience has given me a plethora of skills that I can carry forward into my career. From basic lab skills to organizational and leadership skills, the list is endless."
As a result of her involvement in the program, Wiese is listed as an author on a recently published research article, along with four other undergraduate students.
"The BURT program has taught me how to be a great bench scientist in terms of fundamental lab skills, but this program has also allowed me to take part on a research project that has just recently been published," Wiese says. "Never in a million years did I think that I would be an author on a published paper as an undergrad student, but under the guidance of an amazing mentor, Dr. Trino, this goal became a reality."
The research projects in the BURT program are funded through grants written by students, as well as a foundation Ascencio-Ibáñez started several years ago. "I like to give back because I'm an alumni of NC State, so I created this small foundation named after my parents because they were both educators," says Ascencio-Ibáñez. "I put some money there from a book we wrote for the experimental biochemistry course so I can use it for the BURT-P program."
The foundation, called "The Trino and Elena Biochemistry Foundation," takes donations to continue funding student research.
The program continues to grow as more undergraduate students are provided the opportunity to engage in research, preparing them for their next steps in their education and career.
"Dr. Trino and the BURT program have truly shaped my experience here at NC State and I couldn't think of a better program to be a part of," says Wiese.