A Champion Beyond the Court
As a young athlete, Sam Hunt always knew and understood the meaning of "them and us." But in the Hunt household it was never about a competition.
"It's always them before me, as my father would say," said the NC State graduate student and former basketball player. "My dad is the biggest servant-leader I know in this world. He made sure we were taken care of and we had whatever we needed. It wasn't until I got older that I realized how much he put into our family." 
[pullquote align=right color=red]It's always them before me, as my father would say. [/pullquote]
And it wasn't just his family he took care of. As a youth basketball coach in the Greensboro community, Hunt's father was a mentor to many. He helped kids improve their game, but was also a second father-figure for those he coached. Hunt knew he wanted to have the same impact on kids and young adults when he got older.
A graduate of North Carolina A&T State University, Hunt transferred to NC State in 2017 as a graduate student-athlete with one year of basketball eligibility remaining and made the most of his time both on and off the court. He enrolled in the College of Agriculture and Life Sciences' online graduate certificate program in leadership and volunteer management, which he completed in spring 2018.
After the 2017-18 season, Hunt traveled overseas to China to play basketball. He was there for a little more than two months when he returned to NC State to train.
"In the midst of training, we [NC State] were playing Auburn, and coach Keatts approached me after that game and said, 'There's a spot here whenever you're done chasing basketball. I'm not going to wait forever.' And it got my attention," he said. Keatts gave him a month to decide. 
"I knew I eventually wanted to coach, and I knew this opportunity was a great one that I didn't want to pass up," Hunt said. He traded in his uniform for a suit and tie and took on the role as a graduate assistant on the coaching staff. 
In addition to his new role, Hunt took this opportunity to further his education by earning his master's degree in youth, family, and community science.
"In the master's program I learned a lot of different leadership styles and skills that I didn't know before. I was going off what my dad did, but the program elevated my knowledge about nonprofit organizations, including how they function and work — skills I need if I want to start my own mentoring program," Hunt said.
He's been applying his leadership and mentorship skills with the guys on the basketball team.
"A lot of our conversations aren't related to the gym or improving their game. It's more about asking how they are feeling. A lot of people see athletes miss shots and might not understand that there's something else, something deeper, going on in their lives," he said. "I try to have regular conversations with the guys. I try to be that big brother figure they can come to for advice if they ask for it."
A Champion for Others
Learning about nonprofits and how they operate was important and personal for Hunt. 
"My best friend, Josh Level, passed away during a high school basketball game in 2013 because of his heart," Hunt said. Level died from myocarditis, an infection of the heart. Level might still be alive had there been an Automated External Defibrillator (AED) on site. Since then, many of Level's friends, including Hunt, created the Josh Level Classic, a basketball showcase for top high school players in North Carolina. 
Since its inception in 2014, 12 NBA players and 95 Division-I student athletes have participated. 
"Through the Classic and other donations, we've been able to put a few AEDs in some area high schools, which can make a huge difference."
The Josh Level Classic became the building block for the Smile For Josh Foundation. They even launched a scholarship in his honor in November 2019.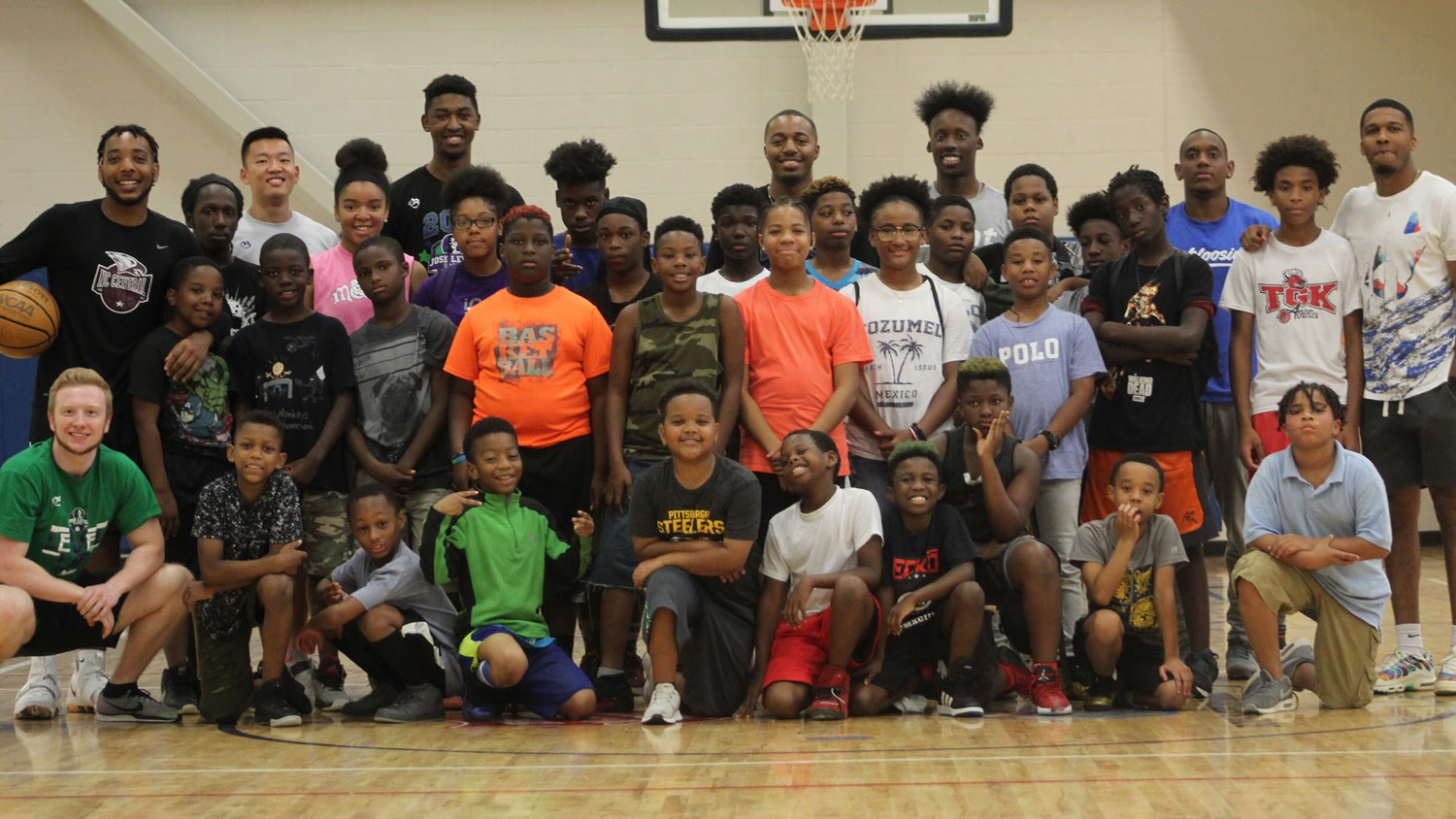 "Josh was a great guy. He had a big smile and was very good at basketball. Time just went by too fast," Hunt said of his friend. "Not everyone has the ability or option of receiving an athletic scholarship like I did. This gives those kids that chance."
Hunt also helped launch the nonprofit P.O.E, Product of My Environment.
"Basically it stands for not fitting into the stereotype of the environment in which you grew up in. It's about being bigger and better than the environment or life circumstances you were handed," Hunt said. "Don't let those things hold you down."
And Hunt's constant drive and passion for helping others became even more evident in April 2018, when a tornado struck his hometown of Greensboro. Hunt said he had no words upon seeing the destruction, but he had plenty of compassion and energy to help those in need.
"To see schools torn down and neighborhoods destroyed, the only thing I could do was try and help bring the community together and to help those families who lost their homes," said Hunt. And he did, with the help of a few friends.
[pullquote align=right color=red]Helping others is the best feeling in the world to me. [/pullquote]
"Lennard Freeman, BeeJay Anya, Malik Abu — they all came down and helped me. We did it the old-fashioned way, going house to house, providing them with toiletries, food, blankets and clothes," Hunt said. "Helping others is the best feeling in the world to me. I've scored over 1,000 points in college, but when I was able to help with tornado relief, that was by far the best feeling. Seeing the smiles on their faces. That's my rush in life, that's my thrill."
As his father always said, "It's them before me." Hunt tries to embody that spirit throughout his life and work.
Earning a Master's Degree
Hunt completed the master's program in fall 2019. However, his busy travel schedule with the team didn't give him the chance to walk across the stage. But thanks to supportive and understanding faculty, Hunt will walk in May 2020, a moment he knows his family will cherish.
[pullquote align=left color=red]Thank you for making me a better person.[/pullquote]
"My mom went to community college and so did my sister, so earning my master's degree, my mom will enjoy this moment. I think this will be one of the proudest moments she'll have." 
Hunt said he wouldn't be where he is today without hard work and the support of his professors.
"I thank all of my professors so much. I enjoyed all the times we had in class together. Thank you for making me a better person." 
Discover more amazing CALS students like Sam.
[button]student stories[/button]