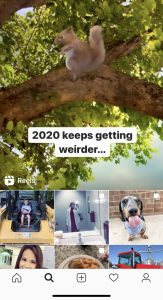 If you're an avid Instagram fan, you've probably noticed the addition of something new to the platform: Instagram Reels. This is basically Instagram's version of TikTok as it tries to stay relevant with the younger generation. Using Reels, you can upload fun 15-second videos set to music or whatever audio you choose.
Check out this guide that introduces you to the new feature and explains how to upload your own Reel. Please note that just because this is a new feature on Instagram, it does not mean you have to use it if it doesn't align with your overall social media strategy or your audience.
As social media sites keep adding new features, you have to judge for yourselves which parts of the platform are best suited to fit your needs. However, it's always good to be aware of these new updates and maybe experiment on your personal accounts!

Sara Awad, CALS social media specialist, is sharing her knowledge through monthly social media tips. Stay tuned to learn more. Have specific questions, please connect directly with Sara via email at szawad@ncsu.edu.