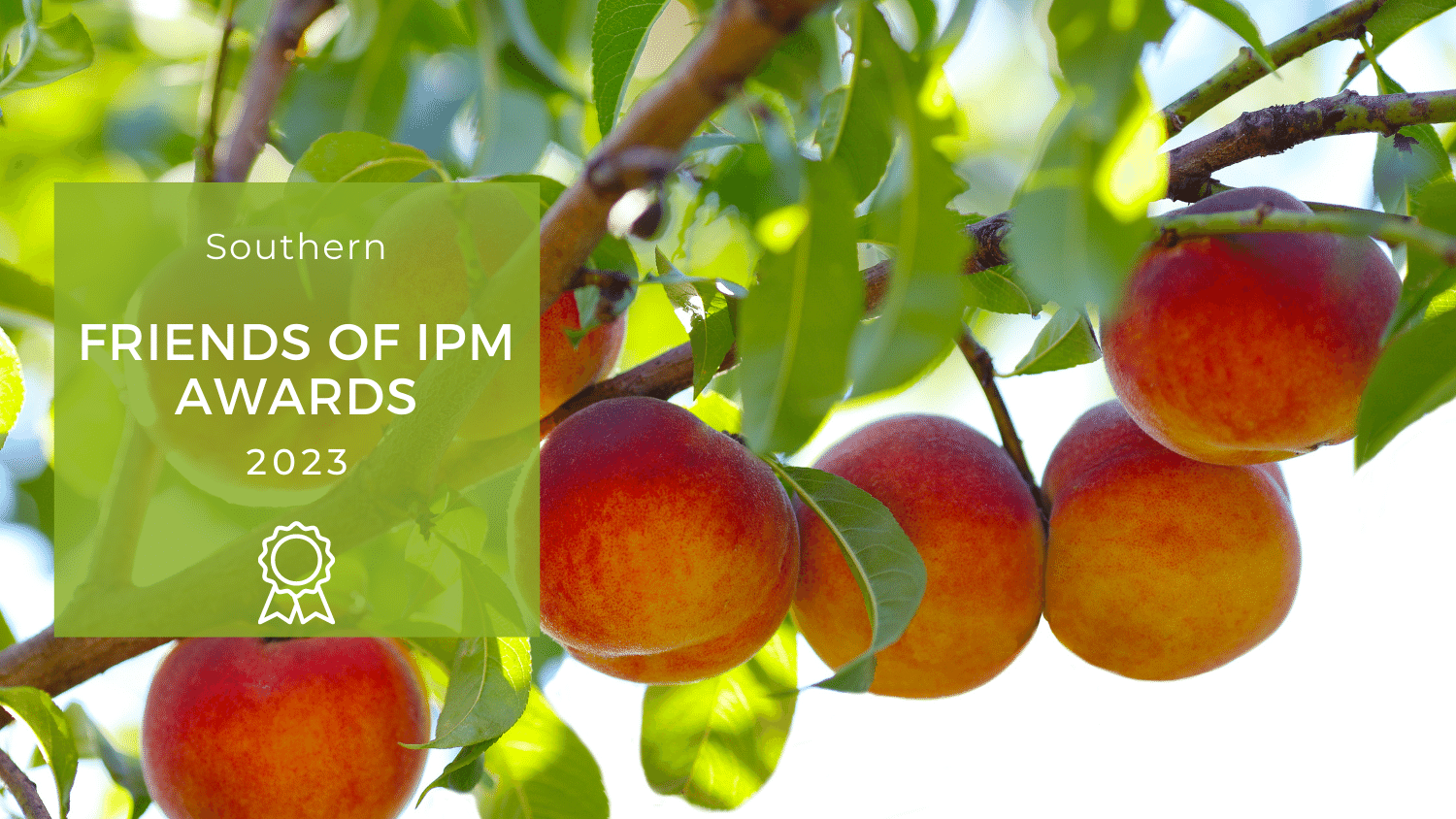 Deadline: October 7, 2022 at 5pm Eastern
The Southern IPM Center is pleased to release the Calls for Nomination for our annual Friends of IPM Award program and the IPM Ambassador Travel Grants (new this year).
The Friends of IPM program recognizes outstanding work in IPM in the Southern region, and provides recognition to award winners. Each winner will receive a plaque to be presented at an appropriate venue before an audience of their peers.
Awards Categories:
Professional awards:
The seven professional award categories are open to anyone in the Southern region demonstrating excellence in the field of IPM. Categories are as follows:
Bright Idea (research-oriented idea or new idea)
IPM Implementer (a practitioner who practices IPM in the real world)
IPM Educator (extension or teacher)
*IPM Communicator (individual who is really good at communicating IPM) *New this year*
Pulling Together (group)
Future Leader (young professional)
IPM Hall of Fame (seasoned professional; Lifetime Achievement)
Graduate Student awards: The Friends of Southern IPM graduate student award will go to two graduate students: one Masters student and one doctoral student. The graduate student award, in addition to a public presentation of the award, comes with a sizable monetary award. The winning Masters student receives $2,000, and the winning doctoral student receives $3,000. Each department may nominate up to 3 Masters students and up to 3 doctoral students.
(NEW) IPM Ambassador Travel Grant
This inaugural call for the IPM Ambassador Travel Grant responds to the call to action put in place by The National IPM Roadmap that expresses an urgent need to address IPM challenges such as ecological, genetic, economic and socio-political factors that affect development, communication and effective implementation of IPM strategies and technologies to manage pests effectively, slow the rate of resistance evolution, preserve existing control measures and create effective new approaches. To further meet this need, the IPM Ambassador Travel Grant provides support to travel to conferences, meetings, or workshops to bring IPM awareness to new audiences.
Travel Grant Prize
IPM Ambassador Travel Grant recipients will receive funding of up to $1,000 to enable travel to one conference, meeting, or workshop in 2023. A maximum of five recipients will be awarded this year and will be named "IPM Ambassadors".
RFA's and Grant Forms for all Friends of IPM Awards: https://bit.ly/sipmcfoipm
Website for reference: https://southernipm.org/projects/friends-of-ipm/
2022 Friends of IPM Award Winners: https://southernipm.exposure.co/foipm2022
Please nominate your faculty members and graduate students for these awards, consider becoming an IPM Ambassador, and share this announcement with other groups.
Thank you for supporting the Friends of IPM awards program and working hard to advance and advocate for IPM in the Southern region!