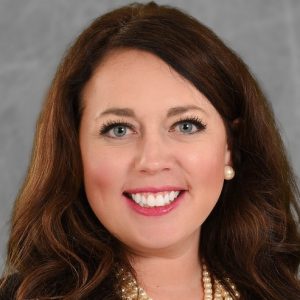 Mandy Baker Queen is joining the CALS Advancement team as director of development for NC State Extension. Mandy is no stranger to NC State as she has served the past three years as associate director of development in the NC State Central Advancement Office. In this role, she developed relationships with donors and prospects from various campus units and coordinated internal sessions and communications for leadership annual giving officers to share best practices.
Mandy grew up on her family's produce farm in Nash County and graduated from UNC Wilmington with a degree in Communication Studies. She began her career in fundraising at UNCW, moving up through ranks from intern to development officer. 
"I am honored to serve the College of Agriculture and Life Sciences and Extension in this exciting capacity. Extension has played a role in my life from a very young age as a member of a multi generational farm. We are proud founding members of our local farmers market and are grateful to Extension and this college for sharing in our passion for sustaining agriculture in our North Carolina communities. I'm eager to begin work in furthering the mission of CALS and Extension. Go Pack!"
Mandy will begin working in CALS starting on July 12, and she can be reached via email at mandyqueen@ncsu.edu. Please feel free to reach out and give Mandy a warm welcome to CALS and the NC State Extension family.