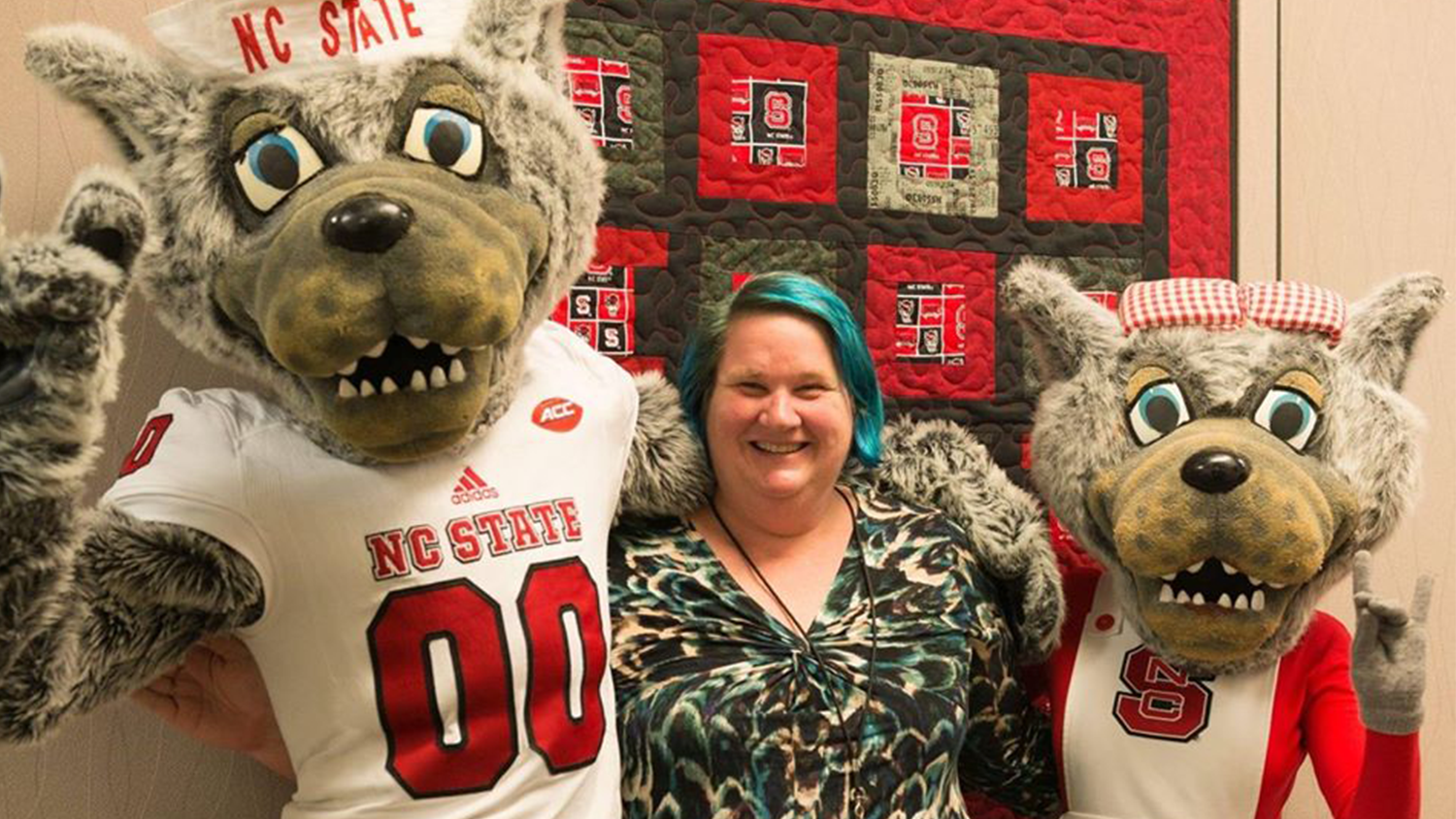 Pam Van Emden loves NC State University and it shows. Throughout the pandemic, Van Emden worked diligently with Feeding the Pack to keep their shelves stocked with food and other essential supplies.
In the fall of 2020, Van Emden heard that Feed the Pack shelves were often empty, even though the number of people seeking assistance was increasing. Using her Think and Do attitude, Van Emden decided to challenge her entire department – we need to feed our Wolfpack family. Pam asked us to donate four tons of food to the pantry. Each week, she sent out facts about hunger; she shared how much food was needed to feed the people who came to the food pantry; she created flyers; she encouraged graduate students to post Feed the Pack's Amazon wish list on social media and she came up with rewards as midpoint goals along the way.
Pam's positive attitude, ability to see the best in people and situations are just three of the reasons we are all fortunate to have Pam as a member of our Pack.
These past two years have provided Pam with a chance to evaluate how she wants to use her time. Pam said, "I'm trying to think outside of the box for ways to support our students, staff and my community. I am trying to make decisions on how best to move life forward, inclusively." With the time Pam continues to give to Feed the Pack, Pam is succeeding.
Department of Food, Bioprocessing and Nutrition Sciences' K.P. Sandeep, department head, says, "Pam is a mover and shaker. She pro-actively takes on a leadership role when she sees things that could be done to improve our operations and serve our stakeholders." K.P. goes on to say, "Pam is a leader, team player and an integral part of the FBNS family."
Pam's greatest professional reward is seeing students earn their degrees, "Knowing that I may have contributed in some small way by doing what I do – I help students overcome obstacles they can't see past. I help them connect with resources that they need to succeed."
Outside of Feed the Pack, Pam's work continues. Suzie Goodell, FBNS professor, says, "Pam is the best advocate for our students. Pam is the heart of our Nutrition programs. For years, we had seen a need for graduation support for students with limited resources. Within the first months that Pam had joined our department, she created a plan, secured the funding, and built a closet of graduation regalia for graduate and undergraduate students. Now, Pam serves as the contact for any FBNS student wishing to borrow graduation regalia. I've heard students say that they wouldn't have been able to attend graduation if it wasn't for the regalia closet. Pam played a pivotal role in making it happen.
Pam, like many of us, continues to adjust to post-2020 life on campus; "Students don't just drop by our suite as they have in years past. Our community is cautious." While masks are helpful in keeping the community healthy, Pam shared that she missed seeing smiling faces.
Parting words from Pam: "Please support our Pack Pantry! The pantry is not only about food. Always remember someone can use your help, even if it's just a friendly hello."