Global Academy at CALS International Programs hosted a group of six professional from Turkey from July 23 to August 05, 2022. The training program was titled Overview of Enzyme Regulation for Turkey and was attended by three food engineers, two agriculture engineers from the Ministry of Agriculture and one affairs specialist from Novozyme. In the first week of the training, the group met a number of USDA FAS as well as other organizations related to food enzyme and safety such as Food and Drug Administrator, World Trade Organization, Enzyme Technical Association, and Council for Responsible Nutrition. Through the various interactions the fellows learnt about various aspects of enzyme regulation including US food regulatory agencies and their responsibilities, Food Safety Modernization Act (FSMA) and US system for risk-based monitoring.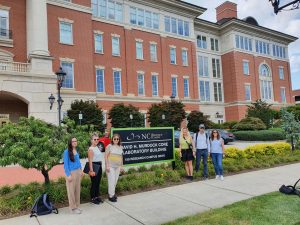 The fellows then traveled to Raleigh, NC and over the next week met with NC State faculty from various departments such as Food, Bioprocessing, and Nutrition Sciences, Forestry and Environmental Resources, and Animal Science as well as industry partners like Novozyme and BioResource International. NC State faculty members discussed a myriad of related topics including but not limited to innovative feed use, innovative feed ingredients, enzyme functions and examples of enzymes (including those derived from biotechnology) used as feed ingredients, communicating research to the public, evaluation of supplemental enzymes to improve nutritional value of feed, biology and genetics of CRISPR-Cas immune systems in bacteria, and product development from concept and research. The fellows also visited NC Innovation Lab in Kannapolis and Biomanufacturing Training and Education Center (BTEC).
Through this training program, the fellows identified the need for greater collaboration among Turkish government agencies as precursor to effective enzyme regulation. They were interested in exploring how the enzymes regulation model in the US can be potentially adopted for Turkey as well as the scientific processes and administrative perspective of enzyme manufacturing. The fellows were further interested in learning about all the enzymes approved for use in the US and they were provided with a book that contains the list of approved enzymes. Turkey has a strong interest in increasing their use of food and feed enzymes, having access to a resource like this book and all the information the Fellows' attained during their two-week Fellowship, will allow them to guide their country to make science-based decisions moving forward. The Fellows' also made many connections throughout their two-week Fellowship that they can further explore to access reliable scientific resource or identify potential trade partners.