Syngenta Donates One-of-a-Kind Laboratory Equipment to N.C. PSI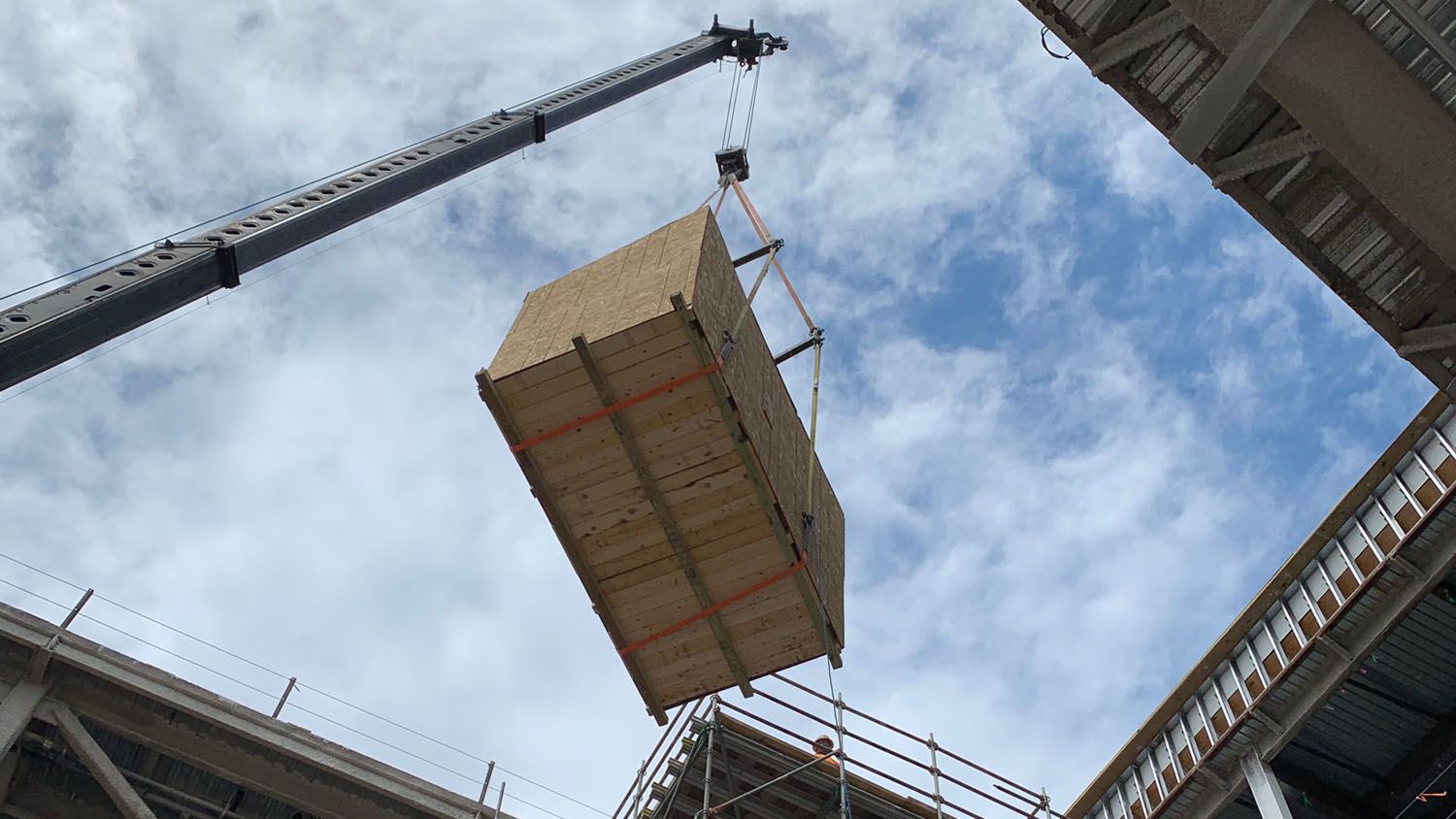 Long-time NC State corporate partner Syngenta donated four plant growth chambers with unique capabilities and a specialized weighing system for water-use research to NC State's Plant Sciences Initiative (N.C. PSI).
In August, the growth chambers were hoisted into the fourth floor of the Plant Sciences Building, which is still under construction and is set to open in early 2022. This gift from Syngenta, a global agriculture company with an innovation center in Research Triangle Park, is valued at more than $1.5 million, making it the largest corporate donation to N.C. PSI, to date.
"These custom-built growth chambers will allow our scientists to alter various conditions under which plants are grown including the temperature, humidity, lighting and atmosphere, which gives our scientists an opportunity to do really great research," said Steve Briggs, the launch director for N.C. PSI. "We're very grateful to Syngenta for giving us these growth chambers and those opportunities. This donation shows how our corporate partners value the initiative and our mission to improve the world through plant science innovation."
NC State already has many growth chambers that allow researchers to control the temperature, humidity and lighting of the chamber interior, but these four chambers are unique in that they can also precisely control the atmosphere the plants are grown under and measure the photosynthesis rate in real time. There are only eight growth chambers in the world constructed with these specifications.
"Feeding the world's growing population and improving the sustainability of agriculture are important reasons why we actively support and fund innovation and collaboration outside of Syngenta," said Ian Jepson, site business head for Syngenta RTP. "I hope that having this state-of-the-art equipment and capabilities will open the door to future funding and partnership opportunities for the N.C. PSI."
Ricardo Hernández, an assistant professor in the Department of Horticultural Science is one NC State faculty member who is particularly excited to use the equipment Syngenta donated.
"At the fundamental level, the growth chambers will help us understand how plants respond to different environments," Hernández said. "At the applied level, the ability to collect data on the photosynthesis rates of whole groups of plants will allow us to increase crop yields by better understanding how they respond in different environments."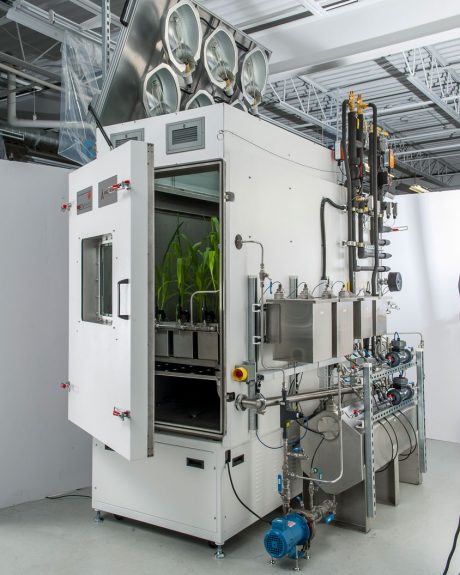 The chambers can precisely measure the oxygen and carbon dioxide levels, which will allow NC State plant scientists to precisely measure photosynthesis rates under changing conditions — in real time, on the order of seconds — as well as respiration and transpiration rates, Hernández said. The chambers also allow scientists to increase the carbon dioxide levels within the chambers and see the impact that has on plant growth.
Hernández studies the production of specialty crops in controlled environments such as tomatoes grown in a greenhouse or leafy greens grown in a vertical farm. His goal is to determine which environmental factors increase plant growth rate, improve flavor and yield while decreasing costs.
"I know that these chambers with their unique capabilities will also be very useful for my colleagues who work on plant physiology and responses to the environment, crop breeders, engineers working on plant sensors and others," Hernández said. "Having these unique capabilities may also allow us to get additional funding from granting agencies."
In addition to the four growth chambers, Syngenta also donated a specialized moisture sensing and weighing system. This system is a set of 288 scientific-grade scales and moisture sensors with a digital monitoring and data-logging system. The system can be used with the growth chambers or independently to study how plants use water.
NC State researchers will be able to use the system to see how plants use water under different conditions, how well different plant varieties adapt to drought conditions or even study the physics of potting soil, Hernández said.
"Being able to purchase this kind of advanced instrumentation is very difficult for a lab, or even a group of labs," Hernández said. "This partnership with Syngenta and these donations will enable us to do more accurate research than we would have been able to do otherwise. The University, especially our plant science research programs, will benefit greatly from these two donations."
Help us grow plant science innovation.
This post was originally published in College of Agriculture and Life Sciences News.