Remi Ham: Connecting Pupils with Plants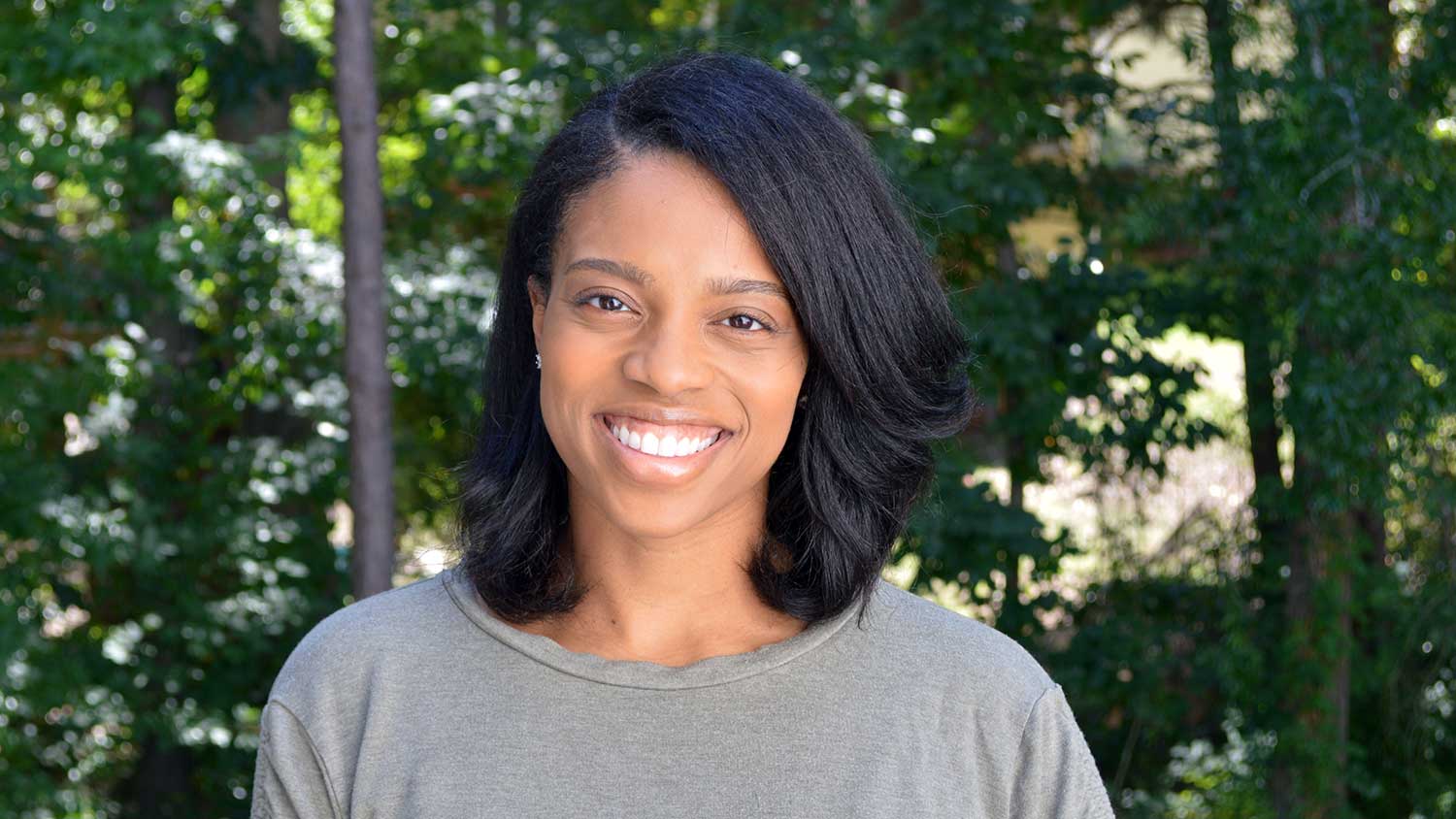 Beginning her faculty life at NC State with COVID lockdown, Remi Ham is finding normalcy into her second year as an assistant teaching professor with the Department of Horticultural Science.
Ham studied urban and environmental planning at the University of Virginia before attending Florida A&M University, earning a Master of Landscape Architecture (MLA). She has combined her formal education and experiences to develop expertise and academic programs in landscape design, edible landscaping, home food production, and school and community gardening.
Ham may have been originally inspired by plants and the outdoors, but a conversation would quickly reveal that connecting pupils with plants is her purpose.
What inspired your interest in plants?
Growing up, I always loved being outdoors. It is probably strange for some, but cutting grass and pulling weeds was an amazing "chore" as a kid. Beyond that, both in research and professionally, I have always valued plant's unique ability to connect people. Whether gathering in an ornamental landscape, exchanging growing tips in a community garden, or witnessing children harvest carrots and radishes for the very first time – plants help us to connect with our natural environment but ultimately connect us with each other. In my classes, I have witnessed this as well. I absolutely love when students share pictures of their emerging seedlings, images of newly planted flowers or even discussing how to grow their favorite vegetables. The students continue to inspire me each day. I love connecting with them and it is amazing being a part of their learning journey.
Why did you choose to work at NC State?
Working at NC State has been a dream come true for a number of reasons. First, CALS and the Horticultural Science Department have such a significant impact both regionally and nationally. But as a landscape designer and educator, my experience, body of work, and future research interest aligned seamlessly with the department and extension goals. Even more significantly, a big draw to the Horticultural Science Department is the people. The motto, "Think and Do", is truly supported – as this team values new ideas and diverse perspectives. As a new faculty member, this speaks great volumes.
How are you transforming challenges into opportunities?
Beginning a new faculty position at the height of the pandemic is certainly a unique experience. Last academic year, my courses were delivered asynchronously online. While I have taught a few online courses prior to joining this department, it is clear, more so now than ever, that crafting an online class takes great skill. I embraced this challenge with an open mind and excitement. Let's face it, online course delivery is a trend that will continue to grow, much further beyond the COVID pandemic. With the support of DELTA training, and several Quality Matters training courses, teaching on an online platform is something I now enjoy. If done well, I believe it is very possible to make meaningful connections with students and to help them engage with the course materials.
What are you doing now in teaching and outreach? What's next?
Presently, I am teaching Home Food Production, Gardening with Herbaceous Perennials, and The World of Horticulture: Principles and Practices. A mix of my classes are delivered asynchronously online and face to face. But despite the course delivery mode, I enjoy sharing my passion for plants, introducing their wonderfully intricate features, and providing insight and inspiration from a designer's lens.
In addition to teaching, part of my role in our department is Extension. I have enjoyed partnering with the Farm to School team as we work to refine and develop an online school gardening course. As for what's next, I have a lot of dreams, some of which I have begun to plant related to landscape design and food production. But my biggest dream for NC State is to strategically integrate several foodscapes on campus.
Would you share a little more about your Home Food Production course?
This semester, I am teaching two sections of Home Food Production. One section meets in person, while the other is delivered asynchronously online. Students in these courses have a range of plant experience and I enjoy teaching both sections how to produce their own crops as well as the great value of growing their own food. For the asynchronous section, incorporating video highlights from my own garden and demonstrating planting tips has helped me connect with students but also helps to break the monotony of formal lecture recordings. The response has been really positive.
Within the in-person section, as a class, we planted seasonal crops at the horticulture field lab. For many, this is their first experience planting seeds or developing a garden plan. Going beyond the classroom walls has been fun and students have enjoyed witnessing the plant development. My greatest hope is that students are inspired, and that these tactile garden experiences help foster a love and greater appreciation for producing their own food. I look forward to harvesting together later this semester!
What stands out about CALS and its students?
CALS students are simply amazing! In each class, I have enjoyed the rich conversations, discoveries, and the collaborative learning environment. To this day, I have students from last year that will send pictures of their garden updates. It's so great! Whether a student is sharing their plant growth development, a newly designed pollinator garden, food growth or simply sending pictures of their emerging bulbs – I love the rich interactions. It is great to teach in an environment where we share the same love — plants!
Do you see yourself as a horticulture student?
If you are interested in studying horticulture, food production, gardening, landscaping and more, learn about our undergraduate programs.