Pasour Pursues Passion for Plants at NC State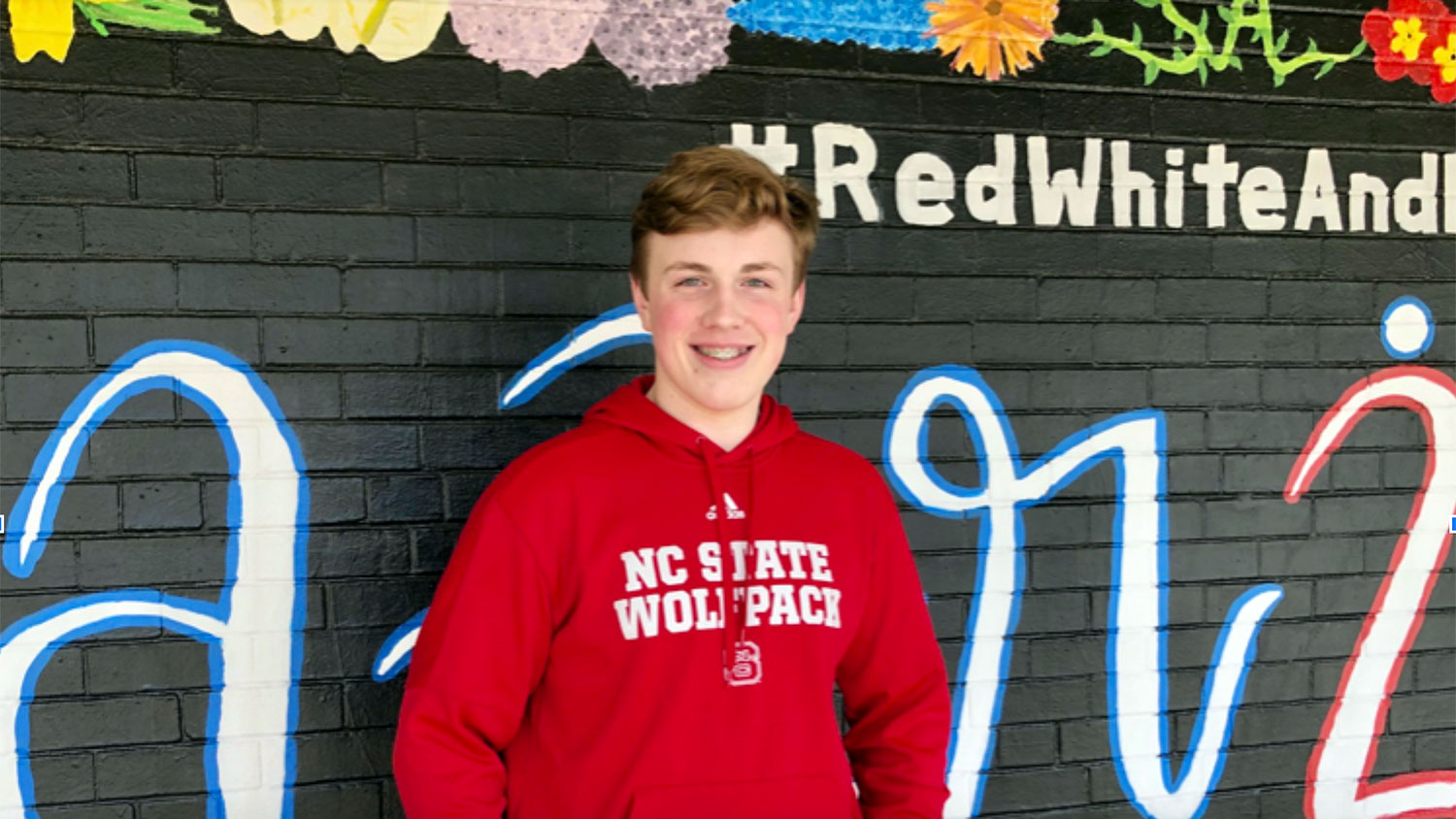 Graduating from Alamance High School, where he competed as a lacrosse player, Rhett Pasour is eager to begin studies in horticultural science with aspirations in ornamental plant breeding. As a recent inductee into the Goodnight Scholar program, Pasour shows an intrinsic interest to make the most this opportunity through studies, people, and experiences to become an agricultural leader and benefit others.
The Goodnight Scholars finalists interview gave Pasour a few jitters, but now at his dream school, he has shaken them off with the first week of studies. One of his next goals is to join the HortPack team and compete in next year's National Collegiate Landscaping Competition, typically held in March. 
Tell us a little bit about yourself.
My name is Rhett Pasour, and I am from Alamance County. I love to work with plants, and I am always trying to learn new varieties and species of plants. I try to be as involved in my school and community as possible, and I am hoping to do the same at NC State.
What are you studying? How do you plan to use your degree?
I am enrolled to study Horticultural Science, but I may also double major in plant biology as well. I hope to use my degree to one day become a plant breeder and work with a large horticultural research and development company in the hopes of breeding new varieties of ornamental plants.
Any unforgettable moments from your time in the Goodnight Scholars community thus far?
My most unforgettable moment in the Goodnight Scholars community so far would be my finalist interview day. Right before my interview, I began to feel sick, and I thought that I was going to mess up my interview because of it. It did not help matters when I realized that I was the first one done with my interview from my group. I spent the rest of that day slowly feeling worse and worse, and in hindsight, I was probably just coming off of an adrenaline rush. The rest of that day turned into a blur, but I remember continually reassuring myself that the hard part was over.
What does being a Goodnight Scholar mean to you?
To me being a Goodnight Scholar means that someone believed in me so much they were willing to pay for my college tuition and expenses. It also means that I should get involved in organizations that interest me and try to step into leadership roles. Another thing that being a Goodnight Scholar means to me is to help others out as much as possible. I would not be where I am today without help from others in my life, and I feel that if I can help change someone else's life then I should take every chance I have in order to do so.
What are you most excited about attending NC State?
There is not one thing that I am most excited about in terms of attending NC State. For starters, it is my dream school, and I have wanted to go there for as long as I could remember. Second, I am excited to meet new people and make more connections. The third thing that I am extremely excited about is the National Collegiate Landscaping Competition that NC State competes in the spring. I can't wait to start training for this event and hopefully do well in the actual event.
Why did you choose CALS?
I chose CALS because I wanted to continue to develop my knowledge of agriculture and related fields. I know there is so much more for me to learn and attending a top program such as CALS would really help me take my knowledge to the next level.
---
Want to Learn More about Horticultural Sciences?
NC State students learn from amazing professors and hands-on opportunities every day. Learn more about student undergraduate programs in the Department of Horticultural Science. It's how we are advancing plants.