Mason Pharr Seminar: Reviving the American Chestnut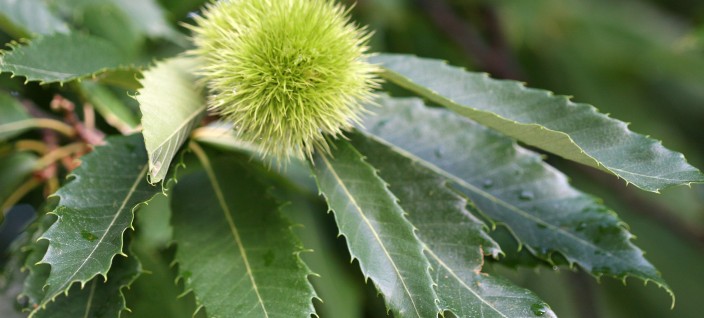 On March 30, 2017, the Horticultural Science Graduate Student Association's (HSGSA) Mason Pharr Seminar is featuring Dr. Paul Sisco, of The American Chestnut Foundation and its Carolinas Chapter. Dr. Sisco will present the research and progress of reviving the American chestnut tree in North Carolina forests.
The iconic American chestnut (Castanea dentata) once covered a quarter of Appalachian forests and numbered over four billion trees in the United States. Towering over oaks, hickories, and tulip poplars, American chestnut trees thrived and matured as the dominant species. Nicknamed "the redwood of the East," chestnut trees rose up to 120 feet above the canopy floor with some trunks measuring 16 feet in diameter.
The American chestnut was revered as one of the most valuable trees in the forest, because it was a plentiful food supply for wild animals and livestock and a cash crop for mountain farmers. The light, yellow-colored wood was perfect for furniture, and the rot-resistant lumber for fences, utility poles, and siding. Many Carolinians cooked chestnut breads, soups, and pies while resting beside the chestnut fire.
After being discovered in 1904, chestnut blight disease, caused by an Asian fungus, Cryphonectria parasitica, spread quickly by air and on the bodies of insects, birds, and animals. By the 1930s, though, almost all the mature chestnut trees in the Carolinas were dying back to their roots.
Now, with the backcross breeding approach, the American Chestnut Foundation and its Carolinas Chapter are working to revive the tree in North Carolina. The chapter is involved in finding surviving trees, pollinating them, harvesting seed, and planting orchards for eventual reforestation.
Join the Mason Pharr Seminar held on Thursday, March 30, in Williams Hall, room 2215 at 3:30 pm to learn more or join in the efforts to save this great tree.