Feature
Kyle Freedman: From Philosophy to Viticulture
North Carolina has over 250 vineyards and 150 wineries with an overall industry economic impact of over $2 billion per year. Planted in the western through the coastal regions of the state, North Carolina produces American native grapes (e.g. muscadines and cythiana) as well as European vinifera and hybrid cultivars, making it one of the most diverse grape-growing states.
It seems fitting that Kyle Freedman, growing up in North Carolina, would use his passion for horticulture to bolster the industry through the study of grape production and winemaking. While attending the recent American Society for Enology and Viticulture-Eastern Section (ASEV-ES) conference, Freedman was nationally awarded first place in the viticulture group for his first Ph.D. technical research presentation, under the direction of Mark Hoffmann.
Tell us a little about yourself. Where are you from?
I am from Chapel Hill, NC and went to UNC Chapel Hill for my undergraduate degree in philosophy. While most horticulture graduate students don't major in philosophy during their undergraduate studies, I worked for six years in project management and most recently at RTI International managing large USAID and USDA-funded food security and agriculture projects in over 7 countries in East Africa, Asia and Latin America. Specific crops these projects focused on were tomato, banana, and guava to name a few. This is where my passion for horticulture developed and why I went back to school for my master's at UC Davis and now my Ph.D. at NC State.
Why and when did you get into viticulture and plant physiology?
I became increasingly interested in viticulture, or the cultivation of grapes, while I was at UC Davis. I took several viticulture courses and began visiting vineyards throughout the state. I particularly enjoyed the fact that grapes could be planted, managed, harvested and produced into a final product all within the same location. It was evident how important viticulture was to California and to much of the world. My master's research was on the post-harvest processing of coffee using small-scale solar dryers, and I was heavily involved in UC Davis's Coffee Center, which had strong ties to the Robert Mondavi Institute for Wine and Food Science. Coffee shares a lot of similarities to wine and I learned a lot while working at both centers. 
What brought you to NC State?
Growing up in North Carolina, my wife Valerie and I wanted to return during the pandemic to be closer to family, and I couldn't think of a better university to complete my Ph.D. Truth be told, I grew up as a Tarheel and always had a rivalry with NC State. While you may still see me with UNC attire on campus, NC State is an amazing university and it has a beautiful campus. Now I have to learn the art of diplomacy to appease both sides.
Can you tell us about your research for your presentation?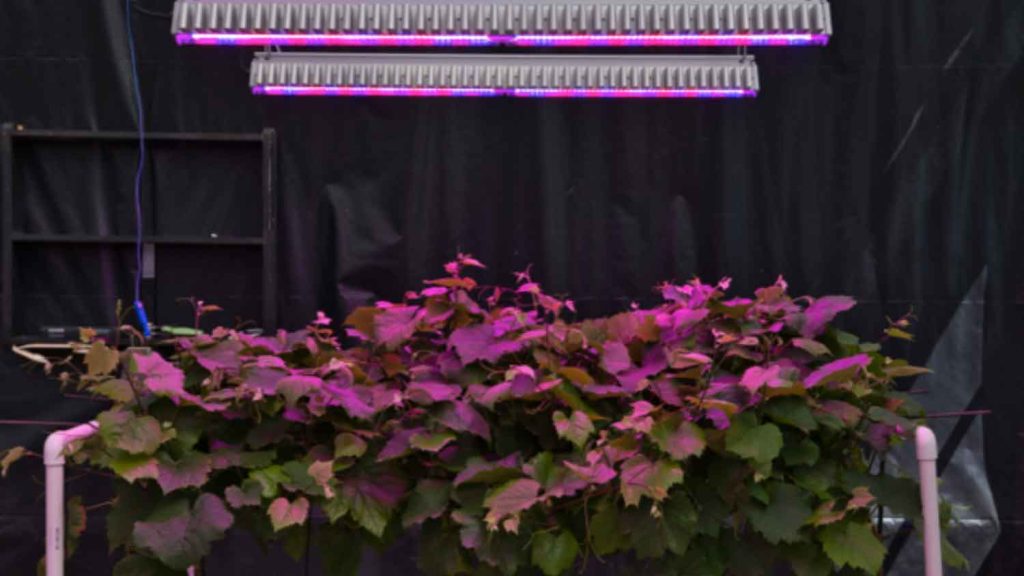 I presented my first Ph.D. study entitled "Precise Indoor Vine Conditioning: The effect of supplemental light intensity on the physiology of 'Concord' and 'Traminette' grapevines". I was entered into the student technical presentations, which included both viticulture and enology students from all over the country, as well as Canada. This was my first conference presentation and it was such a great experience.
What upcoming project are you most excited about and why?
I am currently working on a study to evaluate the impact of container size on grapevine rooting under supplemental light intensity as well as assessing economic implications. At the end of my PhD, we will have evaluated the entire PIVC process, from conditioning vines under supplemental lights, container size, vineyard transplanting and harvest, all the way to assessing wine quality and a first economic assessment. This is a completely novel production system that has never been done before.
What has been the highlight of your graduate school experience so far?
Aside from all of the technical skills I have learned, the real highlight has been all the amazing people I have met. My love of plants and connecting with people go together so well, making an enjoyable environment and Ph.D. program.
What are your future goals?
I would like to explore horticultural career opportunities internationally, including industry, such as nursery or greenhouse production, as well as university positions. I have a passion for teaching, mentoring, and leading others and will look for opportunities that allow me to use these skills.
Do you have any advice for incoming graduate students?
Graduate school and academia can be a competitive environment, both in a good and bad way. I think all graduate students should be competing with themselves and assessing their success and enjoyment by how much they are learning and the new experiences they are gaining. We all have different experiences and instead of comparing ourselves to others, we can use others' experiences to inform and adapt our own so that we can learn as much as possible. Follow your interests and skills and naturally, jobs and exciting opportunities will present themselves.
Are you interested in studying horticulture?
Horticultural Science provides a hands-on academic path that provides real-world benefits and applications. Explore our undergraduate and graduate programs to learn from expert faculty and have career-focused experiences.
Connecting students with opportunities is part of how we advance plants.
Sign-up to get the latest news and updates from Horticultural Science straight to your inbox every month.