Interdisciplinary Inspiration from 2020 Horticultural Science Conference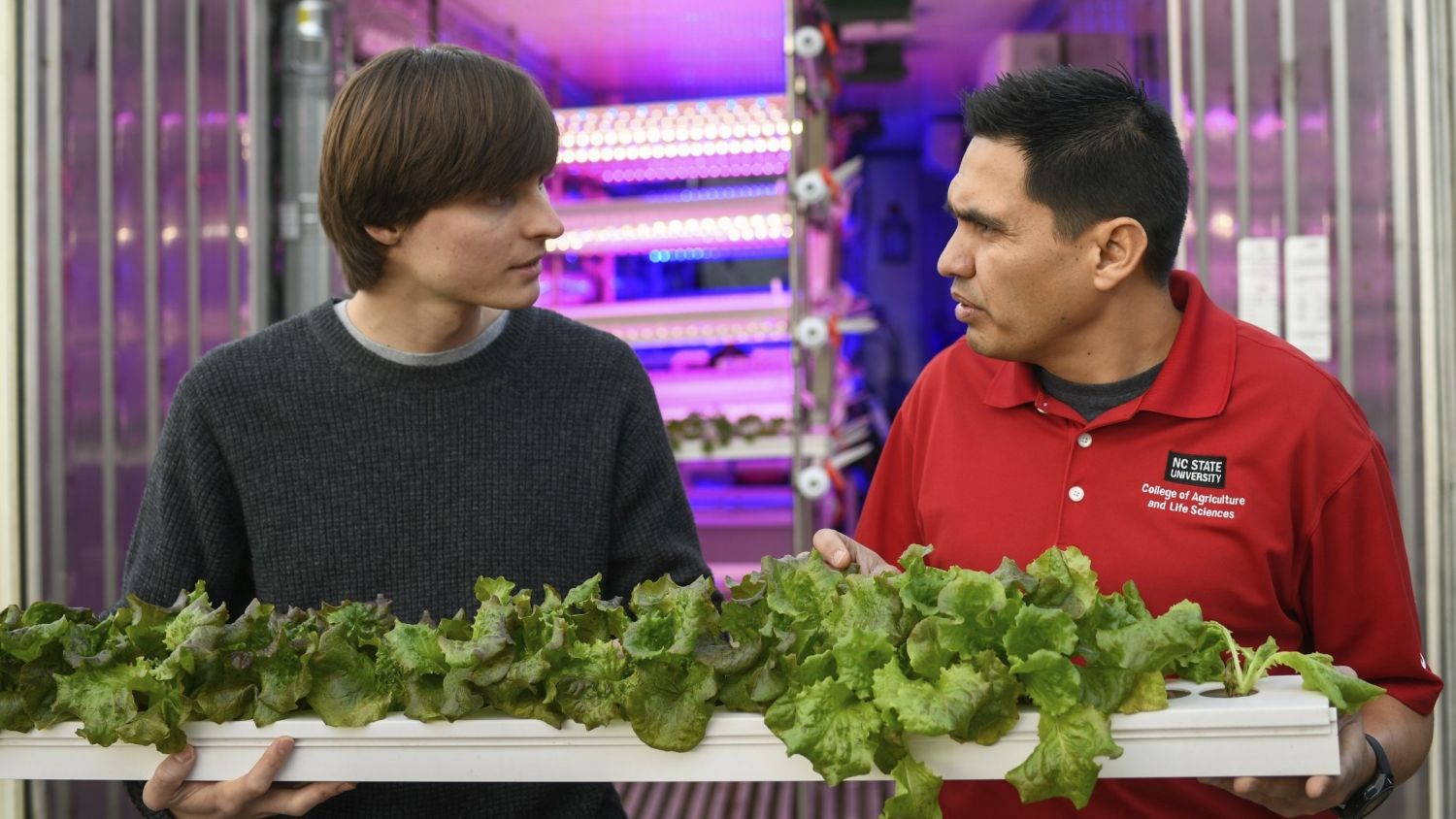 The American Society of Horticulture Science (ASHS) held their 2020 annual conference online from Orlando, Florida, this year. Members selected several feature topics and keynote speakers, including acclaimed NC State plant pathologist and Horticultural Science Department Head Frank Louws, Ph.D. Drawing from his experience as director of the highly multidisciplinary NSF -Center for Integrated Pest Management and as a leader of a national team-based IPM program, Louws called for renewed interdisciplinary synergies in advancing plant health and horticultural systems.
As a plant breeder and geneticist, Louws expressed exuberance regarding the conference sessions introducing this year's new cultivar releases. Discussing the new cultivar releases presents an opportunity for plant breeders to gain a better understanding of how to better adapt them to suit our individual needs.
During the conference, a diverse and respected group of horticulture leaders gave addresses on the importance of horticultural production and foreseeable challenges. Many NC State students and faculty were recognized for their presentations and instrumental research.
Honorees and Speakers
Mark Taylor Watson
Mark Taylor Watson for first place in Undergraduate Oral Presentations on Optimizing Tomato Graft Healing with Dynamic Vapor Pressure Deficit. Kudos to his advisor Ricardo Hernandez.
Demand for grafted tomato seedlings is growing in the United States, yet high-throughput production of grafted seedlings is hindered by labor-intensive grafting systems and an incomplete understanding of optimal graft healing conditions. Currently, best practices for tomato grafting involve healing newly grafted plants under constant low vapor pressure deficit (VPD) conditions of 0 – 0.377 kPa, corresponding to 23-28°C and >90% relative humidity (RH). Under these conditions, graft healing takes 4-7 days or longer, and while strong (>90%) healing percentages are observed, adventitious roots also form from the scion at high rates and disrupt rootstock function, necessitating a time-consuming cutting step or drying period to remove adventitious roots. Hence, the objective of this study is to reduce scion adventitious rooting while decreasing graft healing time by evaluating new, dynamic healing conditions where vapor pressure deficit gradually increases from low to ambient during graft healing. Four cultivars of tomato scion were grafted to each other and healed under 6 dynamic VPD treatments in growth chambers. The temperature was maintained at an average of 26°C in all treatments while RH was controlled using a fogger and fan to produce each VPD treatment. The results of this experiment suggest that 2 days of low (0.17 – 0.27 kPa) VPD after grafting followed by 2 days of gradually increasing VPD to ambient is sufficient to induce good (>90%) graft healing while reducing incidence and severity of adventitious rooting.
Patrick Veazie
Patrick Veazie for winning second place in Undergraduate Oral Presentations on Nutrient Disorders and the Impact on Anthocyanin and Chlorophyll Concentration of Brassica Rapa var. Chinesis. Kudos also to his faculty advisor Brian Whipker.
Essential plant nutrients are needed at crop-specific concentrations to obtain optimal growth and yield. Foliar tissue analysis is the standard method for assessing nutrient levels in crops. Symptoms of nutrient deficiency or toxicity occur when the foliar tissue values become too low or high. Diagnostic nutrient deficiency criteria for Brassica rapa var, Chinensis (bok choy) is lacking. Bok choy plants were grown in silica sand culture, with control plants receiving a complete modified Hoagland's all-nitrate solution, and nutrient-deficient plants induced by using a complete nutrient formula withholding a single nutrient. Tissue samples were collected at first signs of visual symptoms and analyzed for dry weight and nutrient concentrations of all plant essential elements. Continue Reading
Brandon Huber
Brandon Huber won second place in Ph.D. Oral Presentations for work on Dynamic Far-Red Light Treatments to Maintain Plant Uniformity in High-Density Tomato Seedlings for Grafting. Kudos to his advisor Dr. Ricardo Hernandez.
Previous research showed that doubling planting density for tomato seedlings from 1000 to 2000 plants m-2 resulted in 17-23 % of plants not suitable for grafting. Far-red (FR) lighting is an effective strategy to improve uniformity through the shade-avoidance-syndrome (SAS). The objective of this experiment is to increase the uniformity of tomato scion grown at a very high density by using FR light. Continue Reading
Dr. Ricardo Hernandez
Dr. Ricardo Hernandez won the Early Career Award for work on Integrating Crop-Physiology with Environmental-Control-Technology to Improve Plant Production and Foster Interdisciplinary Education and Outreach.
Hernandez devotes his academic and professional career to advancing the science of applied environmental physiology (controlled environment horticulture), while educating the next generation of scientists. During his time at NC State University, Hernandez has built a research team that consists of five Ph.D. students, one M.S. student, one research technician, three post-doctoral research associates, and several undergraduate students. Defining Controlled Environment Horticulture (CEH) as the integration of crop-physiology with environmental-control-technology and engineering to maximize plant output (yield, traits, morphology). CEH mainly impacts two sectors: 1) The industry that uses CEH technology as a production tool. For example, production of vegetables/ornamentals in greenhouses and other CE production systems, production of seedlings/transplants for the open-field vegetable industry, and production of plant-based health products for the pharmaceutical/nutraceutical industry. 2) The industry that uses CEH as a research and optimization tool. For example, to accelerate plant breeding, understand fundamental plant responses to the environment, and plant biotechnology optimization. This diversity expands the impact of my research program and has allowed me to obtain research funds from a variety of sectors. Continue Reading
Dr. John Dole
Dr. John Dole presented the Benjamin Y. Morrison Memorial Lecture ("How the Christmas Flower Came to Be") at the 2020 American Society of Horticultural Science Conference.
Dole is the associate dean and director of academic programs for the College of Agriculture and Life Sciences at North Carolina State University. He also serves as executive advisor to the Association of Specialty Cut Flower Growers, a 1,600-member national organization devoted to the production and utilization of cut flowers.
Poinsettias are a case study on the forces behind crop development that took a gangly shrub to one of the most important plants in the world, according to Dole. The story of the poinsettia's rise is a fascinating mix of plant exploration, horticultural research, and marketing illustrating the strengths of industry, universities and the U.S. Department of Agriculture.
Dole has an international reputation for his significant research in floricultural crop production and postharvest handling and use of cut flowers, cuttings, and poinsettias, as well as his contributions to teaching, extension, and outreach in the field of floriculture.
Dr. Frank Louws
Dr. Frank Louws gave the final keynote address on Interdisciplinary Synergies to Advance Plant Health in Horticultural Systems.
Horticultural Sciences are superiorly positioned to address major global grand challenges. These include food security and the positive, or negative, impacts of human activities on the environment, including the need for resilience in the face of climate change. Components of these grand challenges include designing sustainable systems to advance plant health and mitigate losses due to pathogens, arthropods, weeds, and other pestilences. The interface of biology, variable climate conditions, and anthropogenic activity and paradigms create a complex matrix of pathways optimally pioneered through interdisciplinary programs. Such programs strongly benefit through the continuum of the basic to applied sciences and advanced pedagogies that catapult teaching and extension for future impacts. Interdisciplinary (and transdisciplinary) participation in projects can be rewarding and highly synergistic, can solve complex problems, and can advance innovation. Interdisciplinary programs also create an educational environment for team members and offer stakeholder impacts critical for the design of sustainable horticultural systems, including plant health outcomes. Moreover, there is a joyful opportunity to develop deep friendships, grow in interdisciplinary knowledge, and experience a rewarding sense of meaning, consistent with the major reasons people join horticultural science.