Agroecology Graduate Looks Forward to Applying Her Degree
Charlotte Yancey has lived what she describes as "some of the best years of her life" on North Carolina State University's campus and is now preparing to graduate with a degree in agroecology and sustainable food systems with a concentration in urban horticulture and a minor in plant biology.
From her hometown of Columbus, Georgia, Yancey applied to NC State solely for the agroecology degree. At the time, the program was only two years old. Still, the curriculum was so different from any other university that Yancey says coming to North Carolina was worth it.
"Having the plant science side of it, but then also the community work and social justice side of it, was really what intrigued me the most about the agroecology and sustainable food systems degree," Yancey says. "I've always loved working collaboratively with people in the more relaxed setting as opposed to being in an office."
The hands-on nature of the agroecology classes may have been what brought Yancey to the College of Agriculture and Life Sciences, but the people are what have kept her here. Most of the classes for Yancey's major have had no more than 20 students and have allowed for personal connections between peers and professors. "I really started noticing it towards the end of my sophomore year, but the more agroecology classes I took, the more I remember thinking, 'Oh, this is kind of fun. I recognize these people's names again and again."
Yancey also recalls the level of investment that her professors showed in her personal success as a student. Many of her classes included guest lecturers and field trips that introduced her not only to what a future career with her education could look like but also to a vast network of future employers.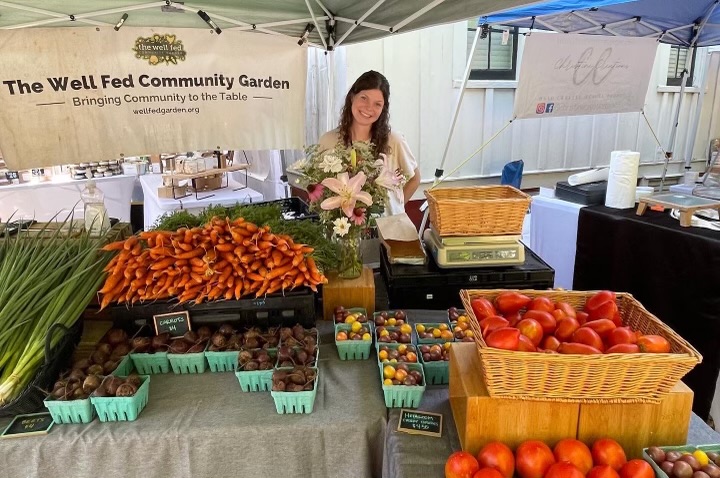 This aspect of CALS is what Yancey believes separates the college from others on campus. She says that introducing herself as a student pursuing an agricultural degree at NC State has opened doors for her and carries weight with people involved with the food system. During her interviews, Yancey has found at least one connection to the college, whether that be a professor of Yancey's that the interviewer knows or a new research project that she learned about in a class.
A conversation like this during an internship interview two years ago helped Yancey land a position with the Well Fed Community Garden near campus. Yancey became aware of the internship through one of the department-wide emails alerting students of opportunities. "It just goes back to everyone in the department wanting to help you and being more than just a number to them," Yancey says. "Everyone in agroecology — no actually, everyone in CALS— wants to see you succeed."
Along with working at the Well Fed Garden for the past two years, Yancey has served in leadership roles on campus. She has been a member of the Eta Upsilon chapter of Kappa Delta since her freshman year in 2019. She says her involvement with the organization helped her gain confidence in public speaking and organizing major events.
Yancey also served as an officer for the Agroecology Club at NC State, allowing her to spend time outside of the classroom getting to know her peers and doing more hands-on learning.
"Most of my memories on campus aren't really big moments, but the kind where something sparks every time I'm walking on campus, and it takes me back," Yancey says. "I have so many memories that come bubbling up every time I walk through the Brickyard, or I'm working out at the HFL greenhouses."
Yancey says those memories wouldn't exist if she hadn't put herself out there as a freshman.
"Be intentional, seek out friends by meeting new people, join clubs related to your major and don't be afraid to talk to your professors," she says, "Everyone in CALS wants to help you and get to know you. Take advantage of that."
This post was originally published in College of Agriculture and Life Sciences News.