With just 17 students in his high school graduating class, Durham native Roman Lawrence was drawn to the smaller class sizes and tight focus of the Agricultural Institute.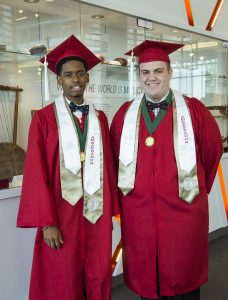 "The Ag Institute…got me more integrated into campus, so I didn't have to start off with everything so large in scale," Lawrence said. "The smaller size meant you could really connect with your teachers and classmates."
During his time at AGI, Roman received the H. Bradford Craig Scholarship for Excellence. After graduating with a degree in livestock and poultry management, Roman transferred into CALS' four-year program as a poultry science major. He is now a sophomore.
Lawrence credits his experience in AGI with helping him overcome his former shyness. The leadership skills and confidence he gained as an AGI Ambassador led him to sign up as a CALS Ambassador, representing first AGI and then the college overall across the state and on campus.
Lawrence also signed up to be an orientation leader in 2016.
"It was nice to be able to help other students feel at home on campus, too," he said.
This post was originally published in College of Agriculture and Life Sciences News.