North Carolina ranks third in U.S. specialty crop production, following only California and Florida. With shrinking water resources in California and disease and insect pressures in Florida, U.S. food distributors are turning their eyes to North Carolina for increased diversity and quantity of specialty crops.
Two significant new gifts to the college will equip the state's farmers to meet this demand: the Dale C. and Genia Tyson Bone Distinguished Professorship in Specialty Crops and and an allied Bone Endowment for the Specialty Crops Program.
A 1964 CALS graduate with degrees in agronomy and agricultural economics, the late Dale Bone farmed thousands of acres of produce, tobacco and cotton. His operation was once the largest producer of cucumbers in the United States. He and his wife Genia Tyson Bone established the Bone Scholars Program in 2009 to support migrant workers and their families.
Today, Genia Bone continues the couple's legacy.
"Through the creation of the Bone Scholars Program, you have transformed the lives of gifted young people who are, in turn, already giving back to their communities," said Dr. Sylvia Blankenship, CALS senior associate dean for administration, at the endowment-signing ceremony. "And through the creation of the Bone Professorship in Specialty Crops and the Bone Specialty Crops Endowment, you will transform opportunities for North Carolina farmers today, and for generations to come."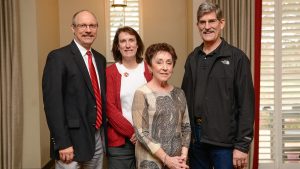 The Dale C. and Genia Tyson Bone Distinguished Professorship in Specialty Crops will establish, in perpetuity, an endowed faculty position that will support North Carolina's specialty crop producers and provide them with scientific leadership dedicated to meeting their needs and maximizing their opportunities. It will fuel research essential to this industry, from new variety development to improved insect and disease management.
The gift of $666,000 will be submitted for a North Carolina Distinguished Trust Fund match of $334,000, in order to establish a $1 million professorship.
In addition, the Dale C. and Genia Tyson Bone Specialty Crops Program Endowment, launched with a gift of $25,000, will provide a permanent source of competitive funding for the research and extension work of the Bone Professor and allied faculty team members.
"This is a transformational gift that will expand opportunities for North Carolina farmers and their families and inspire others to invest in the faculty leadership essential to the future of North Carolina agriculture," said CALS Dean Richard Linton.
"This is my passion," said Genia Bone. "I have a real concern about the food supply in our country and our ability to feed ourselves in the future. With these endowments, I hope to support the development of new and better crops and to help North Carolina farmers meet the demands of a growing population."
This post was originally published in College of Agriculture and Life Sciences News.