As a young girl turns a glass vial over in her hand, the caterpillar inside wriggles.
The girl squeals.
And with just three words – "I love caterpillars!" – it's clear that the day's lesson hasn't been lost on her.
The lesson is part of a summer day camp on Fort Bragg, where NC State University's Patty Alder is helping students understand that not all insects are pests – and even when they are, there are plenty of ways to get rid of them besides spraying pesticides.
It's a message that's at the heart of integrated pest management (IPM), an approach that focuses on minimizing risks to human health, beneficial organisms and the environment.
Alder, assistant director for the university's Structural Pest Management Training and Research Facility, is part of a team of North Carolina Cooperative Extension educators who are piloting a new 12-lesson curriculum to help second-graders on the world's largest military base learn more about insects and IPM.
The idea for teaching children at Fort Bragg about IPM came from Wilfredo Rivera-Hernandez. Having worked with the base's Pest Management Program for six years, Rivera also secured funding for the pilot project.
Noting that adults frequently ask him to spray for pests, he says he hopes to influence a new generation's attitudes toward insects and the best ways to prevent and resolve pest problems.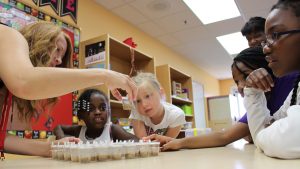 Working with Alder on the project are Liz Driscoll, a 4-H Extension associate; Latoya Meszaros, 4-H program assistant in Cumberland County; and Dr. Mike Waldvogel, an Extension specialist and entomology professor.
Waldvogel notes that it's just one of the College of Agriculture and Life Sciences' ways of reaching out to North Carolina's military community. The IPM curriculum applies the hands-on approach of Extension's youth development program, 4-H, to meeting educational goals that the U.S. Department of Defense sets for its schools.
Waldvogel says that because the DoD's Educational Agency includes arts along with traditional STEM disciplines of science, teaching, engineering and mathematics, the curriculum incorporates drawing and other art activities as it conveys scientific information about insects and their life cycles, what makes an insect a pest, ways to keep pests out of homes and other buildings and alternatives to pesticides.
Alder, Meszaros and Driscoll tested the curriculum this summer at two Fort Bragg child development centers, and the plan is for Meszaros to train teachers this fall to use it in their classrooms. From there, they are hopeful that the curriculum can be used in schools at other military bases — and beyond.
Impressed by how receptive students have been to the lessons and how eager they are to learn, Rivera calls the project a "complete success."
"I feel confident," he says, "for them to share what they are learning with their families at home."
This post was originally published in College of Agriculture and Life Sciences News.