Blueberry Pruning Watch Party and Panel Discussion
March 15, 2021 | 10:00 am

-

11:00 am

EDT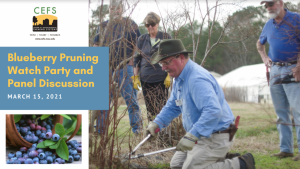 Join the Center for Environmental Farming Systems (CEFS) for a virtual workshop and learn how to prune your blueberry bushes!
Join CEFS for a short video demonstration on pruning blueberry bushes led by Research Specialist Bill Cline. Since 1995 Bill has served as the Blueberry Extension Horticulturist for North Carolina State University, supporting Cooperative Extension agents statewide. Cline also maintains the N.C. Blueberry Journal, a blog where he posts information about the latest disease concerns, cultivars, propagation and guidelines for timely blueberry maintenance, such as pruning and fertilizing.
Following the video demonstration, an expert panel will take audience questions and you will have a chance to ask any and all blueberry questions. We will be joined by Bill Cline, Researcher and Extension Specialist, Dr. Sanjun Gu, Horticulture Specialist, and Willard Humphries, CEFS' Small Farm Unit Manager.
Learn more and register: cefs.ncsu.edu/event/blueberry-pruning-watch-party-and-panel-discussion
Submit an event to the University calendar
Be sure to select the department "College of Agriculture and Life Sciences." Events submitted to "College of Agriculture and Life Sciences" will be reviewed and added to the appropriate calendars.
In compliance with the Americans with Disabilities Act, NC State will honor requests for reasonable accommodations made by individuals with disabilities. Direct accommodation requests to the event organizer listed on the event.