Senior Christina Harvey has packed her time in CALS as full as possible, studying abroad in Australia and New Zealand and double-majoring in horticultural science and agricultural business management.
An outstanding student, Harvey is the recipient of the Lloyd T. Weeks Scholarship, the James Robert Brown Scholarship, the James A. Graham Scholarship and the NC Ag Communicators Network Scholarship.
In summer 2017, Harvey plans to work on a farming operation as part of the Developing Future NC Farmers program.
Her goal? A farm of her own.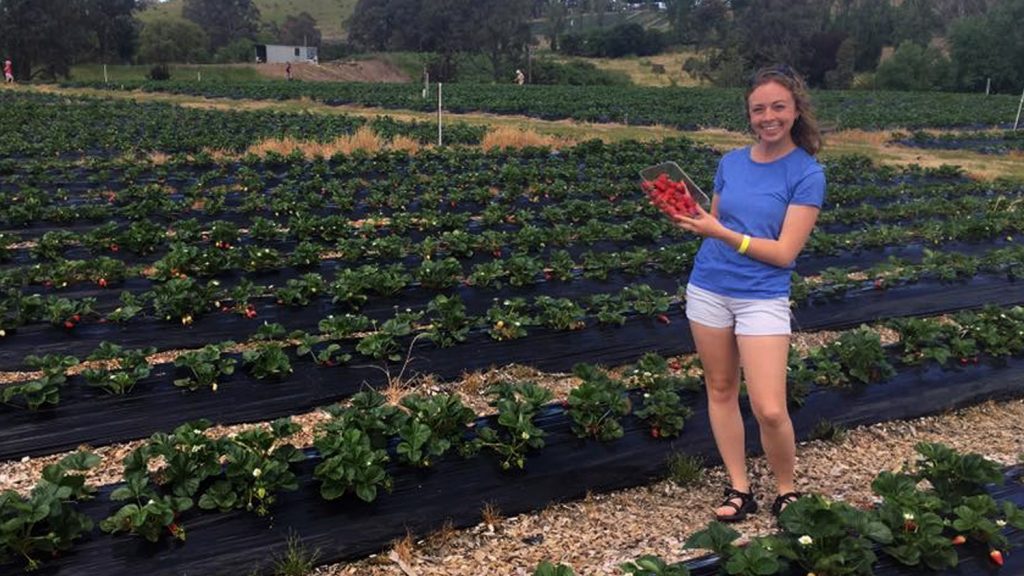 What's your career goal?
My eventual goal is to own a small fruit and vegetable farm that involves agritourism in the operation. I love growing plants, but I also believe that it is important to educate the general public about agriculture and give them farm experiences. I chose this because after taking several production and business courses, I'm confident that I can best use my talents in this manner.
Why did you choose CALS?
I chose CALS because of the renowned agricultural business management and horticultural science programs here at NC State. There is no other place I wanted to study agriculture and prepare for a career after graduation. I am also a second-generation Wolfpacker, so growing up I have naturally always had Wolfpack pride instilled by my father.
Tell us about some of your most valuable experiences outside the classroom.
The most valuable experiences I've had during college come from my internships and study abroad trips.
My most recent adventure was this past semester, when I studied abroad in Australia. I took wine production and agribusiness courses, attended professional events and made lifelong friends. I learned about many different cultures from other travelers, and took part in a few high-intensity activities that brought me out of my comfort zone. This helped me to see a different perspective of the world and appreciate all the journeys that I have been blessed with while at NC State.
What have you learned that you'll take with you after you graduate?
I have learned that college is about forming lasting relationships with both friends and professionals, having experiences outside of the classroom and learning how to manage time and health. There is valuable information from my production and applicable business courses, but really it's about growing as a person and preparing to go make a difference after graduation.
What are you working on now?
As of right now, I'm working on finishing my fourth year and continuing into my fifth. This is my only option after deciding to double major and study abroad, which I would not change for anything. This upcoming summer, I will be a participant in the Developing Future NC Farmers program, where I will work on a farming operation and then receive business training the following semester.
In five words or less, what's the best thing about CALS?
CALS will make experiences happen!
This post was originally published in College of Agriculture and Life Sciences News.
Subscribe to ARE Monthly Newsletter