Alumna Applies Knowledge to Support Parents, Caregivers and Children
Kylie Rymanowicz '21, a graduate of the family life and youth education master's program at NC State, has worked with children, parents and caregivers in various contexts throughout her career. She found that graduate studies at NC State were the perfect complement to her work. "After graduating with my bachelor's degree and working in a preschool classroom," Rymanowicz says, "I discovered a passion for working with parents and caregivers, helping them to support the growth and development of young children. I loved the challenge of translating information and best practices into advice and support."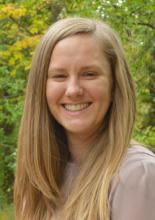 Pursuing a master's degree in family life and youth education with a concentration in parent education expanded Rymanowicz's knowledge and understanding of child development and prepared her for diverse career options. "My career path has always been centered around taking that understanding and knowledge and finding innovative and meaningful ways to translate that information to families and other professionals," she notes.
"Children have always made sense to me." – Kylie Rymanowicz
After graduating in 2011, Rymanowicz became a certified family life educator and spent seven years working as a child and family educator for Michigan State University Extension. "When you work for cooperative extension, you do a little bit of everything! I spent my time there developing and delivering educational programs for parents, caregivers, and early childhood providers, creating resources for families, and I even wrote a book on mindfulness."
While at MSU Extension, Rymanowicz contributed to the Building Early Emotional Skills (BEES) parent education program, working to reduce parent stress and increase child social-emotional development through an eight-week course. (The BEES program was the first place national and regional winner for the Human Development and Family Relationships Award by the National Extension Association of Family and Consumer Sciences at their 2016 Annual Session Awards.)
Rymanowicz recently transitioned to a new position as a content developer for Hatch Early Learning, which applies high-quality technology in early learning settings. In this role, Rymanowicz develops learning activities for the Ignite by Hatch app to prepare children for school and support their learning through first grade while allowing teachers to assess child learning and provide targeted support. The activities support seven core domains of child development: social-emotional, physical, language and communication, literacy, mathematics, science and technology, and social studies. "In regards to technology, the message to families and professionals used to be 'turn it off!'," Rymanowicz says. "But we know that technology isn't going away. Developing software that is thoughtfully and purposely designed to support learning both at school and at home is a way to ensure that children have valuable learning experiences and to increase the equity of positive early learning experiences."
She has been inspired by people who embraced emotional resiliency throughout her career. "Emotional resiliency involves being vulnerable, which is especially hard in work settings. But my past vulnerability has led me to close and meaningful relationships at work and the humility necessary to learn and grow."
Rymanowicz is excited to explore all the opportunities her new position offers. "In the next five years, I hope to transition more fully into my current position and specifically support the diversity, equity, and inclusion efforts in that work." Down the road, she's excited about potentially opening her own Family Life Education business to provide education and coaching to parents and caregivers. "I want to continue to support children and families in whatever I do."
In June 2021, Rymanowicz presented a session entitled "Translating Parenting Curricula into Effective Online Formats" at the Family Life Education Summit. Learn more about the summit and purchase session recordings on the National Council on Family Relations website.