Students Earn Top FFA Honor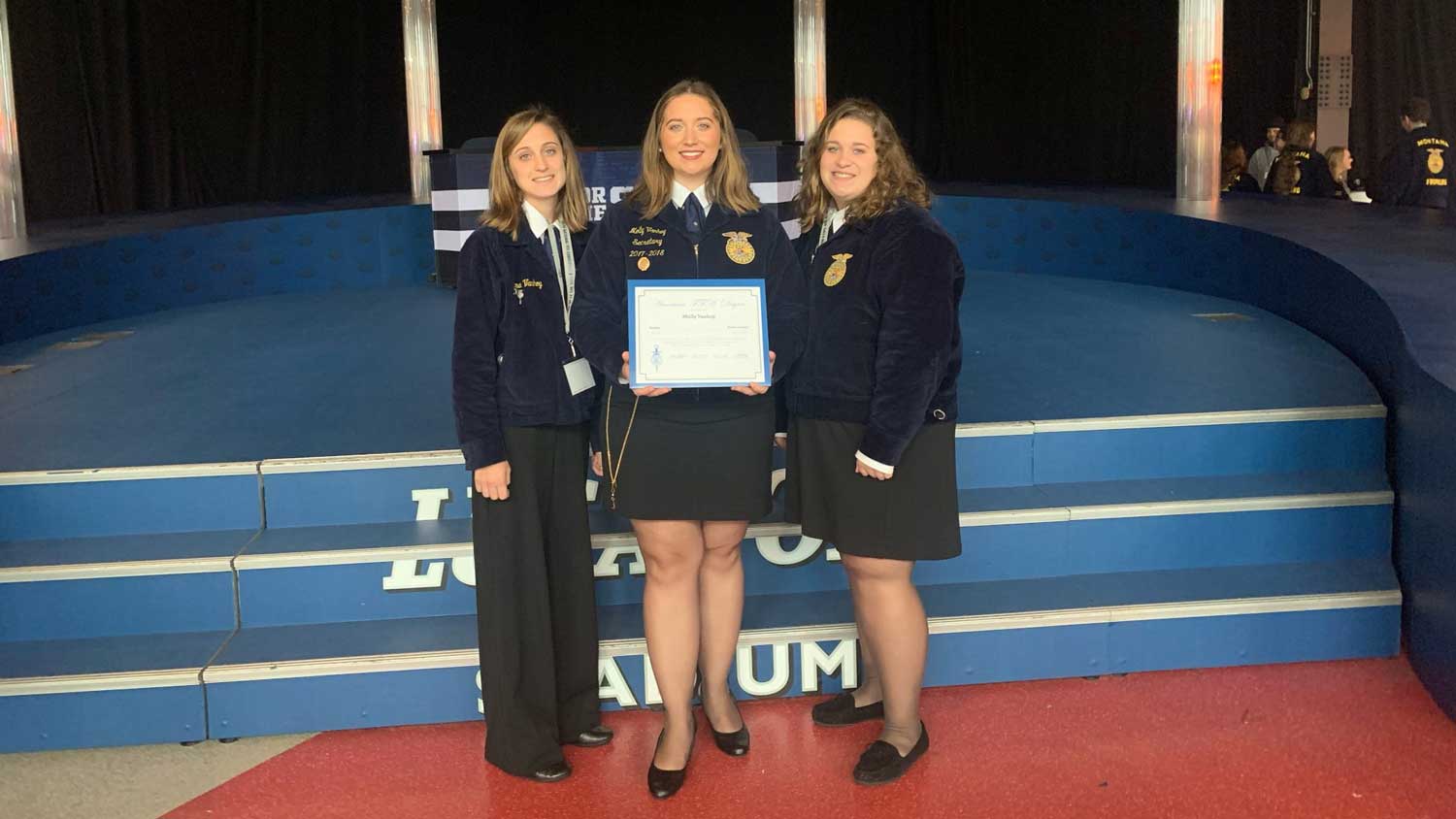 Virginia Kackley and Molly Vanhoy, two AHS students – and Oak Leadership Scholars – were awarded American FFA Degrees at the 2021 National Future Farmers of America (FFA) Convention in Indianapolis, Indiana. The American FFA Degree is the highest student honor in FFA, and less than 1% of members are selected for the prestigious award.
A South Carolina FFA member, Virginia Kackley is a sophomore in agricultural sciences and an Oaks Leadership Scholar. For her supervised agricultural experience, Kackley created, organized, and implemented a spring event, "Foxtiva," raising over $30,000 for her school program and spreading awareness about the agriculture industry. "When I found out I was receiving this award, I was thrilled, to say the least," Kackley says. "I was the first student from my FFA chapter to ever receive the award and I knew what a huge honor it was to be receiving it. I was proud that all of my hard work in my program was recognized and happy I was able to achieve this accomplishment."
Molly Vanhoy, a senior microbiology major with a minor in leadership in agriculture and life sciences, is an active North Carolina FFA member. She is also in the Oaks Leadership Scholars program and serves as student senate president in the NC State Student Government. Vanhoy worked on her family's beef cattle farm for her supervised agricultural experience and built a raised bed garden to donate vegetables to local food pantries. She currently works in a research lab working on animal pathogen prevention and treatment. Vanhoy described earning the honor: "Receiving my American Degree felt like the culmination of my work during my time in FFA being recognized and celebrated by 735,000 people across the country."
To earn an American FFA Degree, students must have achieved the previous degree (State FFA Degree), been active members for the previous three years, and have outstanding supervised agricultural experience. They must also have completed community service and leadership activities, have an exceptional academic record, and meet other FFA requirements.
Congratulations to these fantastic students on their awards. We wish you continued success at NC State and in your future.