Making Dreams Possible
Ever since childhood, Durham native Victoria Cooke wanted to be a veterinarian.
"Since I could walk, I've always loved being around animals," she says.
After moving to Raleigh, she learned about sustainable agriculture and animal science in high school, which opened her eyes to the possibility of teaching others about animals in agriculture.
"Growing up raising and caring for foster animals, I began to understand the critical need for people in the animal care industry."
Cooke is majoring in agricultural education with a concentration in animal science in NC State's College of Agriculture and Life Sciences through the Department of Agricultural and Human Sciences. She also plans to add an Extension education minor to her four-year plan.

"When considering potential universities, the first school everyone mentioned was NC State," Cooke says.
Upon applying for fall 2022 admission, Cooke was admitted as a Spring Connect student and later into the CALS Student Transition Enrollment Advising and Mentoring (STEAM) program. The STEAM program is an invitation-only, donor-supported path to higher education for rural and underrepresented North Carolina students.
STEAM students attend a summer session at NC State and then take their first semester of coursework at a North Carolina community college before entering CALS the following spring.
"The STEAM program keeps me on track, connects me with the CALS community and teaches me how to build relationships with people inside and outside the classroom."
STEAM students also receive mentoring, academic support, personalized courses and academic advising.
"Through this program, I received help with scholarship applications, career goal setting, career counseling, mock interviews and more," Cooke adds.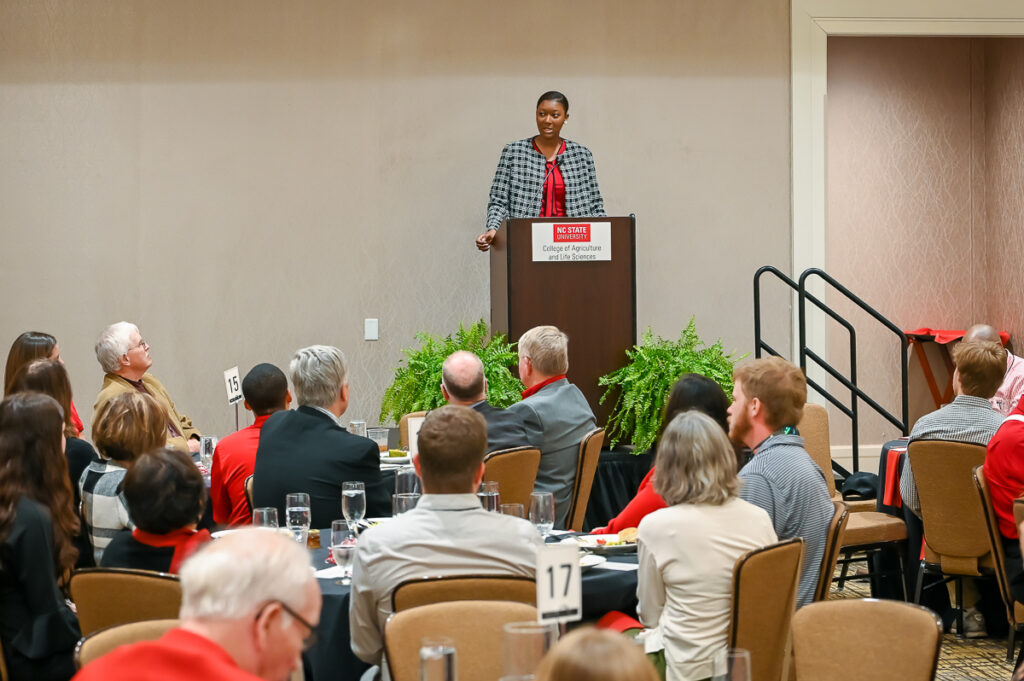 Cooke is the third recipient of a full-ride scholarship from the Gordon Family Farm-to-Philanthropy Program Endowment. The award is made possible through the generosity of NC State alumni Joseph K. and Deborah Kapp Gordon, who established the endowment and whose gifts initiated the STEAM and A.S.P.I.R.E. programs.
Cooke can now pursue the education she desires without going into debt.
"I know people who graduated years ago and still are trying to work off that debt, so I am extremely grateful for this scholarship," she says.
At a March 2023 CALS donor event, Cooke expressed her appreciation and acceptance.
"I am incredibly thankful that donors support my journey and academic career. Receiving the award added to my feeling of belonging at NC State. Many students like me hope to achieve their dream careers but are overwhelmed by the financial burden. You provide opportunities and pathways for students to pursue these dreams."
Support from the CALS community is leaving a lasting impression on Cooke, who believes she is part of an outstanding community.
"CALS has amazing academic courses, and its faculty and staff are like none other. They emphasized that although I chose them, they chose me. I feel that I am wanted here and that they want to see me succeed."
After Cooke graduates from NC State, she hopes to return to Durham or her high school in Raleigh to teach students about animal science. She also wants to conduct fieldwork with Extension agencies to educate local and out-of-state communities about agriculture.
"There are a lot of children who look like me, grew up in low-income communities and might not know about all of the opportunities agriculture and animal science offer," says Cooke. "I want to teach these children that there is more to life and help them grow."
This post was originally published in College of Agriculture and Life Sciences News.