AHS Alumna Finds Job to Fulfill Her Passions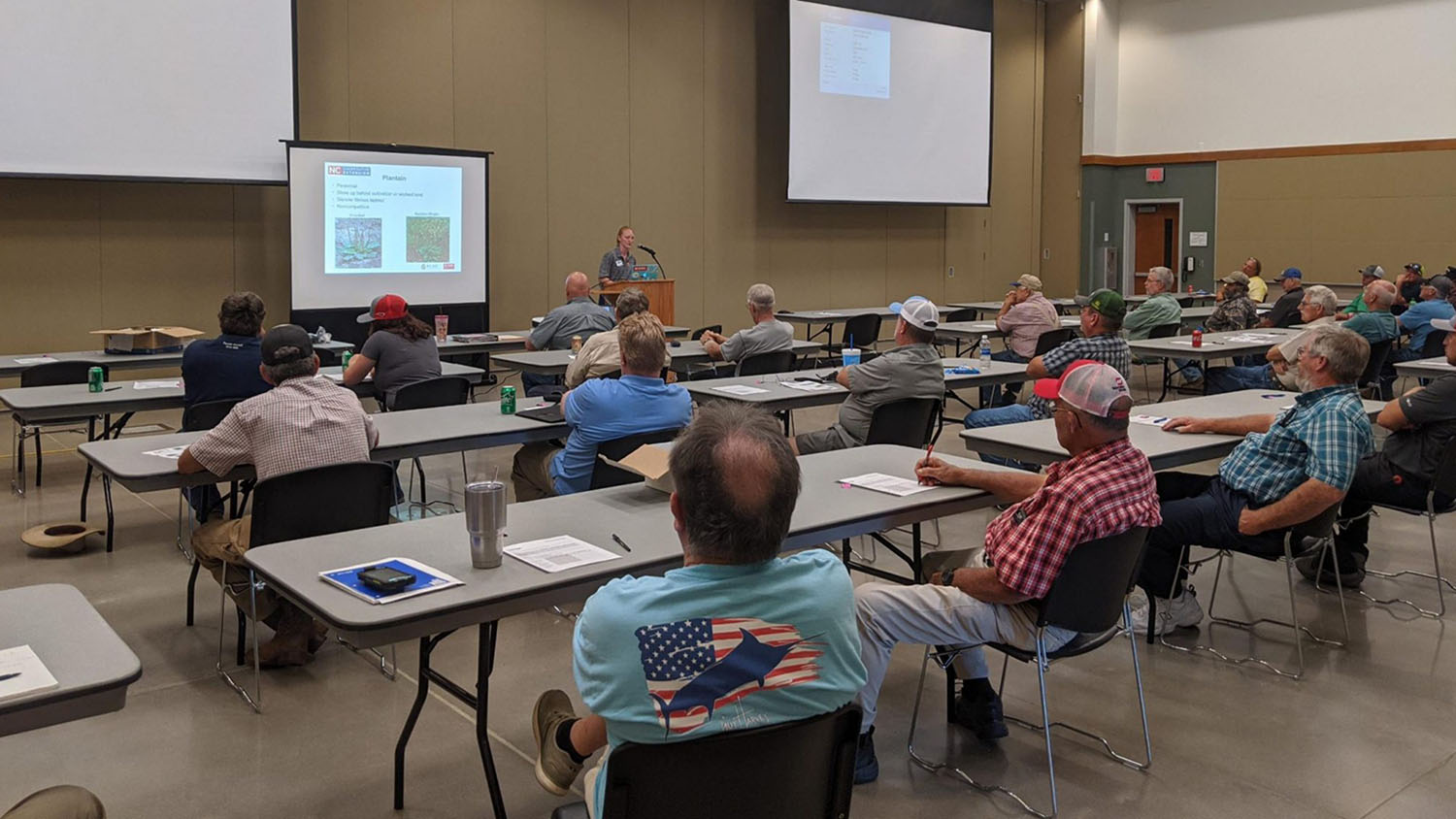 Unlike many students interested in agriculture, Kristina Britt had limited exposure to farm life as a child growing up. By high school, she desired to learn more about agriculture, which prompted her to become an officer for Future Farmers of America (FFA).
As an undergraduate student at North Carolina State University, Britt majored in a different department but soon realized she was not enjoying her studies. She met with Sara Lane, director of CALS Career Services, and together they concluded that Extension would be the best fit for her. In May 2019, Britt graduated with a bachelor's degree in Extension education and a minor in agricultural leadership and animal science and immediately began working on her master's degree in animal science at NC State. 
Britt experienced immense joy and grew significantly at NC State. "My time at NC State was such a molding experience with so many hands-on opportunities, wonderful professors, and unforgettable memories," she explains. "I can't imagine going to any other university and receiving the same level of education and experiential learning opportunities."
Britt encountered many passionate and helpful faculty and staff at NC State. She gives special thanks to her mentor and advisor, Joseph Donaldson, who played a pivotal role in her undergraduate success. Stephanie Ward, her current internship mentor and graduate advisor, offered Britt the help and advice she needed to pursue her aspirations. She also extends considerable gratitude to her friends in the Alpha Zeta family. Joining the agricultural honors fraternity led the way for Britt to build long-lasting friendships and gain professional development opportunities. She also met the inspiring and accomplished Bob Patterson, an Alumni Distinguished Professor of crop science, who, Britt notes, is "such a supportive mentor and an NC State legend." All the classes and extracurricular activities Britt took part in enabled her to work and study for academic units and discover internship programs, further enhancing her knowledge of agriculture. Her involvement with NC State led her to pursue a career at the university soon after graduation.
In the middle of the COVID-19 pandemic, Britt applied for jobs after completing a one-year farm internship program. She was adamant about finding a position that allowed her to educate others and stay involved in the agricultural community. In November 2020, Britt found the perfect opportunity to combine her passions as a livestock, equine, and forages Extension agent and pesticide coordinator for Chatham County in North Carolina. In this role, Britt assists local producers and develops programming based on the community's needs. Some spectacular examples of programs and events Britt has hosted include the Horse Health Clinic, pasture weed ID and management, pesticide safety classes, the Piedmont Regional Beef Conference, and the Piedmont Regional Sheep and Goat Conference. She also started a Chatham County youth livestock team. As Britt explains, "Extension acts as a liaison between the agricultural universities, North Carolina State University, North Carolina A&T [State] University, and North Carolina producers and clientele. This connection is vital in sharing research and resources from the university level [with] the people to increase efficiency, effectiveness, and productivity of North Carolina farms that, in turn, increase agricultural income. As an agent, I bring this information to my counties by developing relationships with my clientele and providing useful, hands-on programming that they can take back to their farms."
As Kristina Britt continues pursuing her master's degree, she looks to continue her work for NC State Extension. Her future goal is a more hands-on farm position where she can work as a farm director.