AEE Undergrad Gains Experience Through Internship at RISE for Local Foods
NC State University, Junior, Sarah White, is currently working on her Bachelor of Sciences in Agriculture Science and is a proud student of the Agriculture and Extension Education Academic Program.
Sarah White hoped to stay involved with the agricultural industry during this school year. After seeking internship opportunities through LinkedIn, she finally discovered an internship that fulfilled her passions and interests. Now an intern at RISE for Local Foods Internship, Sarah works alongside many peers with the Greensboro Farmers Curb Market in Greensboro, NC.
"This internship has sparked a passion for me to do more work with local foods because of its great importance to the agricultural industry and the communities in NC." Sarah states.
COVID-19 has greatly impacted the food industry. Practicing social distancing is crucial during these dire times, and a vast majority of people are seeking a solution to buying their groceries safely. Vendors are trying to adapt to these circumstances and find safe ways for customers to get their food while eliminating in-person shopping.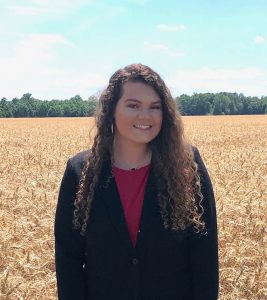 As an intern, Sarah has spent several weeks researching, setting up calls, and talking with other markets to determine the most successful aggregate model platform for RISE. She led several zoom sessions for vendors and gained insight regarding how social media can enhance business success and growth. She's also created a social media guide specific to the market vendor's vision and goals and produced multiple graphics to use for the markets' online campaigns. Additionally, she's worked on updating online information about events at the market to help vendors reach their goals.
"The internship opportunity has allowed me to gain a great deal of insight into all that goes into running a successful farmers market. I have been able to understand more of how the local food system works and better understand why farmers markets and food hubs are essential to helping people get fresh locally sourced food." Sarah says of her experience at RISE.
The remote internship has allowed Sarah to attend several professional development workshops with the best leaders in the local foods area. This experience has impacted her undergraduate studies as she often finds herself participating in more class discussions based on her latest discoveries of the local food industry.
After the completion of her internship in April, this summer, Sarah plans to go back home and start her internship yet another internship with the Tidewater Agricultural Research and Extension Center in Holland, VA where she'll be working with the plant pathology department to research various crops. After obtaining her Agricultural Science degree in Spring 2022, she plans to enroll in graduate school and start her own agritourism farm in her hometown Gates County, NC. Sarah hopes to educate others about the importance of our local agricultural systems.
Readers can learn more about RISE for Local Foods at the NC Food Council: https://www.nclocalfoodcouncil.org/rise-for-local-foods/