Despite the obvious challenges, this was a year of triumphs for our Wolfpack community. You kept learning, teaching, researching and working hard to make our state — and the world — a better place. You dug deep to do it, and we couldn't be more proud.
Below, you'll find just some of what we achieved — together.
1. We Supported Our Students
In 2021, the wider NC State community continued to rally around our students in need. This year, donors generously supported the Student Emergency Fund, which helps students recover from the unexpected financial crises that have become more common in the past two years. In November, NC State and UNC-Chapel Hill staged an off-the-field matchup, the Pantry Bowl, that raised more than $92,000 to help both universities' food pantries combat food insecurity.
2. We Protected Our Pack
While COVID-19 continued to dominate global headlines, NC State stayed open and stuck to its mission, thanks to the combined efforts of everyone on campus. We rolled out our own in-house testing lab, answered your questions about vaccines and made sure everyone could get their shots. More than 84% of our campus community is now vaccinated, and that figure continues to climb. With the omicron variant on the rise, it's vital we all keep doing our part to Protect the Pack in 2022.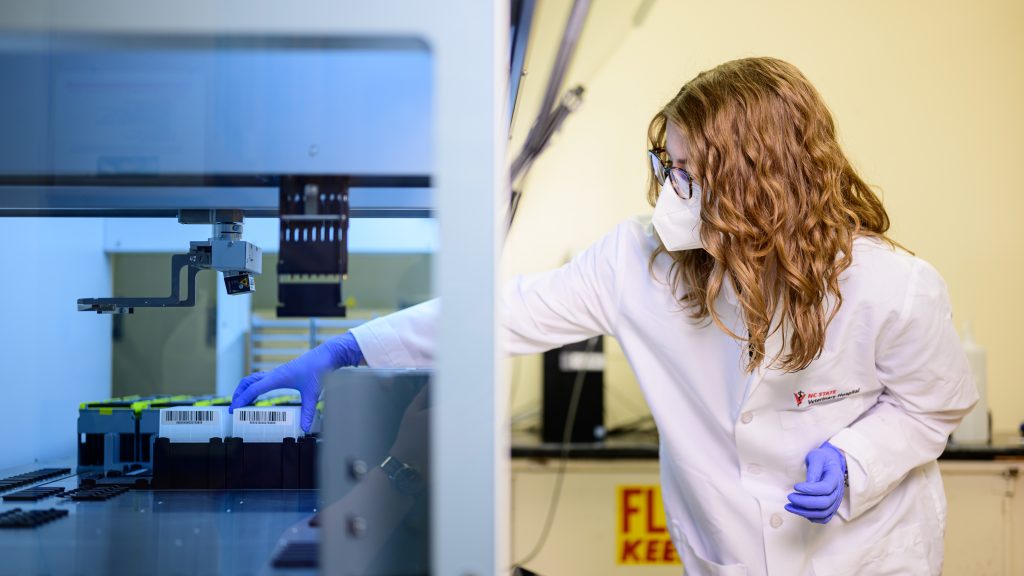 3. You Helped Us Make Day of Giving a Success
During our third Day of Giving on March 24, supporters helped us set a national record for dollars raised during college and university giving days.
By the close of the day, we had racked up an astounding 14,272 gifts totaling $58,103,657. Donors from all 100 counties in North Carolina, all 50 states and 23 countries joined together to invest in NC State students, faculty, staff, research and programs.
4. We Ended the Spring Semester With Bells On
On May 14, we celebrated an event one century in the making: The Memorial Belltower at Henry Square was officially reopened and dedicated, signaling the end of some 100 years of construction and renovation.
Driven by a transformational gift from the Henry family, the project included the installation of a 55-bell carillon in place of old speakers, at long last, as well as other improvements.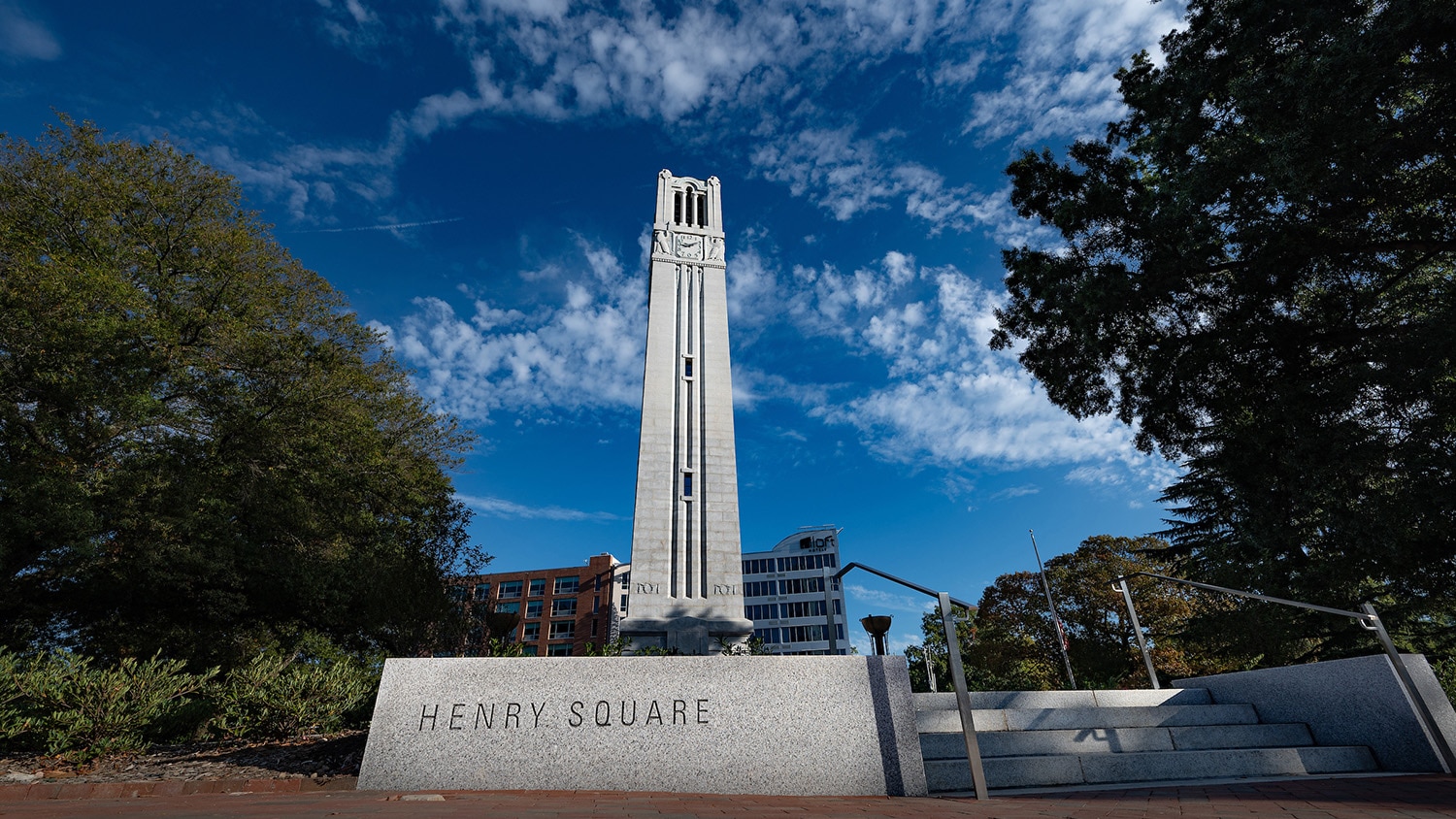 5. We Honored Our Stellar Graduates
Watching NC State grads turn their tassels never gets old. Lucky for us, we got to see it happen on repeat during four commencement ceremonies held this year.
First up were our spring 2021 graduates. We conferred degrees to more than 6,300 of them during two outdoor ceremonies held on May 14 and May 15. NC State football legend and current NFL quarterback Russell Wilson stopped by to share some wisdom as the commencement speaker.
Then, our spring, summer and fall 2020 grads finally got their turn to celebrate in person during a ceremony held in Reynolds Coliseum in August. Finally, we sent off our fall 2021 graduates during a ceremony in PNC Arena on Dec. 14, where more than 3,400 extraordinary students earned their degrees and embarked on their next chapter.
6. Our Students Returned to Campus for the Fall Semester
In August, after months apart, we finally called our student body to return home for an in-person fall semester. Needless to say, Wolfpack Welcome Week was extra sweet this year.
We also said hello to our largest incoming class ever, with more than 5,000 first-year students joining our ranks. (Not to brag, but they broke records before they even landed on campus.)
7. Our Wolfpack Nickname Turned 100
In September, NC State celebrated a century as the Wolfpack. To mark the occasion, we did a deep dive to learn how our university earned its beloved nickname. (Spoiler: The tale goes a little differently than you might have heard.)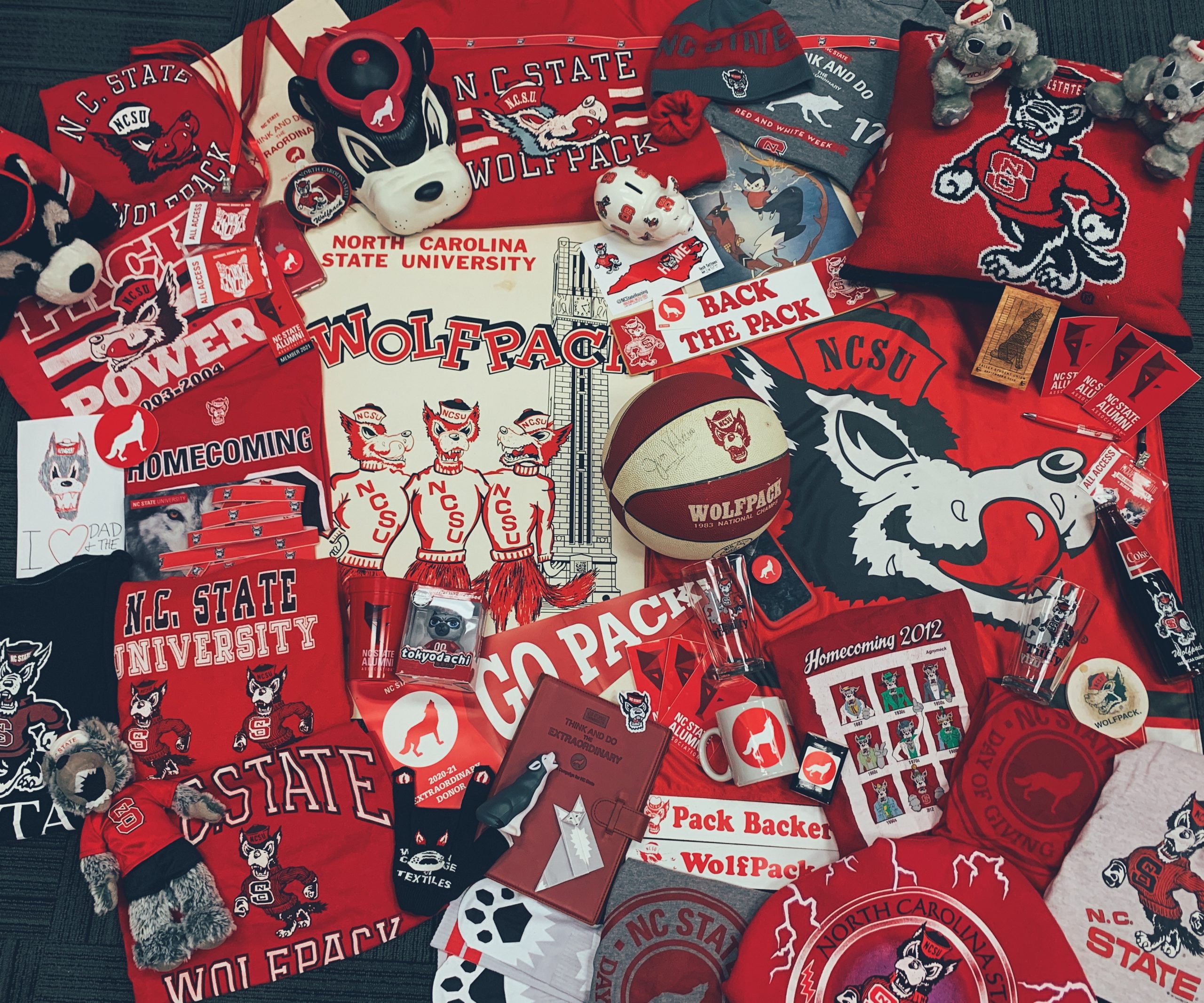 8. We Celebrated — and Supported — Community
In the fall, we honored major milestones for two of our campus community centers. Both the African American Cultural Center and the Women's Center celebrated three (official) decades of community and solidarity at NC State, though the former can trace its roots further to the Black Student Union of the early 1970s.
This year also saw a surge in giving to diversity, equity and inclusion initiatives and the creation of more than 40 new relevant funds. Among them is the Bill Spitz Dream Fund, which empowers the GLBT Center to provide financial support to students who can no longer count on their families after coming out.
9. We Broke Records for Research. Again.
2021 was another banner year for NC State innovation: We set a new record of more than half a billion dollars in annual spending — despite a global pandemic, and before a series of major research awards this summer.
In July, we announced a new initiative to develop artificial intelligence tools for human learning, backed by a $20 million grant from the National Science Foundation (NSF). In August, we were selected to lead an NSF Science and Technology Center to advance phosphorus sustainability, funded by a $25 million grant. And in September, the National Institutes of Health awarded us $17 million to explore a potential link between environmental contaminants and liver cancer.
10. We Launched Two Universitywide Academies
NC State excels at working across disciplines and tackling problems from every angle. In 2021, we built upon those strengths by launching our first university-level academies. The first, the Data Science Academy, will integrate analytic skills into curricula and research to ensure our graduates can lead in a data-driven economy. The second, the Genetics and Genomics Academy, will deepen our understanding of the underpinnings of life on earth and help us further the flourishing of societies and ecosystems.
11. Our Students Won Major National Awards
Our extraordinary students continued to get the attention of national and international award organizations this year. For the first time, NC State had two winners of the prestigious Churchill Scholarship — Ana Sofia Uzsoy and Nikhil Milind — making us one of only two universities in the country with multiple winners. We also celebrated two Goldwater Scholarship honorees, a Knight-Hennessy scholar and many other honors.
12. You Showed Your Pride During Red and White Week
Students, faculty, staff, alums and friends reunited in our favorite place to celebrate all things NC State during Red and White Week.
From Oct. 24-30, there was no shortage of homecoming fun. We kicked things off with Chancellor Randy Woodson's annual fall address, where he reflected on the past year and placed the first item into the new Belltower time capsule. And we ended the week with a major victory: watching our Wolfpack beat the Louisville Cardinals in Carter-Finley Stadium.
13. We Committed to Engineering North Carolina's Future
With a surging tech economy and a growing need for skilled graduates, North Carolina has been crying out for a bigger Wolfpack. Thanks to the support of a new state legislative initiative, we're answering that call.
Over the next five years, NC State plans to enroll about 4,000 more undergraduate and graduate students in engineering and computer science. That will bring the student population of the College of Engineering to around 14,000 and total enrollment to more than 40,000. This effort is backed by $20 million to hire additional faculty and staff and $30 million for facility upgrades.
14. Our Campus Inspired Bold New Flavors
Two new products launched this year gave folks a taste of NC State. We partnered with Shelton Vineyards to produce The Brickyard red blend, the first in a series of limited-edition wines based on our Hallowed Places. (The label was designed by a current College of Design student. Cheers to that.) We also unveiled a new Howling Cow flavor, Icing on the Cake, that celebrates the sweet success of NC State's Think and Do the Extraordinary Campaign.
15. We Scored Some Major Athletic Successes
This year, after an absence because of the COVID-19 pandemic, our athletic venues were once again filled with Pack faithful cheering on our teams. And they had a lot to be excited about.
In November, our women's cross country team crossed the finish line with its first national championship. Earlier in the year, our baseball team made another appearance in the College World Series, while our women's basketball team won another ACC championship and earned a number one seed in the NCAA tournament. A record 12 former and current student-athletes dazzled on the world stage at the pandemic-delayed Tokyo 2020 Olympics.
16. We Kept Transforming Our Beautiful Campus
We're always working to make our home a better place — whether we're enhancing corners of campus or constructing ambitious new facilities.
Some highlights? Our Global Courtyard was formally dedicated on Nov. 8. Located between Primrose and Tompkins Halls, it serves as a gathering space for international-focused events. Across campus, we also dedicated the College of Engineering's newest academic and research building: Fitts-Woolard Hall. The 225,000-square-foot facility houses cutting-edge labs and classrooms equipped to advance research and education in everything from biomanufacturing to health systems engineering.
17. Our Pack Added New Leaders
The strength of our Pack is our people, and this year we welcomed outstanding new leaders. Doneka Scott joined the Division of Academic and Student Affairs as its new vice chancellor and dean. Don Hunt was named senior vice provost for enrollment management and services. And Deanna Dannels, a longtime faculty member, became dean of the College of Humanities and Social Sciences.
18. We Love Our Chancellor
When it comes to our people, Chancellor Randy Woodson is one of our favorites. This year, he launched a new interview series, Red Chair Chats, to talk to high-profile members of the NC State community. And there will be time for many more chats to come: The university's Board of Governors honored his outstanding leadership by extending his term until June 2025.
19. Oh, and Don't Forget Tuffy III
Our humans are great, but NC State's most-heralded arrival of the year may have been a canine. Tuffy III joined the Pack as our newest live mascot, capturing hearts far and wide. Really, could he be any cuter?
20. We Rose Through the Ranks
Rankings organizations around the world continue to confirm what we've always known: NC State is pretty extraordinary. This year alone, we were named number 1 in the Southeast for entrepreneurship programs, one of the nation's top green colleges and one of the best employers in North Carolina.
And everyone loves our city: This year, Raleigh was ranked the number 2 best place to live in the U.S.
21. You Helped Us Think and Do the Extraordinary
Five years ago, we launched the most ambitious fundraising effort in the history of NC State, with a goal of $1.6 billion in private support. We blew past that figure two years early, and we're on course to reveal a truly extraordinary final total once our campaign ends on December 31.
While that number isn't in yet, we do want to take this moment to thank our donors — a Wolfpack of some 130,000 people — for your support and generosity. You have changed our university for the better and created unprecedented opportunity for generations of our students.
(And if you haven't given yet, there's still time.)
This post was originally published in NC State News.