Interim Dean John Dole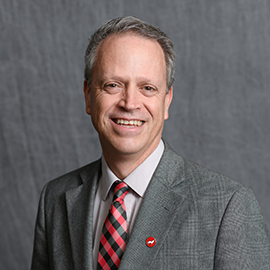 John Dole received his B.S. from Michigan State University and his Ph.D. from the University of Minnesota, with both degrees in horticulture. Dole was on the faculty of Oklahoma State University for 11 years before moving to North Carolina State University's Department of Horticultural Science in 2000. He became director of graduate programs for the department in 2004, department head in 2011, and is the former president of the American Society for Horticultural Science (ASHS). Currently, Dole serves as the executive advisor for the Association of Specialty Cut Flower Growers, a 2,900-member national organization devoted to the production and use of cut flowers.
Dole's research has focused on the production and postharvest physiology of floriculture crops, in particular, working with cut flowers, poinsettias and vegetatively-propagated cuttings. He teaches a graduate-level Physiology of Flowering course in the horticulture department. He co-authored the floriculture textbook Floriculture Principles and Species. In addition, he authored or co-authored seven additional books, over 100 refereed journal articles and more than 300 industry publications. Dole is a frequent speaker, having made hundreds of presentations around the county and internationally. He has mentored over 20 M.S. and Ph.D. students and advised hundreds of undergraduate students. Dole received the Alex Laurie Award from the Society of American Florists and was named a Fellow of ASHS.
Dole is one of the founding members of Seed Your Future, whose mission is to inspire people to pursue careers working with plants. This public-private partnership between universities, ASHS and Longwood Gardens, has become a full-fledged national movement and organization.
As associate dean for Academic Programs at CALS, Dole worked to increase educational access for all students, especially those from rural areas and underrepresented backgrounds, and increase the number of students entering the majors most in need of students to meet employer demand. With cooperators, he started the CALS Online Academy, launched the national FFAR Fellows program and championed new certificates and degree programs to update CALS academic programs.
Contact Information
John Dole, Ph.D.,
Interim Dean, College of Agriculture and Life Sciences
North Carolina State University
Phone: 919-515-2668
Email: jmdole@ncsu.edu
Physical Address:
2501 Founders Drive
112 Patterson Hall
Raleigh, NC 27695-7601
Mailing Address:
NC State University
Campus Box 7601
Raleigh, NC 27695-7601